Art has apparently imitated life in the case of the upcoming comedy "30 Minutes or Less" — and one family isn't laughing about it.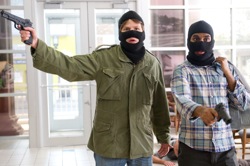 The surviving relatives of Brian Wells — who died in 2003 during a bizarre bombing incident that had eerie similarities to the movie's plot — have come out to condemn the Jesse Eisenberg movie.
In the film — out Aug. 12 via Columbia — Eisenberg plays a pizza-delivery man who's kidnapped by a pair of men (played by Danny McBride and Nick Swardson) and is forced to rob a bank with a bomb strapped to his chest.
Wells, meanwhile, was a 46-year-old pizza-delivery driver in Erie, Pennsylvania, who died when a collar bomb around his neck was detonated following an attempted bank robbery. Wells' family has maintained that he was an innocent victim in the plot.
In the moments leading up to his death, Wells pleaded with police, insisting the bomb had been placed on him by people who demanded that he rob a bank and follow a series of clues to have the collar removed. The bomb went off, killing Wells, as he waited for the bomb squad to arrive and remove the collar.
The FBI determined that Wells had been a willing accomplice in the robbery.
Wells' sister, Jean Heid, registered her disgust over "30 Minutes or Less" in an email to the Associated Press, writing, "It's hard for me to grasp how other human beings can take delight and pride in making such a movie and consider it a comedy … I don't think it's funny to laugh at the innocent who are victimized by criminals, who care nothing for human life."
Heid isn't the only one who's put off by the concept of the movie. Jerry Clark, a retired FBI investigator who was present when Wells died and is co-writing a book on the case, told the AP, "Having been on the scene the day that it happened and watching the device detonate, linking that with a comedy, that's sort of difficult for me to comprehend."
Columbia told TheWrap that the film, which was written by Michael Diliberti, Matthew Sullivan and directed by "Zombieland's" Ruben Fleischer, has nothing to do with Wells' case.
"'30 Minutes or Less' is a fictional film and it does not tell the story of the tragedy that unfolded in Erie," Columbia asserted in a statement.
Here's the trailer: