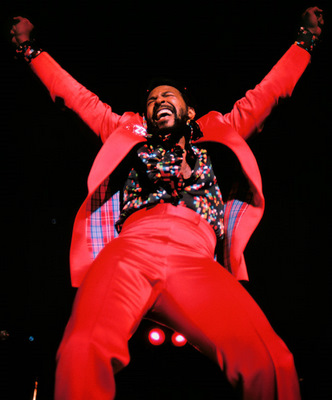 1. MARVIN GAYE
Seriously, besides John Lennon, can you honestly think of another artist with both the legacy and the relevance today as Gaye? (And, before you Bob Dylan fans start screaming, we're talking about an artist you can really dance to.) Can't you hear Will Schuester and Emma Pillsbury dueting on "Ain't No Mountain High Enough" or Coach Tanaka seething "I Heard It Through the Grapevine"? How about that testosterone-charged Noah Puckerman crooning "Let's Get It On?" Dim the lights, heat up the zeitgeist more with some "Mercy Mercy Me (The Ecology)" and a few other tracks from the Motown maestro and you have yourself some fine grooving television.
2. GUNS N' ROSES
Sex, drugs and the boys who once were
America's deadliest rock 'n'roll band? Consider, before you jump to judgment: First, GNR had some great heartfelt ballads, such as "Patience," that Finn Hudson and Rachel Berry could really squeeze a tear out of. Secondly, it's a great opportunity for some raunchy some sing-along chorus from Quinn, Santana and other members of the Cherrios cheerleading squad. Third, you're guaranteed a cameo by Slash, who will show up for the opening of an envelope nowadays. And finallly, look deep into her eyes and tell me Sue Sylvester doesn't have the same crazed riot-inducing tendencies of Axl Rose. That woman is all "Welcome to the Jungle."
3. RICHARD WAGNER

Sex Pistol Sid Vicious supposedly once mocked Freddie Mercury for trying to bring opera to the masses. First of all, Sidney, Freddie was more punk rock than you'd ever be — and what's wrong with bringing opera to the masses? Let's be specific here — we're talking about the German composer's four "Ring of the Nibelung" operas, which were clearly the inspiration for Tolkein's "Lord of the Rings." C'mon, the Ring operas, like "Glee," are all about love — and "Ride of the Valkyries" should be the Cheerios' theme song anyway. Or they could just do more Queen tunes.
4. THE SMITHS

No matter how it tries, the "Glee" crew never can capture Eminem, Tupac or most hip-hop with much more than awkward grimaces on their faces. But give them some hardcore alienation and despair — and look out. You know, you just know, Kurt Hummel immediately owns any Morrissey song he turns his talent to.
5. "GREASE"

A musical about bridging the high school cliques' divide and true love finding its way seems perfect for a musically based TV show about high school cliques bridging the divide and true love … you get the point. Why not scrap Olivia Newton-John's scheduled May 4 appearance and get her and John Travolta together to show lovers everywhere what it really means to be the one that you want? Let's put leather jackets on Finn, Puck and Artie, slick back their hair, and let loose some "Greased Lightening"! Because "Glee" is the time, "Glee" is the place, "Glee" is the motion and "Glee" doing "Grease" is the way we are feeling.