It doesn't have to be all over for Mel.
At this point, with accusations of domestic violence, sheriff's investigations, child custody court hearings and those vile, bile-filled tapes, you'd think redemption for Gibson was impossible.
The truth is, this is America, where if you say "sorry" and seem to really mean it, you often are forgiven. More important, this is also Hollywood — a town with a long tradition of forgiveness.
Take Woody Allen, who seemed dead in the water when he hooked up with his longtime lover Mia Farrow's teenage adopted daughter in 1992. Or Alec Baldwin, who was caught on tape in 2007 profanely denigrating his 11-year-old daughter. Now Baldwin is a beloved network star on "30 Rock" — and even co-hosted the Oscars this year.
Charlie Sheen keeps driving ratings, and Roman Polanski keeps working — he not only won an Oscar in 2002 and released his last film while under house arrest, but has, in his recent travails, had the nearly full support of his former town. OK, he wasn't guilty of anti-Semitism, racism and possible spousal abuse … but he did plead guilty to raping a 13-year-old.
Could Gibson redeem himself in the eyes of the public and recover his career? It would be hard, but not impossible — because this is America. This is Hollywood.
1. RECONCILE WITH ROBYN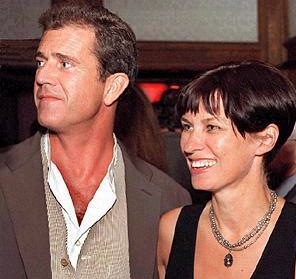 If ever Gibson was thrown a lifeline in this latest scandal, it was on Thursday — and from his estranged wife of 28 years and the mother of seven of his children. Robyn Gibson, whom Mel left in mid-2009 to shack up with the already pregnant Grigorieva, filed sealed papers with the court claiming that her still-husband was never violent to her or their children.
Maybe the couple, who have been slowly negotiating their multimillion-dollar divorce, aren't as over as it seems. The 54-year-old actor could claim he was suffering from a very melodramatic midlife crisis, that he did say some terrible things, but that he was never violent and was going to fight those charges … with a loving and supportive Robyn by his side.
Hollywood and America love a happy ending, and perhaps if Mel and Robyn got back together they would get one.
2. PUT YOUR MONEY WHERE YOUR MOUTH ISN'T
Give some money — a lot of money.
As the history of America and Hollywood shows, philanthropy cuts a lot of fresh cloth. If Gibson were to come out and donate, say, $30 million or $40 million to a foundation fighting violence against women, or to an anti-racism campaign, a lot of people might start to come around.
Sure, it would look opportunistic, but the checks would be cashed, and Mel could really do some good.
3. A LITTLE HELP FROM YOUR FRIENDS
Get some of your high-profile Hollywood buddies to start talking to anyone and everyone about what a nice guy you are. Where's Jodie Foster? Where's Danny Glover? Where's Robert Downey Jr.?
As with Polanski, a slew of big-name supporters goes a long way. Especially in the case of Foster and Glover, who also happen to be women or African-Americans — groups for whom you had some choice words during your taped tirades.
As for Downey, you could do worse than having America's biggest movie star singing your praises. You helped him get off drugs and gave him a job in "The Singing Detective" when no one else would. Time to call in that marker.
4. STICK TO DIRECTING
Get behind the camera. At this point, you've had too many high-profile meltdowns to make seeing you up to your borderline-psycho, Martin Riggs-style shenanigans fun anymore. Your role as a suicidal toy manufacturer who communicates through a hand puppet in "The Beaver" is not the stuff of which comebacks are made.
Fear not, though. You're an Oscar-winning director with "Braveheart" and "The Passion of the Christ" to your name. And if you're worried Hollywood won't cut you a check — no problem. You can still get movies made through your Icon Productions.
As you showed with "The Passion," you can take something as audience-unfriendly as a three-hour crucifixion, produce it outside the studio system and have a $600 million global hit for your troubles. Even "Apocoalypto" managed to eke out $120 million worldwide, despite being filmed entirely in an archaic language.
In many ways, directing has been the source of your biggest critical and commercial triumphs. Is it any accident that your Academy Award came for directing "Braveheart" and not for one of your scenery-chewing performances?'
5. SPEAK UP
Mel, where the hell are you?
If you're in therapy, great, but what you really need to do is say something — anything — as long as it is contrite. Hiding out while this hurricane of accusations whirls around is no strategy for success. Give a press conference like Tiger Woods did. Go on "The View" with your pal Whoopi Goldberg. Do a homemade YouTube video or open a Twitter account, but say something.
All we're hearing right now is you screaming like a creep on those tapes. Otherwise, the silence is deafening.