Think summer's a bad season for TV? We have 56 reasons you're wrong.
Your DVR will be working as hard as your air conditioner if you check out the full mix of new and returning series the networks have planned for the next three months. They range from new dramas like HBO's "The Newsroom" to returning dramas like AMC's "Breaking Bad" to the new and returning "Dallas" on TNT.
Plus, there's a new talk show, new cartoons, award shows, and, of course, reality TV. Lots of reality TV. And Charlie Sheen.
Oh: And the world is assembling in London to throw together some sort of athletic competition.
Here's our handy, must-bookmark guide to everything worth seeing this summer:
(All times ET)
JUNE 2012
"MTV Movie Awards"
June 3, 9 p.m., MTV
Russell Brand hosts from the show's new Staples Center home, while "Bridesmaids" and "The Hunger Games" duke it out for the popcorn statues with eight nominations each.
"Longmire"
June 3, 10 p.m., A&E
"The Matrix" star Robert Taylor is the titular Big Sky country sheriff Longmire, who's lost his enthusiasm for his job — and his life — after the death of his wife. A new female deputy (Katee Sackhoff) helps him decide to turn things around, and when another deputy decides to run against Longmire in the sheriff's election, the veteran lawmaker turns to his friend Henry Standing Bear (Lou Diamond Phillips) for help.
"Real Housewives of New York City"
June 4, 9 p.m., Bravo
Jill Zarin, Kelly Bensimon, Cindy Barshop and Alex McCord are out, and for season five, three new women are in, including Carole Radziwill, a Jackie O relative and the widow of a prince … the Countess is not going to be happy about that.
Also read: The 'Real Housewives' Legacy of Marital Destruction and Financial Ruin
"Storage Wars"
June 5, 10 p.m., A&E
It's already been spun off, but the original is the best, and it's back for a third season.
"CMT Music Awards"
June 6, 8 p.m., CMT
Performers include Lady Antebellum, Kenny Chesney, Carrie Underwood, Brad Paisley, Willie Nelson, Rascal Flatts and The Band Perry.
Also read: 'Storage Wars' Is Officially the Most Popular Series in A&E History
"Adam Richman's Best Sandwich in America"
June 6, 9 p.m., Travel Channel
He's going from Austin to Washington — 27 cities in all — to sample 30 sammies that will contend for his ultimate sandwich title honors.
"Royal Pains"
June 6, 9 p.m., USA
Bros and biz partners Hank and Evan decide to split up their HankMed venture in season four.
"Take Me Out"
June 7, 8 p.m., Fox
George Lopez hosts the new love-search series, in which 30 single women stand behind lighted podiums and meet single men. If they like what they see, their podiums remain lit. If not, it's lights out.
"The Choice"
June 7, 9 p.m., Fox
Cat Deeley hosts this "Voice"-like dating reality series, in which celebs like Pauly D, The Situation, Dean Cain and Rob Kardashian sit in rotating chairs and conduct blind auditions … for dates.
"Saving Hope"
June 7, 10 p.m., NBC
Michael Shanks and Erica Durance star in NBC's latest medical drama, she as a surgeon trying to save lives, he as her fiancé — and the hospital chief of surgery — who's stuck in a coma after an accident. But it's not quite that simple: he also has out-of-body experiences that allow him to wander around as a ghost-like figure, communicating with the dead and getting them to pass along messages to the living.
"Tony Awards"
June 10, 8 p.m., CBS
Neil Patrick Harris hosts for the third time, while "Once," the musical based on the movie of the same name, leads all nominees with 11, followed by "The Gershwins' Porgy and Bess" and "Nice Work If You Can Get It" with 10 each.
Also read: 'Once' Leads Nominees for 2012 Tony Awards
"True Blood"
June 10, 9 p.m., HBO
Christopher Meloni joins the cast as the Vampire Authority, who's displeased about the state of human/vampire affairs. Meanwhile, Russell Edgington (Denis O'Hare), Vampire King of Mississippi, returns, and Bill (Stephen Moyer) and Eric (Alexander Skarsgard) team up to deal with him.
"Bunheads"
June 11, 9 p.m., ABC Family
A Vegas showgirl played by Tony winner Sutton Foster marries and moves to a small California town where her new hubby's cranky mom runs a dance studio. The best part? The new comedy is from "Gilmore Girls" creator Amy Sherman-Palladino, and the cranky mom is played by "GG" alum Kelly Bishop.
"Hurricane Hunters"
June 11, 9 p.m., Weather Channel
This is definitely an experience best enjoyed from the comfort and safety of your couch: the Biloxi-based Air Force 53rd Weather Reconnaissance Squadron flies planes right into hurricanes to give us info to better understand the deadly force of nature and gather meteorological data from the eye of the storm.
"Teen Mom"
June 12, 10 p.m., MTV
The fourth, and final, season with the original Teen Mom cast finds Maci's relationship with Kyle on the verge of being kaput, Farrah continuing to fight with her controlling mother and, most sadly, Amber hanging on for dear life to what she admits is a very loose hold on her sanity amid all her legal woes.
"Dallas"
June 13, 9 p.m., TNT
Ol' J.R. Ewing, and his original portrayer, Larry Hagman, are back in this updated version of the primetime soap classic. J.R.'s bro, Bobby (Patrick Duffy) is back, too, and their rivalry has spread to the next generation as Bobby's kindhearted son Christopher (Jesse Metcalfe) is butting heads with his J.R.-like cousin, John Ross (Josh Henderson). Linda Gray, Steve Kanaly, Charlene Tilton and Ken Kercheval — as J.R.'s ultimate enemy, Cliff Barnes — also reprise their original series roles.
"Burn Notice"
June 14, 9 p.m., USA
Just when Michael (Jeffrey Donovan) and Fiona (Gabrielle Anwar) finally seemed to have their relationship act together, she had to go and get herself thrown in the hoosegow. Michael, Sam (Bruce Campbell) and Jesse, of course, aren't going to let her stay there forever. Meanwhile, "Scrubs" alum John C. McGinley pops in as Michael's original CIA trainer.
"Suits"
June 14, 10 p.m., USA
Did Trevor spill Mike's big secret at the end of season one? That is but one of the reasons, along with the SAG Award-nominated performance of lead Patrick J. Adams, to tune in to this surprise hit from last summer as it opens its second season.
"Falling Skies"
June 17, 9 p.m., TNT
Resistance leader Tom (Noah Wyle) went onto the alien spaceship at the end of season one. So, when he emerges in season two, he's got some explainin' to do.
"Bristol Palin: Life's a Tripp"
June 19, 10 p.m., Lifetime
The reality series follows one of the most famous unwed teen moms as she moves from Alaska to Los Angeles with son Tripp and tries to navigate being a single mom and the attention that comes from being the offspring of mama Sarah, as well as her own sometimes controversial viewpoints.
Also read: Bristol Palin Gets in Bar Fight, Reveals Her Gaydar Powers (Video)
"Futurama"
June 20, 10 p.m., Comedy Central
Back-to-back episodes open the resurrected show's seventh season, which will include guest appearances by George Takei, Wanda Sykes, Estelle Harris, Patrick Stewart and Dan Castellaneta.
"Inside Men"
June 20, 10 p.m., BBC America
Three security company employees are plotting to boost millions of dollars in this new thriller from BBC. The twist: The story unfolds from all three employees' perspectives. "Luther" alums Steven Mackintosh and Warren Brown co-star.
"Snooki & JWoww"
June 21, 10 p.m., MTV
What little charm may or may not be left among the "Jersey Shore" shenanigans, at least we'll — presumably — get to see Snooki go through life sober, with a baby in her belly as she and pal JWoww share an apartment in New Jersey.
Also read: 'Jersey Shore': Gary Oldman Performs a Dramatic Reading of Snooki's Pee Problems (Video)
"The Great Escape"
June 24, 10 p.m., TNT
Ron Howard's producing TNT's first reality competition in which contenders have to make their way through big-screen movie-level physical challenges. NFL Network star Rich Eisen plays host for the series.
"The Newsroom"
June 24, 10 p.m., HBO
Aaron Sorkin's new drama stars Jeff Daniels as a cable news anchor who has a crisis of conscience just as his co-anchor quits and he has to get used to a whole new crew of co-workers. Sam Waterson stars as the president of the network; Jane Fonda guests as the CEO of the company that owns the network.
"Wimbledon"
June 25-July 8, ESPN, ABC, ESPN2
Olympic tennis competitions will take place at the All England Lawn Tennis Club in about a month, but Wimbledon has first dibs on the courts.
"Craft Wars"
June 26, 10 p.m., TLC
Tori Spelling is indeed one crafty mama, and she's going to be going home with glitter everywhere after filming this reality competition series, in which DIY-ers are given supplies and challenged to get creative with them.
"Anger Management"
June 28, 9 p.m., FX
Here it is: Charlie Sheen's aptly titled comeback series — a sitcom based on the Adam Sandler movie, with Sheen as a former baseball player (with anger issues of his own) who becomes a therapist. The best/craziest part: his dad, Martin Sheen, will play his dad, and one of his ex-wives, Denise Richards, will play his love interest.
Also read: Charlie Sheen Promises Advertisers 'Awesome' Success for 'Anger Management'
"Wilfred"
June 28, 10 p.m., FX
Robin Williams guest stars as Ryan (Elijah Wood) gets a new job, a new love interest and new troubles thanks to his ornery pal Wilfred (Jason Gann) in season two.
"Louie"
June 28, 10:30 p.m., FX
There's no way Louis C.K.'s show is gonna get anything but even better in its third season.
"Brand X With Russell Brand"
June 28, 11 p.m., FX
A Russell Brand talk show? It's not going to be of the Letterman-interviewing-someone-from-a-desk variety. Think more Andy Kaufman, where Brand will be super-interactive with the audience and might actually load them onto a bus and take them on a comedy field trip.
Also read: Arrest Warrant Issued for Russell Brand in New Orleans
JULY 2012
"Queen & Country"
July 1, 8 p.m., PBS
The four-part docuseries delves into all things Queen Elizabeth II, as the second longest-reigning monarch celebrates 60 years on the throne. Host Trevor McDonald takes viewers on tours of historic royal venues, and explains customs like the Changing of the Guard at Buckingham Palace.
"Weeds"
July 1, 10 p.m., Showtime
Did Nancy get shot? And which one of her many, many enemies was aiming that gun at her? All will be revealed in the season eight premiere.
"Episodes"
July 1, 10:30 p.m., Showtime
Matt LeBlanc nabbed a Golden Globe for playing, well, Matt LeBlanc, or a very funny version of himself, in this underrated comedy. In season two, TV Matt has to continue working with producers/couple Sean and Beverly since his show was picked up, and that's going to be a little awkward after his season one fling. With Beverly.
"Web Therapy"
July 2, 11 p.m., Showtime
Meryl Streep, Conan O'Brien, Selma Blair and Rosie O'Donnell are among the guest stars seeking Fiona Wallice's (Lisa Kudrow) online counsel in the comedy's second season.
"The Closer"
July 9, 9 p.m., TNT
The Kyra Sedgwick drama kicks off its final six episodes of season seven, which wraps up on Aug. 13.
Also read: 'The Voice' vs. 'American Idol': Who's the Social Media Champ?
"Opening Act"
July 9, 10 p.m., E!
"American Idol" producer Nigel Lythgoe is behind this talent search show, in which amateur groups are given the chance to act as the opening act at concerts with Rod Stewart, Brad Paisley and Nicki Minaj.
"Perception"
July 9, 10 p.m., USA
"Will & Grace" alum Eric McCormack is Dr. Daniel Pierce, a neuroscience professor who is particularly skilled at helping the FBI solve complex cases. When his own schizophrenia doesn't get in the way, that is.
"MLB All-Star Game"
July 10, 8 p.m., Fox
American League vs. National League in Kansas City, which hasn't played host since 1973.
"Trust Us With Your Life"
July 10, 9 p.m., ABC
ABC's new improv series stars Wayne Brady, Colin Mochrie and Jonathan Mangum re-enacting scenes from the lives of guest stars like Ricky Gervais, Mark Cuban and Jerry Springer.
"White Collar"
July 10, 9 p.m., USA
Neal gets a new love interest and a visit from a new federal agent — played by Mekhi Phifer — in season four.
"Beverly Hills Nannies"
July 11, 9 p.m., ABC Family
A reality series about — well, read the title — includes a former nanny for Charlie Sheen and Brooke Mueller. The stories, the shocking, shocking stories a legally binding privacy contract must prevent that woman from telling.
"Damages"
July 11, 9 p.m., DirecTV
The one-time FX drama unfolds its fifth and final season on DirecTV, with new cast member Ryan Phillippe.
"Big Brother"
July 12, 9 p.m., CBS
Her sometimes TMI-ish revelations on "The Talk" have us longing to see The Chenbot return for "Big Brother" season 14.
"Breaking Bad"
July 15, 10 p.m., AMC
The show's fifth and final season will be broken into two, eight-episode halves, and star Aaron Paul tweeted of the season's first installment, "Shit is about to get crazy … The teaser alone in episode 1 will have you screaming more than when someone got blown up last season."
Also read: How Giancarlo Esposito Forced 'Breaking Bad' to Get Even Better
"Political Animals"
July 15, 10 p.m., USA
Sigourney Weaver stars in the miniseries as Elaine Barrish, a former First Lady who is appointed Secretary of State after she loses the election to become the POTUS herself. Ciaran Hinds plays Bud, her ex-hubby and the ex-POTUS; Adrian Pasdar is Paul Garcetti, her new boss and the guy who beat her in the presidential election; Ellen Burstyn is her mom (and a former Vegas showgirl); James Wolk and Sebastian Stan are her sons; and Carla Gugino is the D.C. reporter and onetime Elaine enemy who becomes her unlikely ally during a crisis.
"2012 Olympic Games"
July 27, 8 p.m., NBC
The NBC Universal networks will air more than 5,000 hours of coverage from the 2012 London Olympics, i.e. there will be coverage of sports you've never even heard of.
Also read: NBCU Plans More Than 5,000 Hours of Olympics Coverage
AUGUST 2012
Shark Week!
Aug. 12, 9 p.m., Discovery
To paraphrase Tracy Jordan, we should all live every week like it's Shark Week. This year marks the 25th anniversary of Shark Week, and new episodes include "Air Jaws Apocalypse," in which shark expert Chris Fallows uses a specially-designed camera to follow 14-foot great white Colossus, "25 Biggest Baddest Bites" and "Sharkzilla," in which a crew recreates a megalodon, a 52-foot long, 100,000-pound shark with 250 teeth and make him bite through a car.
"Hell on Wheels"
Aug. 12, 9 p.m., AMC
The 10-episode second season will continue to focus on Anson Mount's Cullen Bohannon and his continuing efforts to leave his painful past behind and move on with the traveling railroad town.
"The Closer"
Aug. 13, 9 p.m., TNT
Brenda Leigh Johnson, a.k.a. Emmy winner Kyra Sedgwick, rides off into the sunset in the show's series finale.
"Major Crimes"
Aug. 13, 10 p.m., TNT
Mary McDonnell's Capt. Sharon Raydor takes over the Major Crimes unit, which won't go smoothly, despite her plan to build a department devoted to teamwork. Det. Provenza (G.W. Bailey), for one, isn't altogether on board with his new leader.
"The Burn"
Aug. 14, 10:30 p.m., Comedy Central
"Roastmaster General" Jeff Ross hosts this new series in which he and his fellow comics sit around and riff on pop culture hot topics. Sort of like "The View," but with a bit more testosterone.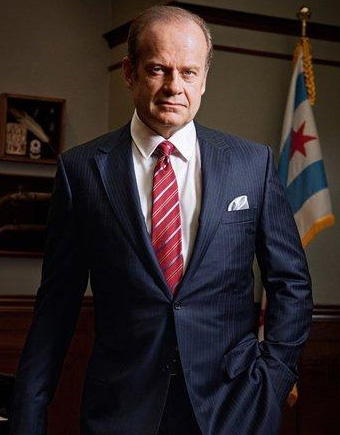 "Boss"
Aug. 17, 10 p.m., Starz
Sanaa Lathan and "Glee" alum Jonathan Groff join the season two cast as advisers to the dastardly Mayor Tom (Kelsey Grammer, who won a Golden Globe for the role), who tries to redeem himself for blackmailing his wife and sending his junkie daughter to jail. And then there's little matter of a possible murder …
Also read: Kelsey Grammer to Camille: You Can Do 'The Divorced Wives of Beverly Hills' Next Season' (Video)
"Copper"
Aug. 19, 9 p.m., BBC America
Tom Fontana and Barry Levinson ("Homicide") are the producers of BBC America's first original scripted series, about cops in New York City's Five Points 'hood right after the end of the Civil War. The gritty drama stars Tom Weston-Jones as Kevin Corcoran, a Civil War vet who comes home to a missing wife and a murdered daughter.
"Married to Jonas"
Aug. 19, 10 p.m., E!
Oldest Jonas bro Kevin and his wife, Danielle, play out their daily married life — with as much interference/appearances by his famous siblings as ratings warrant.
"Lovetown, USA"
TBD, OWN
What happens when Oprah encourages a small Georgia town and all its citizenry to focus on nothing but love for 30 days? More than a few babies, we're guessing, but also the end of family feuds and a renewed sense of community after town-wide projects like community gardening and churches of different religions worshipping together.