As a walkup to this weekend's 20th Electric Daisy Carnival dance festival, the buyers, bosses and bigshots of the global dance music industry huddled at the EDMbiz Conference at Casears Palace in Las Vegas on June 15 and 16.
They spent two days taking deep dives on topics ranging from the vodka preferences of Skrillex fans versus David Guetta fans to how EDM listeners outstream the rest of the music industry by double digit percentages.
Other issues tackled included untangling the legal aspect of monetizing remixes in a panel called "Solving Complex Rights Challenges" and the problem of how to educate and inspire people to take action about narcotics in "Drugs in Dance Music: It's Time for the Industry to Act."
Also Read: Electric Daisy Carnival Weekend: 5 Insiders That Non-EDM Fans Need To Know in 2015
EDC producer Insomniac and executives from Coachella, Live Nation and CAA Managing Partner Rob Light with six of his top music agents, took the stage alongside programmers from Spotify, Pandora and SiriusXM, amongst others.
From panels on how to monetize RFID (the radio technology in festival bracelets), to managers for acts like Tiesto and rising star Marshmello (top, center in white), and talent like Moby, Armin Van Buuren and Amy Pham, the confab drew a few hundred dance music industry insiders to the SXSW-style idea forum in the days before the fireworks and bombast of the 140,000 person dusk-to-dawn EDC festival at the Las Vegas Motor Speedway.
See TheWrap's top 8 takeaways below.
More mature audience
Surprisingly, 27 percent of EDM Fans are 35 or older, while 64 percent are 18-34 (born 1981-1998), per Matt Yazge, the Director of Brand Partnerships, Nielsen Music.
The entire history of recorded music to date is doubled every two weeks
Dubset Media CEO Stephen White estimates that in the 80-year history of recorded music, approximately 5 million hours have been captured — 5 million hours that are now uploaded every two weeks, driven by 300 hours of music uploads to YouTube per minute, according to White.
EDM fans drive festival revenue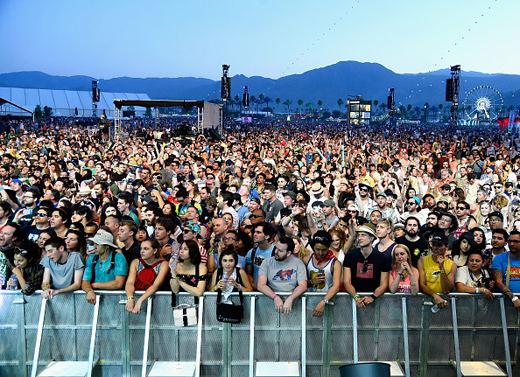 EDM fans spend 265 percent more money attending festivals than other music fans. While five percent of the U.S. population 13+ identifies as "often listening to EDM," they account for 10 percent of all dollars spent on music related services, according to Yazge.
They also drink … mainly vodka — or at least 49 percent of Skrillex fans who drink, drink vodka. That's just ahead of other headliners like Calvin Harris and Zedd.
Also Read: Spotify Nearly Doubles Revenue in 2015
Festival goers should not have stink
EDM fans are more likely than other music fans to buy razors, contraceptives, hair conditioner and spend significantly more on men's toiletries, per Yatzge.
The faces on L.A. DJ billboards are not the only factor driving Vega mega-clubs
James Algate, VP of Entertainment at Hakkasan said that "2,500 people will come for the club (name itself), 1,250 come for the talent and 1,250 are just coming — they met a girl at a pool, they got fliered on the strip, or it was the only big club open (that night)," he explained.
Buried in this soundbite is that at a place like Hakkasan with a 3,500 person capacity, will churn 5,000 people in a night.
Also Read: Drake, Chainsmokers Polish New Jewel Nightclub in Vegas (Photos)
EDC has brought $1.3 billion to Las Vegas
Insomniac Founder and CEO Pasquale Rotella discussed the festival's move from L.A. to Vegas five years ago in a keynote address with Tao Group's Jason Strauss.
"There's nothing like a mayor with a martini glass in his hand saying, 'Come through,'" Rotella said of Vegas' open arms attitude. The festival was not an immediate smash in its new home in 2011 and Rotella admits they lost $3 million that year.
Also Read: Kesha Heads to Las Vegas for Summer Residency at the Wynn's Intrigue Nightclub
Coachella did not want to book "The Chainsmokers"
"Correction," CAA's Rob Light said at a panel on the Wednesday. Per Light, Coachella brass (suggested to be Paul Tollett) said "I will never book The Chainsmokers."
Andrew Taggart and Alex Pall went on to set attendance records at the dance-centric Sahara Tent in 2016, drawing 40,000 fans to the corner stage.
"Paul (Tollett) is really happy that he ended up doing it," CAA's Jazz Spinder said.
In the wake of the Orlando shootings, EDC producers speak out on their disaster prep
"It's super important for everyone to understand the amount of law enforcement that's attached to this show," Maren Steiner, Director of Health & Safety for Insomniac told the conference in an unscheduled on-stage interview with conference emcee Jason Bentley.
"That didn't start after the horrific nightclub at Pulse nightclub. Some of those law enforcement you can see, and some of them you can't," she continued, admitting that her preparation involves a large portion of her time thinking of the "what-ifs?"
"We monitor the perimeter for a mile around the venue, we have an intense camera system [and] a lot of different security features I don't necessarily want to discuss," Steiner said. "EDC is a safe place to go."