One of the silver linings of my two-month hiatus between leaving Variety and joining TheWrap was the chance to catch up on some pleasure reading.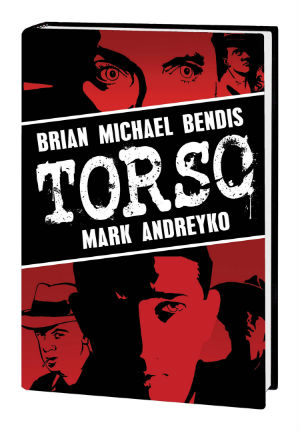 I don't read a lot of comic books or graphic novels but as a fan of all things macabre, the first title I sought out was Brian Michael Bendis and Marc Andreyko's true crime tale "Torso," which David Fincher spent years developing as a potential directing vehicle.
"Torso" is the compelling tale of Eliot Ness' search for an elusive serial killer in Ohio, where headless torsos are washing up in Cleveland along with notes taunting local officials.
Written by Bendis and Andreyko and drawn by Bendis, the black-and-white graphic novel was a satisfying read and made me yearn to see the feature adaptation that Fincher had planned. Matt Damon was attached to star as Ness but Paramount got cold feet about financing what Fincher envisioned as a black-and-white film, especially after his serial killer tale "Zodiac" grossed about half of its production budget in the U.S.
While Fincher moved on from "Torso" long ago, the project is getting a new lease on life from David Lowery, the multi-tasking director of Sundance sensation "Ain't Them Bodies Saints," who will write and direct the adaptation, TheWrap has confirmed.
Circle of Confusion ("The Walking Dead") is producing the independent film with Bendis and Andreyko.
I'll admit upfront that "Ain't Them Bodies Saints" wasn't my cup of tea and I didn't get what all the fuss was about at Sundance. I was fairly bored throughout the film and my former boss, who shall go unnamed, slept through the entire movie (though to be fair, we had been burning the candle on both ends that week).
Having said that, I acknowledge that Lowery is a talented filmmaker with a clear voice. The "Saints" screenplay may have moved too slow for my taste but the movie looked gorgeous thanks to Lowery and cinematographer Bradford Young, and featured an incredible original score from Daniel Hart.
Lowery will be starting from scratch on a leaner and meaner "Torso" adaptation, and regardless of my reaction to "Ain't Them Bodies Saints," that's an exciting prospect for genre fans, who should be glad the long-gestating project is in his capable hands.
Lowery, who is represented by WME, edited Shane Carruth's abstract drama "Upstream Color" and was recently hired to write Disney's remake of "Pete's Dragon." He's also developing the indie crime drama "The Old Man and the Gun," which has Robert Redford attached to star.
IFC Films will give "Ain't Them Bodies Saints" a limited release on August 16.
The Hollywood Reporter broke the news of Lowery's involvement with "Torso."