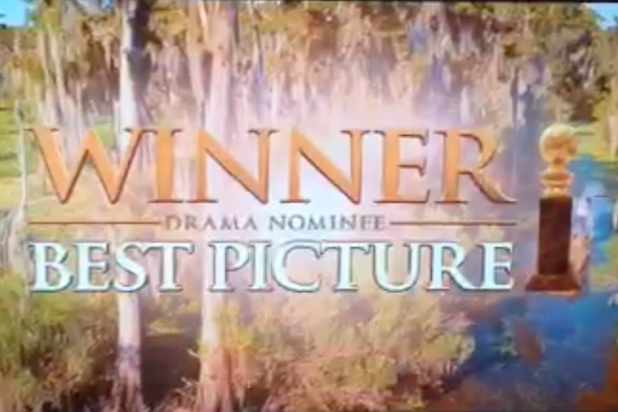 The president of the Hollywood Foreign Press Association has sent an email to awards campaigners asking them to refrain from identifying Golden Globe nominees as "winners" in their advertising.
Although HFPA president Theo Kingma does not identify any culprits in his letter, the Weinstein Co. and Fox Searchlight have both run ads calling the Weinstein titles "August: Osage County" and "Philomena" and Searchlight's "12 Years a Slave"(screen cap above) winners of nominations.
Kingma told TheWrap that the email was sent on Tuesday afternoon to "a select group of publicists we work with throughout the year." After stating that it is "entirely appropriate" to reference Globe nominations in ads, Kingma wrote in the email, "[W]e have recently seen several instances in which the word 'Winner' was used too prominently in publicity and advertising to describe nominees.
"While earning a nomination is certainly an honor and one to be celebrated, it is not a 'win' and using that term or terms similar to it is likely to mislead the public and diminish the excitement around the awards show, when the winners will be revealed."
Also read: 22 of Golden Globes' Biggest Snubs and Surprises: Where Are Anna Gunn and 'The Butler'?
Just before Christmas, Weinstein began running television ads that referred to "August: Osage County" and "Philomena" as winning Globe nominations (below) – and in onscreen graphics, the word "WINNER" appeared in much larger type than "NOMINEE" or "NOMINATION."
Fox Searchlight has run similar ads on behalf of "12 Years a Slave" (at top), with the word "WINNER" in far bigger type than "NOMINEE."
The ads were first singled out by the Franklin Avenue blog. Kingma's letter does not specifically reference the Weinstein or Searchlight ads, but only says that the organization wants to remind campaigners of "the proper scope of advertising and publicity related to Golden Globe Awards nominations and awards."
The Academy specifically prohibits that kind of wording in Oscar ads, but the Globes do not have as rigorous a set of campaign guidelines.
Other recent ads that use varying type sizes to stretch the limits of acceptability include some that feature "GOLDEN GLOBE AWARD" in large type over the word "NOMINEE" in tiny type; ads of that sort have recently appeared for TWC's "Mandela: Long Walk to Freedom" and Sony Pictures Classics' "The Past." But neither used the word "winner" to describe the recipient of a nomination.
An HFPA spokesperson told TheWrap that Kingma has spoken to Harvey Weinstein, and the Weinstein Co. confirmed that all of their offending ads will be pulled this week.
UPDATE: This story has been updated to reflect the fact that Fox Searchlight has run ads nearly identical to the Weinstein ads that were originally singled out.