The vast majority of this year's awards-worthy movies have yet to be seen by the Academy, but that won't stop three or four people from winning Academy Awards on Tuesday.
In the evening, the Academy will host a meeting of its board of governors at which the annual Governors Awards will be chosen. The awards encompass the honorary Oscar, the Irving G. Thalberg Memorial Award (given to a film producer) and the Jean Hersholt Humanitarian Award (for charity work), and are awarded for a body of work, not for an individual film or performance.
When they're announced — late Tuesday night if all the winners can be reached immediately, or Wednesday morning if they can't — the names will join the last two years of Governors Award winners in making up the largest crop of honorary Oscar winners in a three-year stretch at any time in the past 30 years.
That's by design: Saluting more cinema legends was part of the point in 2009, when the Academy decided to move the honorary awards off the Oscar telecast and into a separate, non-televised program. (Another crucial reason, of course, was to shorten the Oscar show.)
Since the change was made, the governors have selected four honorees each year — a number that hasn't been common since the 1970s, which saw years of four, five and even six winners. But since then, the Academy has voted two or three winners most years — and since 2002, never more than two.
But in 2009, the first year of the separate Governors Awards show, four winners were chosen: Lauren Bacall, Gordon Willis, Roger Corman and John Calley.
The following year added another four: Francis Coppola (above), Eli Wallach, Jean-Luc Godard and Kevin Brownlow. Another four are likely to be chosen on Tuesday night, under new Academy rules that make three honorary winners a virtual certainty and four a strong likelihood.
The process, as usual when it comes to Academy voting, is on the complicated side.
The 43 governors are allowed to nominate as many (living) people as they want, and the list of candidates — which generally numbers at least 10, according to participants — is posted in the meeting room.
Each governor then votes for one candidate, be it a Thalberg, Hersholt or honorary Oscar contender. The top vote-getter, rather than automatically being awarded an honorary Oscar, moves on to a second round of voting where each governor simply votes yes or no on their candidacy.
If more than half the voters say yes, that person is a winner.
The two-step process is then repeated: the governors vote for one of the remaining candidates, the top finisher goes to the yea-or-nay round, and a majority bestows the honor.
After three awards, candidates need a three-fourths majority to win an honorary Oscar. And once four are chosen, the vote ends. (It can also end if fewer candidates are chosen, but the remaining ones don't get enough votes.)
As for who's liable to prevail, it's always tough to guess the minds of the Academy. The last couple of years suggest that the governors will vote for one actor, but probably no more than one.
Among those who've been mentioned as possible candidates in recent years: Tony Curtis, Albert Finney, Debbie Reynolds, Donald Sutherland, Angela Lansbury, Maureen O'Hara, Christopher Lee, Jeanne Moreau and Max von Sydow.
Doris Day has been the object of the most spirited campaigning from outside the Academy, though her candidacy seems to have been greeted with some skepticism inside the halls of AMPAS.
Christopher Plummer has also been mentioned as a possibility in recent years, though the fact that he may well be in the running for a Supporting Actor nomination for "Beginners" could well hurt his candidacy.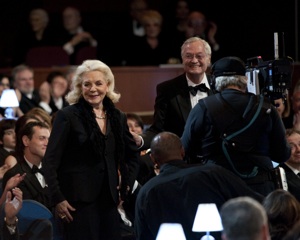 The governors have shown a tendency to vote for three honorary Oscars and one other award — and while it can be either the Hersholt Humanitarian Award or the Thalberg, they seem far more enamored of the latter, giving it to John Calley two years ago and Francis Coppola last year.
The last time a Hersholt was awarded was 2008, when it was given to Jerry Lewis. (Right: 2009 winners Lauren Bacall and Roger Corman)
Still, the state of the world could make this a tempting year to award a humanitarian award. Mia Farrow is consistently mentioned as a candidate here.
If the board goes back to the Thalberg instead (or as well), candidates could range from a veteran like Alan Ladd Jr. to a younger producer like Scott Rudin.
It's not inconceivable that the governors could honor the entire "Harry Potter" series by giving the Thalberg to David Heyman, though it might seem premature to do so in a year when the final "Potter" film is in contention for competitive Oscars.
Other possible candidates for honorary awards: directors Alain Resnais, James Ivory, Peter Weir and Ridley Scott; documentarian Albert Maysles; special effects pioneer Douglas Trumbull; veteran Oscar show producer Gil Cates; a film board or institution like Martin Scorsese's Film Foundation; and a wild-card choice like critic Roger Ebert.
But that's just the tip of the iceberg. It'll come down to the likes, loves and passions of 43 accomplished filmmakers, from Tom Hanks and Annette Bening to James L. Brooks, Caleb Deschanel, Michael Moore and Mark Johnson.
The third annual Governors Awards dinner and ceremony, one of the most collegial and popular events on the Oscar calendar, will take place on Saturday, Nov. 12, and will be produced by writer/director and Academy governor Phil Robinson.