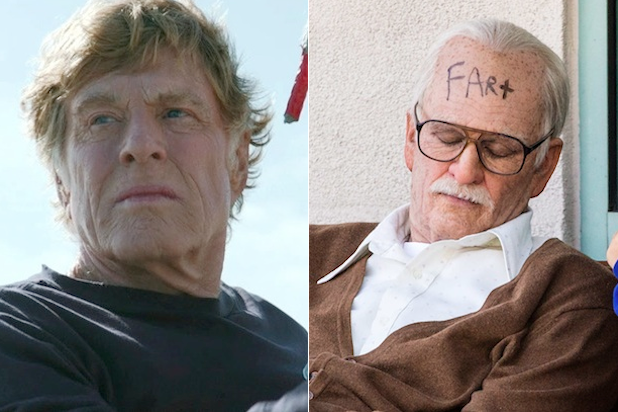 Attention, Oscar voters: If you need to catch up on the nominees, the Academy has some nifty double features in the works for you.
How about the tense but nearly wordless "All is Lost" and the raucous "Jackass Presents Bad Grandpa" back-to-back on Jan. 25, for instance? Or the chillingly unrepentant Indonesian murderers in the documentary "The Act of Killing" followed by Johnny Depp as Tonto in "The Lone Ranger" on Feb. 7?
Those are a couple of the delightfully strange bedfellows on the Academy's lineup of members-only screenings for the 2013 Oscar nominees, which begin on Jan. 25 and run through Feb. 17.
Also read: 17 Biggest Snubs & Surprises: Oscar Nominations 2014 (Photos)
The Academy is holding 105 screenings over 24 days at its two main theaters, the 1,012-seat Samuel Goldwyn Theater in its Beverly Hills headquarters, and the 286-seat Linwood Dunn Theater in Hollywood.
Every nominated film screens at least once in each theater, which means that diligent Oscar voters will be able to see every nominee in every category on the big screen, if they clear their schedules and put their minds to it.
Final voting opens on Feb. 14 and closes on Feb. 25.
Even the most obscure nominee, the Christian historical drama "Alone Yet Not Alone,"which scored a surprise song nomination, will screen with "The Grandmaster" on the afternoon of Feb. 6 at the Dunn and after "12 Years a Slave" on the night of Feb. 12 at the Goldwyn.
Foreign-language films, documentaries, animated features and shorts are often grouped with others in the same category, and other back-to-back screenings make perfect sense: On Jan. 29 at the Goldwyn and Feb. 4 at the Dunn, for instance, the Academy will screen  "Star Trek Into Darkness" and "Iron Man 3," two visual-effects nominees.
And if other couplings can be odd, they're also representative of a far-ranging group of nominees.
Also read: Oscar Frontrunners' Critical Weekend: What 'American Hustle,' '12 Years a Slave' and 'Gravity' Need to Do
Here's the complete schedule of the Los Angeles screenings. (Others are held in New York and London.) The screenings are for Academy members only, and an AMPAS membership card must be presented at the theater.
Saturday, Jan. 25
Linwood Dunn:
10:00 a.m. – "The Broken Circle Breakdown"
12:01 p.m. – "Omar"
2:00 p.m. – "American Hustle"
Samuel Goldwyn:
7:00 p.m. – "All Is Lost"
8:57 p.m. – "Jackass Presents: Bad Grandpa"
Sunday, Jan. 26
Linwood Dunn:
10:00 a.m. – "The Hunt"
12:05 p.m. – "The Missing Picture"
2:00 p.m. – "The Great Gatsby"
7:00 p.m. – "Dirty Wars"
8:36 p.m. – "20 Feet From Stardom"
Samuel Goldwyn:
7:00 p.m. – "Despicable Me 2"
8:48 p.m. – "The Hobbit: The Desolation of Smaug"
Monday, Jan. 27
Linwood Dunn:
10:00 a.m. – "The Great Beauty"
Samuel Goldwyn:
7:00 p.m. – "Inside Llewyn Davis"
8:55 p.m. – "The Grandmaster"
Tuesday, Jan. 28
Linwood Dunn:
7:00 p.m. – "The Act of Killing"
Samuel Goldwyn:
7:00 p.m. – "Frozen"
9:03 p.m. – "The Book Thief"
Wednesday, Jan. 29
Linwood Dunn:
2:00 p.m. – "The Lone Ranger"
Samuel Goldwyn:
7:00 p.m. – "Star Trek Into Darkness"
9:22 p.m. – "Iron Man 3"
Thursday, Jan. 30
Linwood Dunn:
2:00 p.m. – "Mandela: Long Walk to Freedom"
7:00 p.m. – "Cutie and the Boxer"
8:32 p.m. – "The Square"
Samuel Goldwyn:
7:00 – "Dallas Buyers Club"
9:07 p.m. – The Invisible Woman"
Friday, Jan. 31
Linwood Dunn:
2:00 p.m. – "Prisoners"
Samuel Goldwyn:
7:00 p.m. – "Captain Phillips"
9:24 p.m. – "Lone Survivor"
Saturday, Feb. 1
Linwood Dunn:
2:00 p.m. – "Gravity"
3:48 p.m. – "Nebraska"
7:00 p.m. – "Omar"
8:48 p.m. – "The Broken Circle Breakdown"
Samuel Goldwyn:
2:00 p.m. – Documentary shorts
7:00 p.m. – Animated shorts
8: 32 p.m. – Live action shorts
Sunday, Feb. 2
Linwood Dunn:
7:00 p.m. – "The Missing Picture"
8:45 p.m. – "The Hunt"
Samuel Goldwyn:
7:00 p.m. – "Her"
Monday, Feb. 3
Linwood Dunn:
2:00 p.m. – "Blue Jasmine"
7:00 p.m. – "The Great Beauty"
Samuel Goldwyn:
7:00 p.m. – "The Square"
8:54 – "Cutie and the Boxer"
Tuesday, Feb. 4
Linwood Dunn:
2:00 p.m. – "Star Trek Into Darkness"
4:22 p.m. – "Iron Man 3"
Samuel Goldwyn:
7:00 p.m. – "Philomena"
8:48 p.m. – "Ernest & Celestine"
Wednesday, Feb. 5
Linwood Dunn:
2:00 p.m. – "August: Osage County"
4:11 p.m. – "The Wind Rises"
Samuel Goldwyn:
7:00 p.m. – "20 Feet From Stardom"
8:40 p.m. – "Dirty Wars"
Thursday, Feb. 6
Linwood Dunn:
2:00 p.m. – "The Grandmaster"
3:58 p.m. – "Alone Yet Not Alone"
Samuel Goldwyn:
7:00 p.m. – "Blue Jasmine"
8:48 p.m. – "Before Midnight"
Friday, Feb. 7
Linwood Dunn:
2:00 p.m. – "The Wolf of Wall Street"
4:55 p.m. – "The Invisible Woman"
Samuel Goldwyn:
7:00 p.m. – "The Act of Killing"
9:12 – "The Lone Ranger"
Saturday, Feb. 8
Linwood Dunn:
2:00 p.m. – Live action shorts
3:49 p.m. – Animated shorts
7:00 p.m. – Documentary shorts
Samuel Goldwyn:
7:00 p.m. – "American Hustle"
9:28 p.m. – "Saving Mr. Banks"
Sunday, Feb. 9
Linwood Dunn:
2:00 p.m. – "Philomena"
3:48 p.m. – "Captain Phillips"
Samuel Goldwyn:
7:00 p.m. – "Gravity"
8:43 p.m. – "The Great Gatsby"
Monday, Feb. 10
Linwood Dunn:
2:00 p.m. – "The Croods"
3:49 p.m. – "The Hobbit: The Desolation of Smaug"
Samuel Goldwyn:
7:00 p.m. – "August: Osage County"
9:11 p.m. – "Mandela: Long Walk to Freedom"
Tuesday, Feb. 11
Linwood Dunn:
10:00 a.m. – "Cutie and the Boxer"
11:32 a.m. – "The Square"
2:00 p.m. – "Despicable Me 2"
3:48 p.m. – "Frozen"
Samuel Goldwyn:
7:00 p.m. – "The Broken Circle Breakdown"
9:01 p.m. – "Omar"
Wednesday, Feb. 12
Linwood Dunn:
10:00 a.m. – "Dirty Wars"
11:36 a.m. – "20 Feet From Stardom"
2:00 p.m. – "The Book Thief"
4:21 p.m. – "Before Midnight"
Samuel Goldwyn:
7:00 p.m. – "12 Years a Slave"
9:24 p.m. – "Alone Yet Not Alone"
Thursday, Feb. 13
Linwood Dunn:
10:00 a.m. – "The Act of Killing"
2:00 p.m. – "Jackass Presents Bad Grandpa"
3:42 p.m. – "Lone Survivor"
Samuel Goldwyn:
7:00 p.m. – "The Hunt"
9:05 p.m. – "The Missing Picture"
Friday, Feb. 14
Linwood Dunn:
2:00 p.m. – Documentary shorts
4:58 p.m.  – "Ernest & Celestine"
7:00 p.m. – Animated shorts
8:23 p.m. – Live Action shorts
Samuel Goldwyn:
7:00 p.m. – "The Great Beauty"
Saturday, Feb. 15
Linwood Dunn:
2:00 p.m. – "Her"
4:16 p.m. – "All Is Lost"
Samuel Goldwyn:
7:00 p.m. – "The Wolf of Wall Street"
Sunday, Feb. 16
Linwood Dunn:
2:00 p.m. – "12 Years a Slave"
4:24 p.m. – "Saving Mr. Banks"
Samuel Goldwyn:
7:00 p.m. – "Nebraska"
9:05 p.m. – "Prisoners"
Monday, Feb. 17
Linwood Dunn:
2:00 p.m. – "Dallas Buyers Club"
4:07 p.m. – "Inside Llewyn Davis"
Samuel Goldwyn:
7:00 p.m. – "The Croods"
8:54 p.m. – "The Wind Rises"