"The Amazing Spider-Man" is spinning box-office gold in the U.S. and abroad, rolling up an estimated $341.2 million worldwide since its opening.
"Spider-Man" took in $65 million over the weekend, giving it $140 million for the 6-day holiday frame in North America and relaunching the franchise with a bang.
The movie cost $230 million to produce and had to ensnare audiences with a fresh approach to a familiar franchise. Sony's decision to change the leads to Andrew Garfield and Emma Stone, and the director to Marc Webb, resonated with audiences. They gave the film an "A-" CinemaScore.
Also Read: 'Amazing Spider-Man' Trilogy Confirmed
Sony's decision to release this film in 3D is looking just as good. Fourty-four percent of the weekend's gross came from 3D, 10 percent came from 307 Imax screens. Imax grosses were $14.3 million for the 6 days, a whopping $47K per screen. It played 4,318 screens in all.
Also read: Five Things That Are Different About the New 'Spider-Man'
The reboot compared favorably with two other freshened franchises. "Batman Begins" opened to $48.7 million in its first three days in 2005, and last year's "X-Men: First Class" bowed to $55.1 million.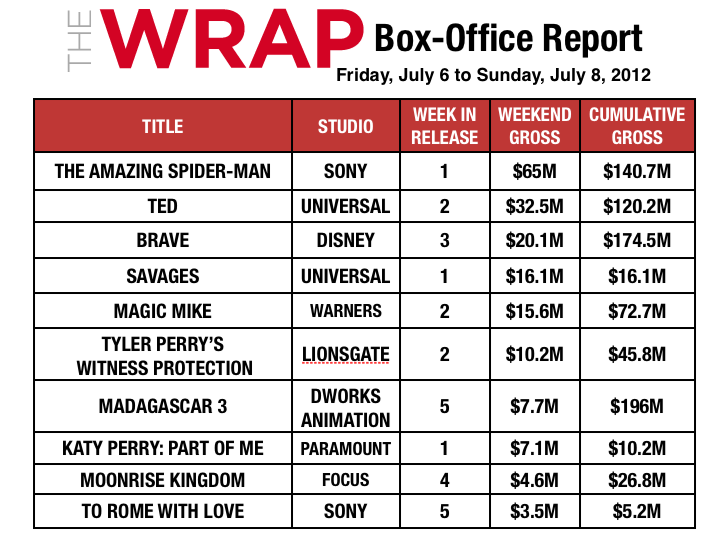 Spidey audiences skewed slightly male at 58 percent, and 54 percent were over 25. Kids under 12 accounted for 25 percent of the audiences.
Despite the dominating performance by Spidey, there were several other success stories on a busy weekend that ran ahead of last year's post-July 4 frame by nearly 35 percent.
Also read: 'The Dark Knight Rises': 5 Take-Aways From the Production Notes
Universal's "Ted' talked up $32.6 million over the three days from 3,256 theaters, a $10,010 per-screen average and just a 40 percent drop from its opening week. That gives Seth MacFarlane's R-rated Seth MacFarlane comedy $120 million in two weeks of U.S. release.
Pixar's "Brave" took in $20.2 million from 3,891 locations in its third week, a 41 percent drop from last week. Its U.S. gross is now $174.5 million.
That — and "The Avengers," which has grossed $611 million domestically — helped Disney become the first studio to pass the $1 billion mark at the 2012 domestic box office.
Universal's "Savages" brought in $16.2 million playing at 2,628 theaters in its first weekend for fourth place. That's on the high end of expectations for Oliver Stone's $45 million drama about a pair of pot dealers who get on the wrong side of a Mexican drug cartel.
Warner Bros. "Magic Mike" added $15.6 million in its second week. Channing Tatum's stripper film has brought in $72.7 million in two weeks, not bad for a film with a production budget of $7 million.
"Tyler Perry's Madea's Witness Protection" added $10.2 millon from 2,161 locations, upping its overall U.S. gross to $45.8 million for Lionsgate.
In its fifth week, DreamWorks Animation's "Madagascar 3" added another $7.7 million from 2,861 locations to raise its at overall domestic gross to $196 million.
Concert documentary "Katy Perry: Part of Me," from Paramount's Insurge Pictures, has taken in $10.2 million from 2,730 locations since it opened Thursday, $7.1 million over the weekend. Audiences skewed heavily female at 81 percent and young with 72 percent under 25 and they loved it, giving it an "A" CinemaScore.
Focus Features' "Moonrise Kingdom" was strong in its second week of wide release, grossing $4.6 million from 884 locations, just a 6 percent drop from last week.