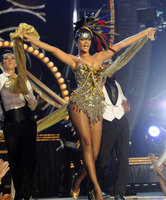 A three-hour cavalcade of musical performances that included Rihanna, Jay-Z and the Black Eyed Peas managed to do what few other shows have done all season Sunday: Compete with NFL coverage on NBC.
Running from 8 to 11 p.m. Sunday on ABC, the "American Music Awards" managed to eke out a tie in the key ratings demographic, adults 18-49, with a "Sunday Night Football" telecast featuring the New York Jets and the New England Patriots. According to Nielsen Fast Affiliate numbers, both programs averaged a 5.5 rating/13 share in the key demo.
The 18-49 number represented an 8 percent year-to-year increase for the "AMAs."
Even better for a program now challenging the Grammys as the top music awards show on TV, it grew its viewership for the fourth straight year, adding 2 million TV watchers for a total of 14.2 million Sunday, a 16 percent increase.
Strong performance among female viewers continues to drive the "AMAs," with the show ranking No. 1 Sunday among women 18-34 (5.8/16), women 18-49 (6.9/17) and women 25-54 (7.6/17).