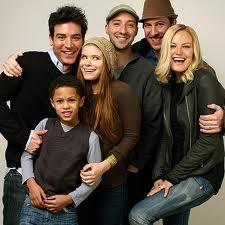 "Happythankyoumoreplease," the feature directorial debut from "How I Met Your Mother" star Josh Radnor, is on its way to an art-house theater near you, but it won't come courtesy of indie distributor Hannover House, according to Deadline.
Instead, the filmmakers are negotiating a new deal with Anchor Bay Films, which plans to give the comedy a proper theatrical release.
Anchor Bay has been on a roll with acquisitions lately, having picked up the successful indie movies "City Island" and "Solitary Man."
Radnor wrote, directed and produced "Happythankyoumoreplease," which debuted in January at the Sundance Film Festival, where it won the Audience Award.
"Happythankyoumoreplease" joins "I Love You Philip Morris" and "Casino Jack" as indie films that have recently severed ties to their distribution companies — Consolidated Pictures Group and Metropolitan, respectively, in the case of the latter two movies.
The film stars Radnor, Malin Akerman, Kate Mara and Zoe Kazan, and was scheduled for limited release on Aug. 20.