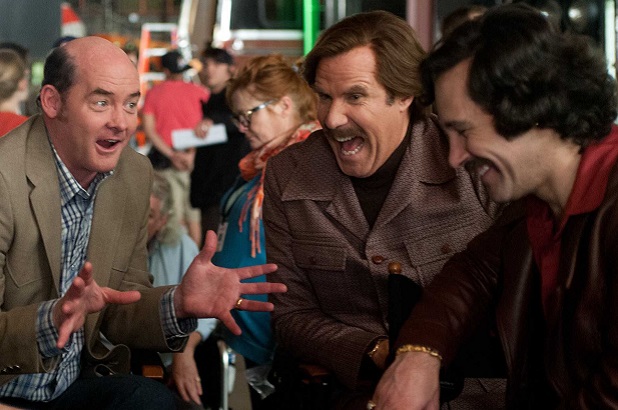 "Anchorman 2" edged "The Hobbit: The Desolation of Smaug" at the box office on Friday, but the weekend race was too close to call on Saturday morning.
The Will Ferrell comedy sequel took in $8.7 million from 3,507 locations in its third day of release. That just topped the second installment in Peter Jackson's "Hobbit" trilogy, last weekend's runaway box-office champ, which brought in $8.6 million from a market-high 3,928 theaters.  Both are likely to land in the $30 million range for the three-day weekend, with the more family-skewing Tolkien tale rating an advantage.
The PG-13-rated "Anchorman 2," which brought in another $13 million on Wednesday and Thursday for Paramount Pictures, is performing a little under analysts' expectations. Two other comedy sequels, "The Hangover Part III" and "Grown-Ups 2," opened north of $40 million this summer, though openings tend to be lower – and the holds stronger – during the crowded holiday season. First-night audiences gave it a "B" CinemaScore.
Also read: Alonso Duralde Picks 10 Worst Movies of the Year
Sony's Oscar hopeful "America Hustle" ran a strong third with $6.3 million from 2,507 theaters Friday, which projects to around $19 million for the three days. That would be director David O. Russell's best wide opening, topping the $15.8 million in of "The Three Kings" in 1999, and in line with what last year's Oscar Best Picture winner "Argo" did in its first weekend of wide release in October of last year.
Just behind the R-rated "Hustle" was Disney Animation's family film "Frozen," which took in $5.1 million – almost no fall-off from last week, despite dropping 176 theaters to 3,716 locations. With families likely to turn out Saturday and Sunday, it's likely to overtake  "Hustle" and is looking at an $22 million fifth weekend and a $177.5 million domestic total.
"Frozen" clearly put a chill on this weekend's other wide release, Fox's kids film "Walking With Dinosaurs," which brought just $2.2 million from 3,231 mainly-3D theaters Friday and is looking at $8 million for the three days.
Also read: Best & Worst 2013: Box-Office Blockbusters, Bombs and In-Betweens
Disney's "Saving Mr. Banks," another expanding Oscar hopeful, brought in $2.9 million from 2,110 theaters Friday. That puts the drama about the making of "Mary Poppins," starring Tom Hanks and Emma Thompson, on pace for around $9.5 million. That's a little less than analysts had projected. but audiences gave it an "A" CinemaScore.
Two Lionsgate movies followed. "The Hunger Games: Catching Fire" is still doing solid business in its fifth week. It brought in in an estimated $2.5 million Friday and is looking at an $8.5 million three-day total. That put it just ahead of "Tyler Perry's a Madea Christmas," which will likely wind up with an $8 million second week.
The Indian action film "Dhoom 3" recorded the best opening day ever for a Bollywood movie, taking in $1.07 million from 236 theaters on Friday to break into the top ten at No. 9. That's the first time an Indian movie has ever done $1 million on its opening day, and tops the mark of $745,000 set by "Chennai Express" in August.
Also read: TheWrap Screening Series: Recreating Disney's World for 'Saving Mr. Banks'
CBS Films expanded "Inside Llewyn Davis" from 15 to 148 locations and it notched a solid $303,000 for a $2,047 per-screen average, and should crack $1 million for the three days.
The overall box office was running roughly 20 percent of the same week last year, when "The Hobbit: An Unexpected Journey" led the way with $36 million in its second week, topping openers "Jack Reacher" and "This Is 40."  The 2013 box office is on pace to be the biggest ever domestically.