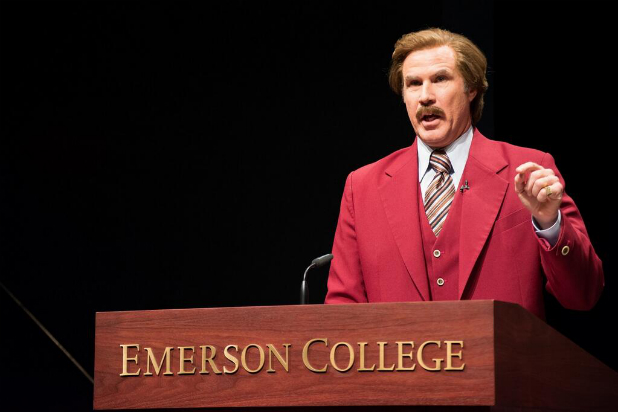 Ron Burgundy may be kind of a big deal, but two Emerson College journalism professors say that's not enough to merit renaming their school after the fictional anchorman on Wednesday in yet another publicity stunt leading up to the premiere of Paramount's "Anchorman 2."
"I was opposed to it from the start," assistant professor of journalism Mark Leccese told the Boston Globe. "I don't see what the college gets out of it, other than having its name in the media for a day. I don't see this Hollywood publicity stunt [enhancing] the reputation of Emerson's School of Communication."
Also Read: 'Anchorman' Ron Burgundy Asks Peyton Manning How He Plays Quarterback Without a Mustache (Video)
Leccese's colleague, journalism professor Emmanuel Paraschos, agreed. "We get calls from colleagues around the country asking if us if we lost our minds," he said. "My college roommate called me and said, 'What are you people smoking?'"
Emerson agreed to be home of the Ron Burgundy School of Communication – but just for one day. The 24-hour stunt is the latest in a series of reality-bending marketing tactics that feature "Anchorman 2" star Will Ferrell in character as Burgundy.
Burgundy showed up on an episode of "Conan" to announce the sequel in March 2012. Since then, the character has appeared in car ads for Dodge, anchored an evening news broadcast in North Dakota, and will host an upcoming segment on ESPN's SportsCenter.
Also Read: 'Anchorman 2' Superticket Details Revealed
The well-attended Emerson event kicked off on Wednesday with a press conference featuring Ferrell as Burgundy and school officials, who presented the character with a plaque. Students are sharing photos wearing the iconic Ron Burgundy mustache using the twitter hashtag #ecburgundy.
"Anchorman 2" is slated to premiere on Dec. 18, two days earlier than its original release date.