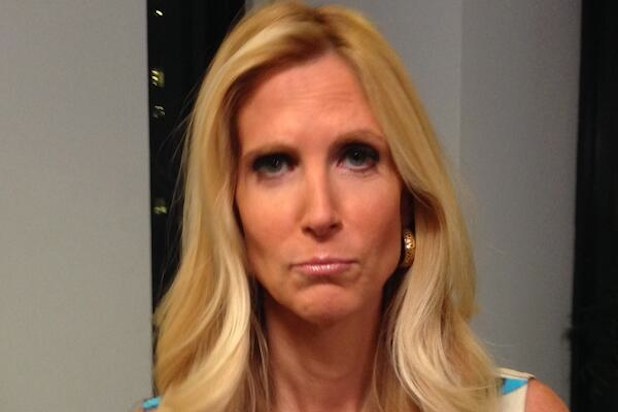 Ann Coulter tried to make a funny on Sunday, but inadvertently gave funnier people the opportunity to make her the butt of her own joke.
The Twitter fun began after the conservative pundit and author tweeted a picture of herself holding a sign reading "#BringBackOurCountry," which was a jab at the #BringBackOurGirls movement thousands have been participating in to raise awareness for 230 school girls kidnapped by terrorists in Nigeria.
Also read: CNN's Don Lemon Explodes at The Blaze's Will Cain Over Michelle Obama 'Cheap Activism' Comments (Video)
Another Twitter user then uploaded "a blank version of Ann Coulter holding a sign," and invited the world to make funnies of their own at Coulter's expense.
Take a look at Coulter's mockery of hashtag activism, below, then see the kind of mockery that followed:
My hashtag contribution to world affairs … pic.twitter.com/Wkb8ozYZFC

- Ann Coulter (@AnnCoulter) May 12, 2014
@AnnCoulter contributed to the international discussion. She blew it. #BringBackOurGirls #BringBackOurCountry pic.twitter.com/GWstUMfMRU

- Ring of Fire Radio (@ringoffireradio) May 12, 2014
#AnnCoulter confession pic.twitter.com/gQxjVDJ8Sx

- Sarah Meyer (@sarahjeanious) May 12, 2014
#AnnCoulter paints a very accurate self portrait RT"@MestizaMetaphor: pic.twitter.com/fDayG6NVIQ"

- bossy (@BhasChat) May 12, 2014
i'm with ann pic.twitter.com/NOm1HoQv4V

- Markus J (@MarkusJ) May 12, 2014
"@MestizaMetaphor: pic.twitter.com/B4IBtWCWjf" My favourite.

- Zaid Shahid. (@Tigershah26) May 12, 2014
- Magnum PI Evangelist (@ADumbFlowers) May 12, 2014
@ADumbFlowers pic.twitter.com/aAdy7nF6IO

- Dr Tedford (@Dj_Toaster) May 12, 2014