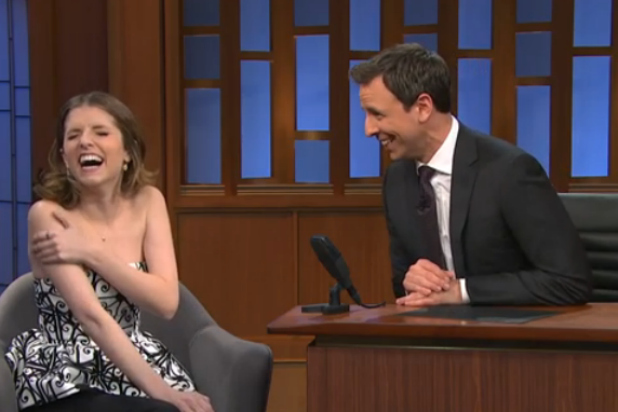 "Saturday Night Live" host Anna Kendrick has enjoyed an eventful start to 2014 — particularly the awards season — which she partially recounted to Seth Meyers on Tuesday's "Late Night."
First, at the Grammys, Kendrick co-presented with "SNL" musical guest Pharrell Williams and his now-famous hat, which she somehow didn't even notice until the Twitter explosion that followed.
"I think in person it just doesn't seem that big," Kendrick told the Studio 8G crowd.
See video: Seth Meyers Stages 'Late Night' Intervention for Kathie Lee Gifford and Hoda Kotb
Kendrick also presented at the Oscars, and thus was in the audience for John Travolta's even more infamous Idina Menzel name flub.
"I think everyone individually thought, 'Did I just have a mini-stroke at the Oscars?'" the actress recalled. "So no one wanted to be the one to be like, 'Did something weird just happen?'"
To which Meyers quipped: "And no one wanted to ask you, because they were like, 'She didn't even think Pharrell's hat was big — she's not the one to ask about did something weird just happen.'"
See video: Anna Kendrick Drives Taran Killam Crazy, Defaces Classic 'SNL' Photos in NBC Promos
Later, Kendrick and Meyers swapped hilarious stories about awards show rehearsal extras taking their gigs way too seriously.
Watch the clip: