Score another big win for Apple just a day after its blockbuster earnings report.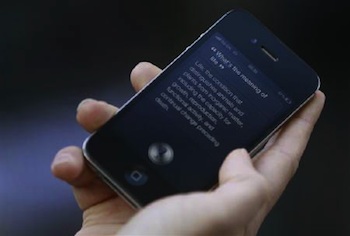 Apple announced Tuesday that it sold more than 37 million iPhones in the final quarter of 2011, and according to a report by Kantar Worldplanel ComTech, that pushed it past the Android platform in smartphone market share.
Apple took 44.9 percent of the market between October and December – double its share last year — with Android slips behind at 44.8.
That gives Apple CEO Tim Cook even more reason to gloat.
Asked on the earnings call Tuesday about the Android-Apple rivalry, Cook rejected the idea that Android was his sole competitor.
Cook said Android smartphone makers "haven't found away to get crisp quarterly reporting like we do that is straightforward and transparent."
Jab one.
Cook also noted that on the tablet and MP3 device side, Apple is miles ahead.
"All of us believe the iPad is way ahead there," he said. And later: "There's really no comparable product to the iPod touch out there."
Jab two.
All that was left to conquer? The smartphone market.
"Seems like all of the data that I've seen in the U.S. would say it's a very close race."
A race Apple may now be winning.
Knockout.
Now where are the contradictory reports?