(More: Get TheWrap's Complete Golden Globes Coverage)
In an odd year, the Golden Globes had the chance to shake things up and throw momentum in unusual places,
Instead, they gave us business as usual, Hollywood Foreign Press Association-style.
Most of the usual suspects won, nobody built much of a head of steam, and the handful of unusual choices can be all-too-easily traced to the organization's typical tendencies and biases.
"The Artist" went into the Globes as a prohibitive favorite and came out of the ceremony as the big winner on the film side, with three awards.
But its performance was far from a sweep: The writing and directing categories, for which it was nominated, went to "Midnight in Paris" and "Hugo," respectively.
Also read: Complete List of Winners
"The Descendants" began the night as the consensus runner-up in the Oscar race and ended up the runner-up in Globes, winning two: Best Motion Picture – Drama and Best Actor in a Motion Picture Drama (George Clooney).
More often than not the Motion Picture Drama winner goes on to be named Best Picture at the Oscars, and "The Descendants" certainly kept itself in the race. But once again, it took second place to the black-and-white silent film.
If there was a bigger winner than "The Artist," it was probably the man who released the film, Harvey Weinstein. His Weinstein Company not only led all companies with six winners, but he was singled out in a number of speeches – including Best Actress in a Drama Meryl Streep's, where she said "I'd like to thank my agent and God – Harvey Weinstein."
Also read: Ricky Gervais' Best Golden Globes Jokes
On the television side, only one broadcast network — ABC — took home a Globe, for "Modern Family." And only one series — Showtime's new show "Homeland" — took home more than one award, winning both Best Television Series – Drama and Best Actress in a Television Series – Drama (Claire Danes).
As for the much-anticipated third go-round as Globes host for Ricky Gervais, the acidic comic appeared notably defanged and ineffectual. It's hard to imagine anybody getting worked up about his jokes this year, the way they did in 2010 and 2011.
A roundup of burning questions about the Globes results, and what they all mean:
What do the results tell us about the HFPA's taste in movies?
Not much. They like things that other people like: "The Artist," "The Descendants," Clooney, Streep, Michelle Williams, Octavia Spencer …
But they also like to spread things around. The first nine movie awards went to nine separate films; it wasn't until two-and-a-half hours into the show, when "The Artist" won Best Actor – Comedy or Musical (Jean Dujardin) to go with its earlier Globe for music, that one film racked up a second award.
Who helped themselves with their acceptance speeches?
Clooney was charming and funny … but then, everybody already knew that.
Christopher Plummer was classy and nicely self-effacing, with a few nice lines such as his reference to his "Beginners" co-star Ewan McGregor as "that scene-stealing swine from the Outer Hebrides."
Also read: Ricky Gervais Gives Nothing to Complain About — Except a Dull Show
Michelle Williams, who never seems to be uttering anything insincere, was tentative but touching.
Octavia Spencer has been better at other shows; reading from a list is never the best way to make a good impression. Jean Dujardin was charming, particularly with a silent nod to Douglas Fairbanks at the end of his speech.
And Streep was beyond gracious, mentioning not only her fellow nominees but a number of women who weren't even nominated, and paying tribute to "serious, challenging, weird movies."
But none of them really made the kind of impression that would cause an Oscar voter to say, "Ooh, I want to vote for them!"
Did the Globes voters go overboard to award big stars, the way they so often do?
Well, Madonna's song for "W./E.," which was written at the last minute and buried deep in the credits, was the nominee that played the smallest role in its film – but with apologies to Elton John, Madonna was the biggest star among the nominees, so it wasn't much of a surprise that she won.
And in the Animated Feature category, they opted for Steven Spielberg's "The Adventures of Tintin" over the consensus critical favorite, Gore Verbinski's "Rango" – though that may be because "Rango" was too weird for them, in addition to the fact that Spielberg's a much bigger name than Verbinski.
But I'll give them a pass for that, because in the Foreign-Language Film category, the voters chose Asghar Farhadi's tough, smart "A Separation" even though his competitors included Angelina Jolie's "In the Land of Blood and Honey."
What did the show tell us about the HFPA's taste in television shows?
It proved that 30 years after it made her Miss Golden Globes, the HFPA still loves Laura Dern, giving the actress her third Globe in five nominations. And it still loves Jessica Lange, who now has five wins to go with her 12 nominations.
And it really loves Claire Danes, who is now three-for-three in Globe wins going back to when she was 15 and won for "My So-Called Life."
And it went with the conventional wisdom in many cases, honoring a batch of Emmy winners including miniseries "Downton Abbey," actress Kate Winslet ("Mildred Pierce") and supporting actor Peter Dinklage ("Game of Thrones").
But the Globes also like to be the first to honor new shows, which they did with Kelsey Grammer's Best Actor award for the Starz drama series "Boss," and with the Best Drama Series award for "Homeland."
Who were the big TV winners and losers?
The winners: "Homeland," the only show to win more than one award (it won two), and "Enlightened" and "American Horror Story," two new shows whose Globe recognition came after their first seasons.
The losers: CBS, NBC and Fox.
Did they tell us anything about what lies ahead for the Oscars?
One of the problems with using the Globes as an Oscar precursor is that they separate the big awards into drama and comedy/musical categories, so they have twice as many winners.
Another problem with using the Globes as an Oscar precursor is that Oscar voters – who've already turned in their nominating ballots, and who won't receive their final ballots for another three weeks – don't really care what Globes voters like.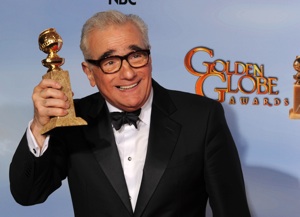 Now, if "Hugo" or "Midnight in Paris" win at the Producers Guild or Directors Guild Awards, then the boost provided by the Globe wins for Martin Scorsese (director, right) and Woody Allen (screenplay) may really mean something.
Did they tell us anything about what lies ahead for the Emmys?
Not a thing.
The Emmys aren't taking place for another eight months. By the time they roll around, nobody's going to remember anything about the Golden Globes.
Should anybody start to be annoyed by all this attention?
The cast of "Bridesmaids." The movie has done amazingly well on the awards circuit, but jokes about it incessantly play up one thing, and one thing only: In it, Melissa McCarthy poops in a sink.
There's a lot more to "Bridesmaids" than that one scene, and I'm betting that its creators and cast would like people to start mentioning some of the others for a change.
Now that it's over, who should be the most relieved?
Billy Crystal, because Gervais just made it a lot easier for him to be the best host of a televised movie awards show.
Speaking of Ricky: How'd he do?
He was boring. More effort appeared to go into the tease than the follow-through.
Gervais, to be sure, was in a no-win situation. With the entire lead-up to the show consisting of variations on "how naughty is Ricky going to be?," he was faced with either savaging the stars of backing off and being nicer.
If he chose the first option, he'd be lambasted for going too far and insulting his audience; if he chose the second, he'd be criticized for wimping out.
For his monologue, he chose a middle ground: He mostly played nice with the stars (except for some innuendo directed at Jodie Foster), but was nicely vicious about his hosts, both NBC and the Hollywood Foreign Press Association.
His swipes at the HFPA and the Globes were by far the most cutting bits of his monologue – and also the funniest and most accurate. He called the Globes "just like the Oscars, but without all that esteem," and then made a apt comparison: "The Golden Globes are to the Oscars what Kim Kardashian is to Kate Middleton: a bit louder, a bit trashier, a bit drunker, and more easily bought."
But for most of the show, his targets were generic, not specific, and his presence was mostly irrelevant. By the time he gave George Clooney a fawning introduction ("the Cloonmeister General," he said), all of those promos implying that he'd be vicious just looked silly.
Heck, Madonna's riposte to his lame "Like a Virgin" quip had more bite than anything he said.
Also, the Globes clearly tried to avoid an uncomfortable moment by the way they structured the show: instead of having Gervais introduce HFPA president Aida Takla-O'Reilly, the way he did last year (when he joked about having to help past president Philip Berk off the toilet), the show's announcer did the introduction of the 82-year-old Takla-O'Reilly, who came onstage with Jeremy Irons.