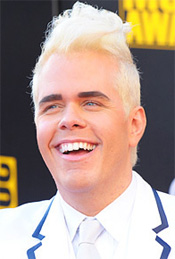 A company called Avid Life Media — which owns of sites HotorNot.com and Ashley Madison, the website that hooks up married men with willing, discreet women for extramarital affairs (tagline: "Affairs. Guaranteed!") — has put together an unsolicited $20 million bid to buy Perez Hilton's eponymous website.
Gawker has the letter of intent. A spokesperson for Avid Life told the site that the company has partnered with a pair of gossip bloggers — Zack Talor and Nik Richie, who runs TheDirty.com — to solidify the offer. (Avid appears willing to spend the cash. As Hamilton Nolan points out, the company paid $20 million for HotorNot.com two years ago.)
I e-mailed Perez for a response, but have yet to hear back.
To me, though, this smells like a full-on publicity stunt. Ashley Madison lives off fumes of publicity it gets through advertising on Howard Stern's satellite radio show — it recently sponsored Stern's "Tiger Woods Mistress Beauty Pageant," paying the winner, Jamie Jungers, $75,000.
And Hilton said in his recent book, "True Bloggywood Stories," he'd only consider selling his site for $500 million — and even then he'd retain ownership:
"I would sell half of my site for $500 million. I would maintain 51% ownership and do whatever I want with it."
More to read:
Perez Hilton: Anderson Cooper Should Come Out of the Closet (Video)