Do not go gentle into that good night.
Now nearing its fifth installment, "Twilight" has become the old man of the MTV Movie Awards.
But on Sunday night, the vampire romance beat back a challenge from the newest young adult phenomenon on the block, "The Hunger Games," to keep its lock on the Best Movie statue. In doing so, "The Twilight Saga: Breaking Dawn — Part 1" repeated the performance of the previous film in the series, "Eclipse," which won the same award last year.
Also read: MTV Movie Awards: Complete List of Winners
"We have to thank you guys — our amazing, loyal and dedicated fans," Taylor Lautner, one of the film's stars, said while picking up the prize.
Not only did "The Twilight Saga: Breaking Dawn — Part 1" keep its hold on the night's top prize, it also nabbed the Golden Popcorn statue in the coveted Best Kiss category, beating out Jennifer Lawrence and Josh Hutcherson of "The Hunger Games."
Yet, "The Hunger Games" did not go home empty-handed. Lawrence won the Best Female Performance award, beating out Emma Stone of "Crazy, Stupid, Love" and Kristen Wiig of "Bridesmaids." Stewart presented the statue to her tween rival Lawrence, who accepted the award via satellite from the set of her latest film, joking that she was disappointed the popcorn was not edible.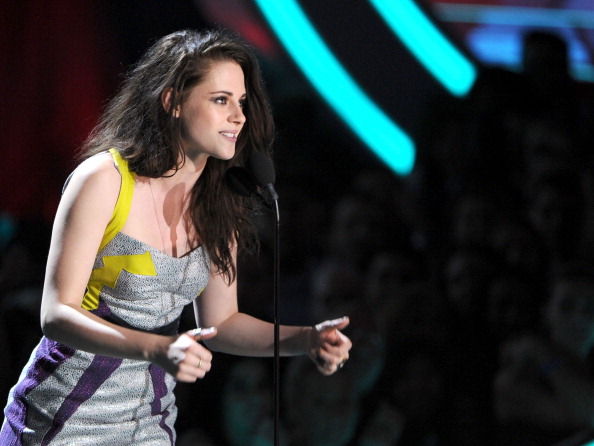 "The Hunger Games" also picked up statues for Hutcherson in the Best Male Performance category, Elizabeth Banks for Best Onscreen Transformation, and for Best Fight Scene.
Also read: MTV Movie Awards: Russell Brand Says He Gave John Travolta a Massage to Thank Him
Also winning major awards were "Harry Potter and the Deathly Hallows — Part 2," which earned a Best Cast statue; Jennifer Aniston who scored a Best Onscreen Dirtbag statue playing a libidinous dentist in "Horrible Bosses"; and Shailene Woodley who nabbed a Breakthrough Performance honor for her work as a grieving teenager in "The Descendants."
English comic Russell Brand hosted the annual awards show from the Gibson Amphitheatre in Universal City.
In a profanity-laced opening monologue, Brand skewered John Travolta's legal issues with two male masseurs, Michael Fassbender's full frontal nude scene from "Shame," and Justin Bieber's recent scuffle with the paparazzi.
Brand found a sure-fire way to keep the young adult crowd on his side.
Periodically throughout his opening schtick, Brand would shout out "The Hunger Games" and "Twilight."
"These words generate good will," Brand joked.
Winners are in bold.
MOVIE OF THE YEAR

• Bridesmaids

Director: Paul Feig, Producers: Judd Apatow, Barry Mendel, Clayton Townsend (Universal Pictures)

• The Hunger Games

Director: Gary Ross, Producers: Nina Jacobson, Jon Kilik (Lionsgate)

• Harry Potter and the Deathly Hallows: Part 2

Director: David Yates, Producers: David Heyman, David Barron, J.K. Rowling (Warner Bros. Pictures)

• The Help

Director: Tate Taylor, Producers: Chris Columbus, Michael Barnathan, Brunson Green (DreamWorks)

• The Twilight Saga: Breaking Dawn – Part 1

Director: Bill Condon, Producers: Karen Rosenfelt, Wyck Godfrey, Stephenie Meyer

(Summit Entertainment)
BEST FEMALE PERFORMANCE

• Emma Stone – Crazy, Stupid, Love. (Warner Bros. Pictures)

• Emma Watson – Harry Potter and the Deathly Hallows: Part 2 (Warner Bros. Pictures)

• Jennifer Lawrence – The Hunger Games (Lionsgate)

• Kristen Wiig – Bridesmaids (Universal Pictures)

• Rooney Mara – The Girl with the Dragon Tattoo (Sony Pictures)
BEST MALE PERFORMANCE

• Channing Tatum – The Vow (Sony Pictures)

• Daniel Radcliffe – Harry Potter and the Deathly Hallows: Part 2 (Warner Bros. Pictures)

• Joseph Gordon-Levitt – 50/50 (Summit Entertainment)

• Josh Hutcherson – The Hunger Games (Lionsgate)

• Ryan Gosling – Drive (FilmDistrict)
BREAKTHROUGH PERFORMANCE

• Elle Fanning – Super 8 (Paramount Pictures)

• Melissa McCarthy – Bridesmaids (Universal Pictures)

• Liam Hemsworth – The Hunger Games (Lionsgate)

• Rooney Mara – The Girl with the Dragon Tattoo (Sony Pictures)

• Shailene Woodley – The Descendants (Fox Searchlight)
BEST CAST

• 21 Jump Street (Sony Pictures) – Jonah Hill, Channing Tatum, Ice Cube, Dave Franco, Ellie Kemper, Brie Larson

• Bridesmaids (Universal Pictures) – Kristen Wiig, Maya Rudolph, Rose Byrne, Melissa McCarthy, Wendi McLendon-Covey, Ellie Kemper

• Harry Potter and the Deathly Hallows: Part 2 (Warner Bros. Pictures) – Daniel Radcliffe, Emma Watson, Rupert Grint, Tom Felton

• The Help (DreamWorks) – Emma Stone, Viola Davis, Octavia Spencer, Bryce Dallas Howard, Jessica Chastain

• The Hunger Games (Lionsgate) – Jennifer Lawrence, Josh Hutcherson, Liam Hemsworth, Elizabeth Banks, Woody Harrelson, Lenny Kravitz
BEST ON-SCREEN TRANSFORMATION

• Collin Farrell – Horrible Bosses (Warner Bros. Pictures)

• Elizabeth Banks – The Hunger Games (Lionsgate)

• Johnny Depp – 21 Jump Street (Sony Pictures)

• Michelle Williams – My Week with Marilyn (The Weinstein Company)

• Rooney Mara – The Girl with the Dragon Tattoo (Sony Pictures)
BEST FIGHT

• Channing Tatum & Jonah Hill vs. Kid Gang – 21 Jump Street (Sony Pictures)

• Daniel Radcliffe vs. Ralph Fiennes – Harry Potter and the Deathly Hallows: Part 2

(Warner Bros. Pictures)

• Jennifer Lawrence & Josh Hutcherson vs. Alexander Ludwig – The Hunger Games (Lionsgate)

• Tom Cruise vs. Michael Nyqvist – Mission Impossible: Ghost Protocol (Paramount Pictures)

• Tom Hardy vs. Joel Edgerton – Warrior (Lionsgate)
BEST KISS

• Channing Tatum & Rachel McAdams – The Vow (Sony Pictures)

• Jennifer Lawrence & Josh Hutcherson – The Hunger Games (Lionsgate)

• Robert Pattinson & Kristen Stewart – The Twilight Saga: Breaking Dawn – Part 1

(Summit Entertainment)

• Rupert Grint & Emma Watson – Harry Potter and the Deathly Hallows: Part 2 (Warner Bros. Pictures)

• Ryan Gosling & Emma Stone – Crazy, Stupid, Love. (Warner Bros. Pictures)
BEST ON-SCREEN DIRTBAG

• Bryce Dallas Howard – The Help (DreamWorks)

• Collin Farrell – Horrible Bosses (Warner Bros. Pictures)

• Jennifer Aniston – Horrible Bosses (Warner Bros. Pictures)

• Jon Hamm – Bridesmaids (Universal Pictures)

• Oliver Cooper – Project X (Warner Bros. Pictures)
BEST MUSIC

• "The Devil is in the Details," Chemical Brothers – Hanna (Focus Features)

Interrogation scene

• "Impossible," Figurine – Like Crazy (Paramount Vantage)

Anna texts Jacob from across the pond

• "Party Rock Anthem," LMFAO – 21 Jump Street (Sony Pictures)

House dance party

• "Pursuit of Happiness," Kid Cudi (Steve Aoki Remix) – Project X (Warner Bros. Pictures)

The party erupts into chaos

• "A Real Hero," College w/Electric Youth – Drive (FilmDistrict)

The Driver takes Irene and her son for a fun ride