Colin Firth, Natalie Portman, Christian Bale and Melissa Leo – last year's Oscar winners for acting – didn't get the traditional honor of being the first Oscar presenters whose names were announced by the Academy.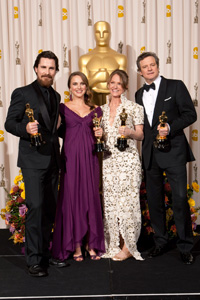 But they will be presenting at the 84th Academy Awards, Oscar show producers Brian Grazer and Don Mischer announced on Thursday.
Grazer and Mischer broke this year with the tradition of beginning presenter announcements with the previous year's acting winners; instead, their first announcement, back on January 26, was that the cast of "Bridesmaids" would appear on the show.
But on Thursday, last year's winners finally got their due, adding to an announced lineup of presenters that now stands at 25.
Firth and Portman received the Best Actor and Best Actress Oscars for "The King's Speech" and "Black Swan," respectively; Bale and Leo took home the supporting awards for "The Fighter."
In addition to Firth, Portman, Bale and Leo, Sunday's Oscar show will include Halle Berry, Rose Byrne, Bradley Cooper, Tom Cruise, Penelope Cruz, Cameron Diaz, Michael Douglas, Will Ferrell, Tina Fey, Zach Galifianakis, Tom Hanks, Angelina Jolie, Milla Jovovich, Ellie Kemper, Jennifer Lopez, Melissa McCarthy, Wendi McLendon-Covey, Maya Rudolph, Emma Stone, Meryl Streep and Kristen Wiig.
The Academy also announced on Thursday that singer Tony Bennett will perform at the Governors Ball following the Oscars.
(Photo by AMPAS)