In this morning's roundup of Oscar news 'n' notes from around the web, Geoffrey Rush charms, and Christian Bale doesn't.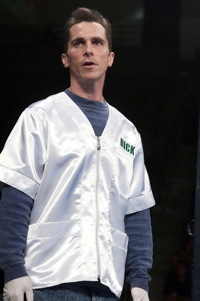 It looks as if the Supporting Actor race is shaping up to be a study in contrasts. If you look at the two presumed frontrunners, on one hand you've got Geoffrey Rush, who recently took advantage of a 48-hour break from shooting in Hawaii to fly to Los Angeles, appear at the AFI Fest gala for "The King's Speech," and answer one question at a pre-screening Q&A. And on the other hand you've got Christian Bale – who, if John H. Richardson is to be believed, is a testy guy who doesn't like discussing the acting process, doesn't really want anybody to know anything about him, and puts stringent demands on his interviewers. Someone, in other words, who's probably not going to be enthusiastically working the town on behalf of "The Fighter" during awards season. Richardson manages to get a pretty good interview out of Bale despite all the protestations (as many of them from the author as the actor), but he also posts a warning sign for anybody else who might sit down with Bale in the near future: danger, rough road ahead. (Esquire)
With the Oscars' shortlist in the Documentary Feature category due to be released any day now, AJ Schnack handicaps a field he knows as well as anybody. He sees a trio of frontrunners – "Inside Job," "The Oath" and "Waiting for 'Superman'" – plus another half dozen he expects to see on the list, along with 10 films that he thinks are competing for the one or two slots generally given to films that aren't dead-serious and issue-oriented. This last list includes the high-profile docs "Exit Through the Gift Shop," "Joan Rivers: A Piece of Work," "Babies" and "Winnebago Man," which means that snubs are no doubt impending. (All These Wonderful Things)
"Dear Bruce Vilanch," begins an open letter from a blogger named Raphael, who then offers a batch of "terrible jokes" about "127 Hours" for the upcoming Oscar show. "I anticipate you will use one, if not all of them," he says. "PROVE ME WRONG." I'm sure Bruce appreciates the pointers. (Boring Old Raphael)
CORRECTION: The original version of that item said that Vilanch was not writing the Oscars this year. In fact, he is indeed back for his 22nd year as an Oscar scribe. Apologies to Mr. Vilanch.
Tom O'Neil answers a question that's been floating around town lately: Can "Toy Story 3" actually win Best Picture? His answer: yes, it can, because "older guys" love it. My answer: not so fast. The huge actors branch is notoriously cool to animated films, in which actors don't get to use their bodies; some other branches, like Cinematographers and Makeup Artists and Hairstylists, also have reason to shy away from films that might not fully showcase their wares. I'm not saying it couldn't happen, and I'm certainly not saying it shouldn't – but if you look at the numbers, animated films are giving their competitors a pretty big head start. (Awards Tracker)
Dave Karger, who generally has quite a good track record at this kind of thing, is readying his Oscar predictions for Entertainment Weekly, and he starts with Best Picture. He's got five Best Bets ("Inception," "The Kids Are All Right," "The King's Speech," "The Social Network" and "Toy Story 3"), five Possibilities and five Long Shots – and not too much to quibble with, though I'd guess that he's selling "Winter's Bone" short and overestimating "How to Train Your Dragon." (EW.com)