What if they handed out Academy Awards, the ceremony took less than three hours, and afterwards everybody raved about what a fun, respectful and emotional night it had been?
Actually, they did just that last year, with the first Governors Awards ceremony.
Saturday at the Grand Ballroom at Hollywood & Highland, it's Sid Ganis' job to make sure they do it again.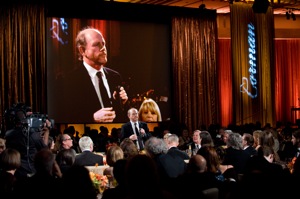 The Governors Awards were launched in 2009 as a way to both streamline the Oscar telecast and give out more Honorary Academy Awards, which had been restricted to one or two per year when they were handed out on Oscar night.
And the big question that followed the AMPAS board of governors' decision to create a separate, non-televised show for the honorary Oscars? Were they shortchanging the honorees by giving them their statuettes in front of 550 people in mid-November, rather than hundreds of millions of TV viewers in March?
That was answered by the collegial, touching way in which informal toasts, rambling speeches and in-depth video packages were used to salute Lauren Bacall, Roger Corman, John Calley and Gordon Willis. (Pictured, Ron Howard toasts Corman.)
"I think this will be the fun event that everybody wants to go to," said Academy governor Kathleen Kennedy at the end of last year's show.
"The honorees last year could not have been happier, including our sometimes grouchy cinematographer [Willis]," said Ganis, the former Academy president who was chosen by current AMPAS prez Tom Sherak to produce the second awards show.
One key point, Ganis told theWrap this week, is the absence of the time constraints that can make an Oscar-show acceptance speech such a rushed nightmare: "Whatever those honorees are planning to say on Saturday, nobody's going to be there counting down from 45."
Another? "Isn't it great to get all dressed up but not have to worry about how you look on camera?"
This year's honorees are director/producer Francis Ford Coppola, who is receiving the Irving G. Thalberg Memorial Award; and historian/preservationist Kevin Brownlow, director Jean-Luc Godard and actor Eli Wallach, who will receive Honorary Academy Awards.
The four were chosen at a meeting of the board of governors in August, several months after Ganis had been selected to produce the show. As a member of the board, Ganis took part in the meeting.
So as he voted, was he thinking about who'd make for a good show?
"I'll never admit that," said Ganis, who then admitted it. "But sure, that has to go through a producer's mind. Yeah, I was thinking about it."
Godard, of course, will be the trickiest to honor: the enigmatic 79-year-old director, never a fan of Hollywood, kept the Academy hanging for weeks before confirming that he would not travel from his home in Switzerland to attend the ceremony.
"I was preparing for it either way," Ganis (pictured) said. "We are going to honor Monsieur Godard in the same manner that we will honor the others, with grace and style."
The New York Times recently wrote about possible anti-Semitism in Godard's past, and said that Ganis was having a hard time finding someone to present the award, which the Academy will accept on the director's behalf.
"I have very, very good presenters for that award," insisted Ganis. "Were there a few people who didn't want to come and present? Yes, there were. The guy is a man of his own creative, sometimes eccentric vision, and that means that some people love him and some don't. But I got my people."
The key to all the presentations, said Ganis, is to find presenters with a real connection to the honorees. "It's easy to get up and say, 'For best achievement in cinematography, the nominees are…," he said, comparing the presenters' job at the Governors Awards to the same thing on the Oscar show.
"My job is to make it more personal than that. This will be a presentation of the work of the four honorees by various colleagues who know them personally, have worked with them, and care about them."
He's not planning to announce the names of any of those colleagues, he said, because he doesn't want the 550 Academy members and guests arriving at the ceremony "prepared to see a certain lineup of people."
Instead, he said, they should be prepared to see the kind of show that took place last year under the stewardship of Bruce Cohen and Don Mischer … but with a few twists
"Bruce and Don did such a great job – and you don't want to copy it, but you do want to keep the good stuff," Ganis said. "You want to keep their good stuff, and then try to add your own good stuff."
Cohen's and Mischer's stuff was good enough that the pair is now co-producing the upcoming Oscar show as well. So is Ganis thinking about how, if he does this one right, he could get the reins to the big show one day?
"Ask me later," he said, laughing. "First, I've gotta do this one right."