In the minutes following NBC's signoff from the Golden Globes telecast, industry fans mobbed Ricky Gervais at HBO's party in and around Circa 55 restaurant. It was a few more minutes in front of the cameras for Gervais (those on iPhones), as well as literal and metaphorical backslapping. A handler had to sneak him out a side door.
The multi-winning channel had saved the host a table next to President Michael Lombardo and MPAA chairman Chris Dodd, Lisa Bonet, sporting the same bowler hat from her mid-80s Cosby prime, had been eyeing Lombardo's table moments earlier.
On the other end of the cheery spectrum, Viola Davis, who was the only one of the four actor winners from Thursday's Critics Choice awards not to repeat on Sunday, was huffing across the Beverly Hilton lobby, iPhone in hand and husband in tow.
As Eric Stonestreet arrived down the stairs to HBO, Kathy Griffin alluded to the multiple ultra violet bracelet checks at HBO. "Sir ….Sir, may I see your bracelet?" When Stonestreet didn't hear her, she followed up stronger. "Sir, Sir, may I see your cock ring?" The two then headed off to the press alley to walk the carpet.
Seth Rogen's belly laugh echoed from across the room as Dustin Hoffman (whose "Luck"
premieres Jan. 29) and Ewan McGregor elevated security guards' blood pressure by glomming up the stairway moving and shaking on their way out.
The vast party had tons of food, tons of seating, and no lines for anything. After three hours of being one Elton John scowling cutaway shot from a twitter trending topic, guests were ready to exhale. Mila Kunis propped her feet up on some artsy-looking friends while she reapplied makeup.
Nearby, Kate Winslet and new boyfriend Ned Rocknroll (winner of the lifetime achievement award in Hollywood last names) stowed away on a small table for two outside with her Globe statute. Texting on her BlackBerry, guests who were star hunting either passed over her by accident or were too intimidated to give her the Gervais treatment, as they filled up plates with pork loin, mashed potatoes, and asparagus.
Tim Robbins, a sleeping-with-the-enemy Claire Danes (winner for Showtime's "Homeland"), Kate Walsh, Peter Dinklage, Paul Giamatti, Laura Dern, party-friendly David Spade, and Sarah Michelle Gellar were among the revelers downstairs.
Over at Weinstein, it was also a cavalcade of talent. A glasses and entourage-free Sean "Diddy" Combs slid into the empty Ron Burkle corner table, followed moments later by his rumored love interest Cameron Diaz. Though both posed separately for the godfather of event photography (WireImage co-founder Jeff Vespa), they choreographed their entrances, exits, and body language to be non-photographable in a two-shot.
Bottles of Diddy's personality-infused vodka Ciroc, a party sponsor along with Moet & Chandon, blanketed the three tent split-level complex built by Jeffrey Best.
Leonardo DiCaprio mixed with Jane Fonda, Morgan Freeman was without his Lifetime Achievement hardware as he moved through the crowd, and even last year's co-host and recent litigation opponent Ryan Kavanaugh was granted a prime table in the back.
Madonna's "W./E." table sat empty (she was elsewhere in the room), but the holy trifecta of attention magnets all hit the party at the same time: Paris Hilton, Lindsay Lohan, and Gervais' opening monologue punching bag Kim Kardashian. Hilton had earlier stomped over to her own section of the carpet for a multi-pose photo shoot, and Lohan also eminent domain'ed the Burkle's table after "Puff Diaz" had moved on, when she wasn't smoking behind an emergency exit.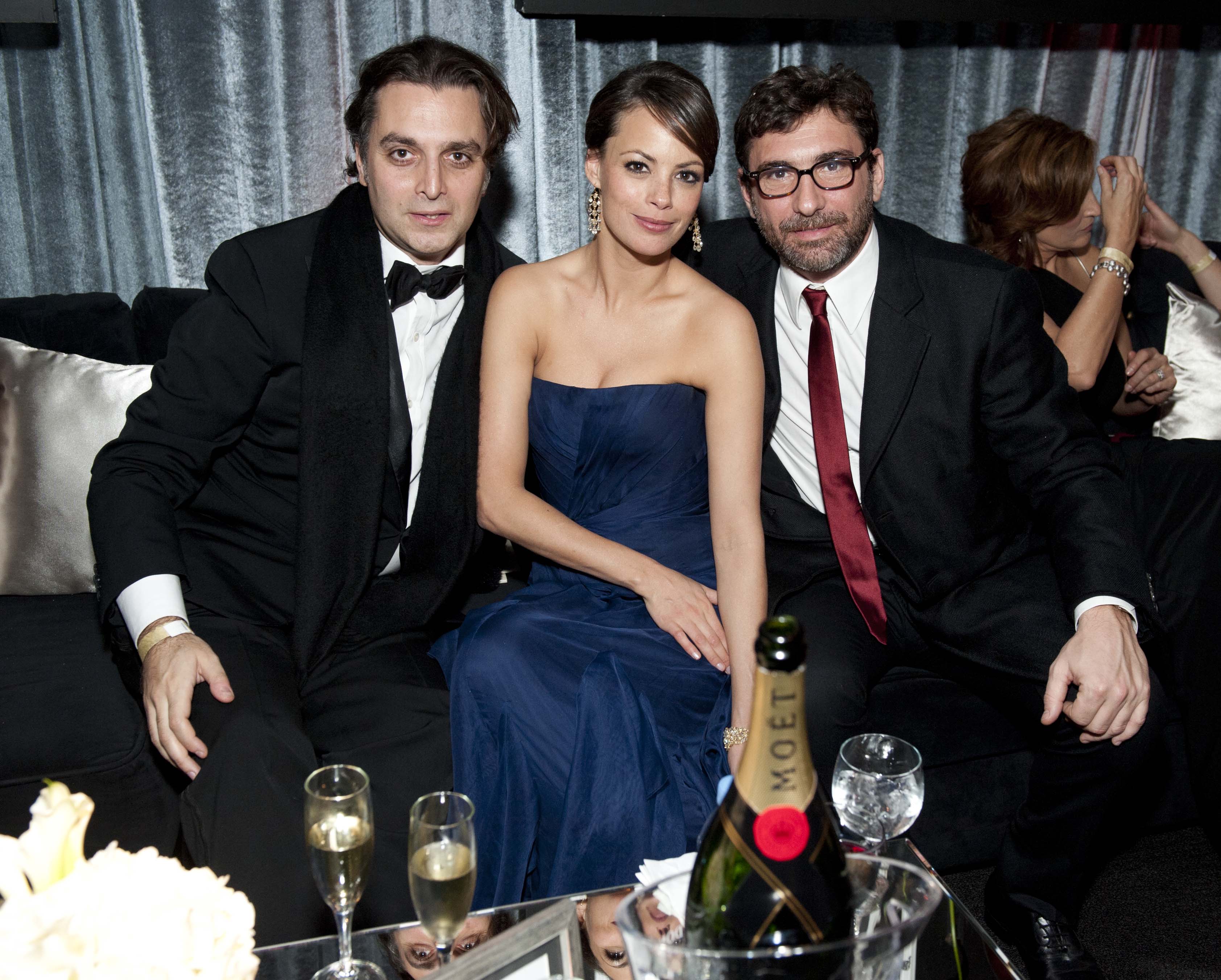 More low key, Michel Hazanavicius and the victorious "The Artist" delegation huddled in the open air lobby, cigarettes in hand. Hazanavicius commented that he didn't hold award show presenters accountable for consistently bumbling the pronunciation of his last name. "Even when I was in grade school in France, the teachers would get it wrong," he told TheWrap.
Upstairs at the Warner Bros./InStyle bash, DJ Michelle Pesce got Shailene Woodley out of her seat to dance one last time to Coachella headliner Dr. Dre's "California Love." She joined Jenna Elfman on the dance floor, one of the last bold-facers dancing at the terrace soiree.
After the Hilton was drained of star power, a few limos worth of friends in formal wear from
Sony, Fox, and People magazine headed over to the Dime on Fairfax for an after-after party.
One Fox executive lamented George Clooney's apparent no-after-party policy. "I've been working with this film since September," she said, "and I've never seen anything like it."
(Interior Photos by Michael Kovac)