The AFI Fest gala screening of "Casino Jack" was supposed to have been a festive occasion, given the fact that the screening would mark the Los Angeles premiere of a film in which director George Hickenlooper brought a comic, satiric touch to the tale of disgraced lobbyist Jack Abramoff, played with zest by Kevin Spacey.
But Hickenlooper's death less than two weeks ago made the AFI screening, which took place Monday night at Grauman's Chinese Theater, a more somber and emotional experience than it might otherwise have been.
"This one's for you, George," Spacey said, choking back tears as he introduced the film in front of a capacity audience at Grauman's.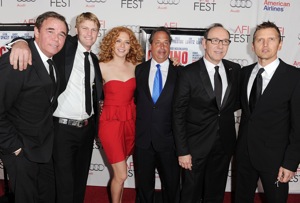 Before the screening, Spacey had organized a quiet gathering at the Sunset Towers, where he and his fellow "Casino Jack" actors met to share a drink in Hickenlooper's honor out of the public eye.
Then the actors – Spacey, Barry Pepper, Jon Lovitz, Rachelle Lefevre, Spencer Garrett and John David Whalen – went to the premiere, where the audience also included Hickenlooper's mother and brother.
(Left to right: Garrett, Whelan, Lefevre, Lovitz, Spacey and Pepper. Photo by Alberto E. Rodriguez/Getty Images. )
Spacey introduced the cast and a number of the film's producers, and spoke at some length about the man he called "one of the most enthusiastic and talented directors that I have worked with."
He talked about the director's "huge appetite for politics," his pride that people were beginning to take notice of his new film, and his passion to "entertain, provoke and shed a light on what happens when money and power damage the political process."
He also reminded the audience that it was okay to be amused by the film, which takes an often-comic look at the excesses and hypocrisies of Washington's culture of lobbying. "Don't be afraid to laugh," he said. "George would have wanted it that way.
Visibly fighting his emotions, Spacey ended by telling of a moment with Hickenlooper at the recent Toronto International Film Festival, in which the director was getting a haircut and suddenly began talking about death.
"It turns out that George's greatest fear of dying was that death would turn out to be boring," said Spacey with a smile. "As you'll come to find out, the last thing George Hickenlooper was was boring."
The Grauman's audience followed Spacey's instructions and laughed frequently, as well as breaking into sustained applause when Hickenlooper's name appeared onscreen.
And when it was over, Spacey and his fellow cast and crew members adjourned across the street for a party at the Hollywood Roosevelt Hotel, where once more they raised a glass to their director.