This year's awards race is a close one on many different fronts. And that includes the battle between competing expressions of gratitude in the obligatory reaction statements from happy Golden Globes nominees.
By the time I lost track around noon on Thursday, "honored" seems to be the most favored expression, with 10 nominees using some variation on that word to express how they feel.
(Kenneth Branagh adds a u, so for him it's an "honour.")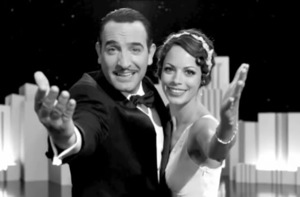 Other popular words: "grateful" and "thrilled," with nine mentions each; "excited," with five; and "happy," with four.
Also read: Complete List of Golden Globe Nominees
Of course, some nominees skewed the count by double and triple-dipping: "Descendants" screenwriters Jim Rash and Nat Faxon, for instance, began their statement with a trip through the thesaurus: "To say we're honored and excited and overwhelmed would be a huge understatement."
Also read: Globe Voters Give Ricky Gervais a Wealth of Great Material
The best word came from Mike White, the writer and co-creator of the HBO series "Enlightened," who said he was "stoked" to be nominated.
TheWrap will continue updating the tally throughout the day, as more reactions come in.
And if you think we're making fun of the sameness of all these statements – yeah, I guess we are. But we don't really blame the nominees for falling back on the same old phrases when forced to explain that they like being nominated.
And I have to admit, I think it's really cool that Luc and Jean-Pierre Dardenne, the Belgian arthouse auteurs behind "The Kid With a Bike," finally have a chance to craft a reaction statement.
Also read: 2012 Golden Globes Nominees (Slideshow)
Incidentally, I don't know if the creative talents behind "The Artist" are the most grateful nominees, but they're certainly the fastest grateful nominees: Once the nominations were announced, the first six reactions to hit my inbox were from that film.
Here are excerpts from the statements:
FILM
Jean Dujardin, "The Artist":
"Thank you so much to the Hollywood Foreign Press Association for this incredible gift. To be recognized alongside such brilliant actors is an honor. The Golden Globe nomination for 'The Artist' has left me speechless!"
Charlize Theron, "Young Adult":
"I am truly honored to be recognized by the Hollywood Foreign Press Association. 'Young Adult' was a dream project for me. Collaborating with Jason Reitman was incredible. We had a great time making this film and Mavis Gary is one of the most interesting characters I have ever played."
Leonardo DiCaprio, "J. Edgar":
"I'm honored to be nominated by the Hollywood Foreign Press Association today. I was extremely humbled to work alongside Clint and the entire cast of J. Edgar, and am very excited to be recognized for my work on the film."
Glenn Close, "Albert Nobbs":
"What an astounding embarassment of riches these past few days have brought to me, Janet McTeer, our composer Brian Byrne, and the incomparable Sinead O'Connor who sings our film's song. The whole 'Albert Nobbs' team is walking on air. Thanks to the Hollywood Foreign Press for this extraordinary honor."
Owen Wilson, "Midnight in Paris":
"It is an absolute honor to be nominated. It was a great movie to work on and I couldn't be happier to be recognized by the HFPA."
Michael Fassbender, "Shame":
"We knew that this was going to be a challenging piece for some audiences so I am especially delighted that the HFPA have acknowledged my contribution to Steve McQueen's amazing film. I am thrilled – thank you."
Tilda Swinton, "We Need to Talk About Kevin":
"This nomination is a very cool thing — I thank the HFPA sincerely. It's a beautiful boost for a film I made with my friends and am enormously proud of. The more people know Lynne Ramsay's name — and that of her extraordinary adaptation of Lionel Shriver's book 'We Need To Talk About Kevin' — the better."
Kenneth Branagh, "My Week With Marilyn":
"To be recognised for portraying one of the greatest actors of our time is truly an honour, and I am incredibly thankful to the Hollywood Foreign Press Association for their continued support of our film. Working alongside Michelle was an extremely rewarding experience, and I'm thrilled that both she and our excellent team of filmmakers have also been recognised for their incredible work."
Berenice Bejo, "The Artist":
"A Golden Globe nomination is unbelievable! I am so happy, and am very grateful to the Hollywood Foreign Press Association, and to audiences across America, for their support of 'The Artist.'"
Janet McTeer, "Albert Nobbs":
"Since I am working in Luxembourg today, how appropriate to be nominated by the Hollywood Foreign Press Association! How exciting this all is! And how many times can I say how happy I am to be sharing this wonderful journey with Glenn."
Shailene Woodley, "The Descendants":
"I'm so excited and grateful to the Hollywood Foreign Press Association for this honor, as well as for recognizing the brilliance of both Alexander Payne and George Clooney. Creating 'The Descendants' was such a magical time in my life, and to now be in the company of so many remarkable nominees this year is truly humbling."
Brendan Gleeson, "The Guard":
"I am absolutely delightedfor myself and for everyone involved in The Guard, especially writer/director John Michael Mc Donagh, who gave me the gift of Sergeant Gerry Boyle. I love that something so culturally specific can receive such prestigious international recognition. It renews the faith!"
Kate Winslet, "Carnage" (film) and "Mildred Pierce" (television):
"I am completely thrilled to be nominated for a Golden Globe for 'Mildred Pierce' since it was such an epic experience for all of us involved. And I am totally shocked and surprised by the nomination for 'Carnage.' Very unexpected, wow!!!!! I am truly grateful to the Hollywood Foreign Press for their acknowledgement."
Michel Hazanavicius (director), "The Artist":
"It's a great privilege and an honor for us to be nominated for a Golden Globe award by the HFPA. This movie is a love letter to Hollywood, and it's an indescribable joy to receive this news. I feel lucky, proud and excited to be included alongside such brilliant movies."
Alexander Payne (director), "The Descendants":
"I'm very touched by the HFPA's recognition of 'The Descendants' among so many other fine films this year, and I'm particularly gratified by the inclusion of Shailene Woodley along with George Clooney for acting honors. I'm looking forward to the Golden Globes dinner and hope they provide a low-sodium option."
Martin Scorsese (director), "Hugo":
"Making 'Hugo' was an extraordinary experience for me. It gave me a chance to work in 3D, which I've wanted to do since I was young; it allowed me to make a child's adventure, the type of picture that I loved when I was young; and it provided an occasion to pay tribute to one of the cinema's greatest pioneers, Georges Méliès. Given the support they've provided to The Film Foundation in our efforts to restore many films over the years, the recognition of the Hollywood Foreign Press Association for this particular picture has a very special meaning for me."
Jim Burke (producer), "The Descendants":
"It feels so gratifying to see the career best performance of George Clooney acknowledged, as well as the breathtaking Shailene Woodley. Finally, we are all so proud of our director, Alexander Payne, and feel so fortunate to be able to collaborate with a master filmmaker. Looking forward to celebrating with all of the nominees next month."
Jim Rash and Nat Faxon (screenwriters), "The Descendants":
"This is shared with Kaui Hart Hemmings who wrote such a beautiful book that we all fell in love with. We are equally honored to have had this opportunity to write and work with Alexander, someone whom we have long admired. It's all part of a collective dream come true."
Aaron Sorkin (screenwriter), "Moneyball":
"It's a thrill to share this honor with Steve Zaillian and have 'Moneyball' nominated alongside these four fantastic screenplays. I hope people really are judged by the company they keep."
Michael DeLuca and Rachael Horovitz (producers), "Moneyball":
"'Moneyball' was a labor of love and, as producers, today's tremendous recognition of the film by the Hollywood Foreign Press Association gives us another reason to be so thankful. Today's nominations for the film, for Brad Pitt, for Jonah Hill and for our screenwriters, are a testament to every single person below and above the line who ever worked on or contributed to this film – from our remarkably visionary director Bennett Miller to the inspiring Billie [sic] Beane."
Chris Columbus (producer), "The Help":
"The Golden Globe nominations are an incredible validation for us, a testament to the integrity of the film's powerful performances and to the beautiful direction of Tate Taylor. Today we all share these nominations with the mighty people of Greenwood and Jackson Mississippi, who took us into their homes, showered us with love and treated us like family."
Thomas Langmann (producer), "The Artist":
"They said I was crazy to take on making a black and white, silent movie, but I had a feeling 'The Artist' could be something special, something magical. I'm so thankful that audiences are taking a chance and embracing it with a spirit of adventure and love of cinema. And today we are grateful for the incredible honors we received from the Hollywood Foreign Press Association."
Letty Aronson (producer), "Midnight in Paris":
"I'm very excited and honored by these nominations. It's very gratifying to be recognized by the members of the Hollywood Foreign Press Association. Everyone associated with the film worked very hard and I am delighted by the public's response. And now this!"
Brian Oliver (producer), "The Ides of March":
"We are thrilled that so many involved with our film have been recognized today. Everybody behind this movie worked so hard to present this film in the most authentic way possible, and we are extremely thankful to the HFPA for their generosity and support. This is a project that is timely, relevant, and close to everyone's heart, and it feels great to have that project honored in so many categories."
Gore Verbinski (director), "Rango":
"It is an incredible honor to be recognized by the HFPA. When we set out to make 'Rango' we really tried to do something different, and this distinction is a testament to all the artists who dedicated themselves to that end. Being included on a list with these nominees is unimaginable. I want to thank Johnny Depp for his immense trust and talent in bringing the lizard to life, and to Paramount for their unwavering support."
Chris Miller (director), "Puss in Boots":
"What a great wake-up call for our entire cast and crew. We can't wait for the ceremony. To quote the cat himself, Antonio Banderas, 'Me-Wow!'"
Steven Spielberg and Kathleen Kennedy (director and producer), "The Adventures of Tintin":
"After our long adventure to bring 'Tintin' to the screen, this is a very happy moment for us and for Peter Jackson who got the news in New Zealand. We join in thanking the members of the HFPA for this recognition."
John Lasseter (director) and Denise Ream (producer), "Cars 2":
"This is a thrill for all of us who worked so tirelessly on 'Cars 2.' We love the 'Cars' world and these characters, and they have truly become part of the Pixar family. We are so very honored that the HFPA has recognized the work and passion that went into making the film."
Sarah Smith (director), "Arthur Christmas":
"I'm just delighted that the brilliant craftsmanship, hard work and dedication of the team who made 'Arthur Christmas' has been honoured by a Golden Globe nomination. Thank you to the Hollywood Foreign Press Association. We hope the movie gives Christmas pleasure!"
Angelina Jolie (writer-director), "In the Land of Blood and Honey":
"I am grateful that the Hollywood Foreign Press Association is honoring our film. This was a true collaboration and I am forever indebted to our cast and crew, who experienced their own personal tragedies in the Bosnian War and gave me an authentic perspective into the conflict."
Pedro Almodovar (director), "The Skin I Live In":
"I am very happy with my Golden Globe nomination for my latest film 'The Skin I Live In'. I'm competing with other foreign films that are so fabulous; I don't mind being defeated by any of them. For me, the award will be being at the Beverly Hilton sharing dinner and mineral water with so many people I admire."
Asghar Farhadi (director), "A Separation":
"For myself and for all my collaborators on this film as well as for the extended family of Iranian cinema to which I belong, the selection by the Hollywood Foreign Press Association of 'A Separation' as a nominee for the Best Foreign Film Golden Globe is a significant event and it makes us all happy. The nomination gives me greater resolve and encouragement to continue making this kind of cinema."
Luc and Jean-Pierre Dardenne (directors), "The Kid With a Bike":
"We just heard about the nomination of our film … at the Golden Globes. We are so excited and wish to sincerely thank the HFPA for this great honor – and our first nomination EVER in the U.S. We hope this will lead the film to a great path in the big continent of the USA."
Brian Byrne (composer), "Albert Nobbs":
"Just picked myself up off the floor — can't believe it!! So thrilled and delighted for Glenn and Janet too. Sinead O'Connor brought this song to life in a way that no other artist could have! Thank you HFPA, and thanks dad!"
Sinead O'Connor (singer), "Albert Nobbs":
"I am so happy that the Hollywood Foreign Press Association has chosen to acknowledge 'Lay Your Head Down'. The beautiful music by Brian Byrne and the absolutely wonderful lyrics by Glenn Close immediately touched me and made me feel proud and priviliged to have been asked to lend my voice to their work, to the song and to the film."
TELEVISION
Jeremy Irons, "The Borgias":
"I am delighted to be nominated for my work in Neil Jordan's 'The Borgias.' In truth I know it reflects the tireless efforts and exceptional talents of all those who bring this splendid series to the screen … But, of course, if you want to nominate anyone, and escape with your life, then you'd better first nominate the Pope."
Elizabeth McGovern, "Downton Abbey":
"I'm thrilled not only for myself and the entire 'Downton Abbey' cast, but also for my 2 husbands — Hugh Bonneville, my TV husband and Simon Curtis, my real-life husband who directed 'My Week With Marilyn.' We all look forward to putting on our glad rags for the awards."
David Duchovny, "Californication":
"The Hollywood Foreign Press has always been supportive. As always, I am grateful for the recognition, especially with so many fine actors in comedy all across television, and, most of all, happy for everyone on the show as we all share in this. And the HFPA throws by far the best party of the endless awards season."
Mike White (writer/co-creator), "Enlightened":
"I couldn't be more stoked and grateful to the HFPA for putting a spotlight on our show and Laura's awesome performance. HBO has been the greatest home and it feels good to make them happy."
Alex Gansa and Howard Gordon (creators), "Homeland":
"It is hard to overstate the importance of a nomination like this to a first year show. The Hollywood Foreign Press Association has just put 'Homeland' on the map, and we are honored and grateful to be included in the rarefied company of our fellow nominees."