The 2011 Palm Springs International Film Festival will open with the French farce "Potiche" and close with the UK/Kenyan production "The First Grader," PSIFF organizers announced on Wednesday. The festival lineup will include 193 films from 68 countries, including nine world premieres and 50 U.S. and North American premieres.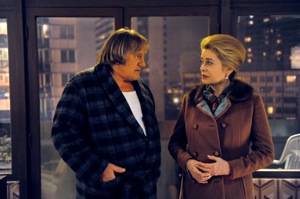 "Potiche" (left), directed by Francois Ozon, stars French icons Catherine Deneuve and Gerard Depardieu in a lighthearted, '70s-set film about a "trophy wife" taking over her ailing husband's umbrella factory. "The First Grader," which was the runner-up to "The King's Speech" for the Toronto Film Festival audience award, deals with an 84-year old former freedom fighter who attends school for the first time.
Other films to screen in Palm Springs include a gala presentation of Peter Weir's "The Way Back"; Gillian Armstrong's "Love, Lust & Lies"; 2010 Cannes favorite "Certified Copy"; Mike Leigh's Oscar contender "Another Year"; director Ed Gass-Donnelly "Small Town Murder Songs," with Peter Stormare, Jill Hennessy and Martha Plimpton; "Road to Nowhere," the first film in 21 years from cult director Monte Hellman; and the world premiere of James Gandolfini and Famke Janssen in "Down the Shore."
Last week, the festival announced a lineup of foreign-language films that includes 40 of the 65 movies competing in the Academy Awards' Best Foreign-Language Film category.
The festival will run from January 6 through January 17, 2011. The full list of films is available at www.psfilmfest.org.
Details from the PSIFF press release:
OPENING AND CLOSING GALAS
Marking its U.S. premiere, the Festival will open with the screening of Potiche (France), followed by a reception at the Palm Springs Art Museum. In Potiche, Catherine Deneuve commands the screen with a regal wink as Suzanne Bujol, a trophy wife ("potiche") whose mettle is tested when catastrophe strikes in her husband's umbrella factory. This stylish French farce is an irresistible romp through 1970s kitsch, politics and female emancipation. The film, directed by François Ozon, also stars Gérard Depardieu, Fabrice Luchini, Karin Viard, Judith Godrèche and Jérémie Renier.
Closing the Festival is The First Grader (UK/Kenya), about 84-year-old Kimani, a former Mau Mau freedom fighter, who takes advantage of a new Kenyan law to attend school. This emotionally uplifting drama cuts between Kimani's education and flashbacks to his harsh treatment at the hands of the British. The film received the Audience Award at the Tribeca Doha Film Festival. The film stars Naomie Harris, Oliver Musila Litondo, Vusi Kunene and Tony Kgoroge. Director Justin Chadwick is confirmed to attend the screening.
PREMIERES
World premieres include: James Gandolfini and Famke Janssen in Down the Shore (USA),The Encore of Tony Duran (USA), Wendie Malick and Jessalyn Gilsig in Fifty – Nothing (USA), Jeremy Irons narrating the documentaryThe Last Lions (Botswana), Terrence Howard and Josh Lucas in Little Murder (USA), The Rescuers (USA), Peggy Fleming, Dorothy Hamill and Michelle Kwan in the documentary Rise (USA), Charles Durning and Rita Rudner in the dark comedy Thanks (USA) and Wild Horse, Wild Ride (USA).
North American premieres include: The Albanian (Germany/Albania), Noomi Rapace in Beyond (Sweden/Finland), Colors in the Dark (Germany), Dusk (Netherlands), Everything Will Be Fine (Denmark), Young Goethe in Love (Germany), Habermann (Germany/Austria/Czech Republic), Haru's Journey (Japan), Juan (Denmark), Madly in Love (Belgium), Gérard Depardieu and Isabelle Adjani in Mammuth (France), The Names of Love (France), Next Year in Bombay (France/India), The Recipe (South Korea), Simple Simon (Sweden), Square Meter (Chile) and Summer Coda (Australia/USA).
U.S. premieres include: 40 (Turkey), Acquainted With The Night (Canada), As If I Am Not There (Ireland/Macedonia/Sweden), Autumn Gold (Austria/Germany), Bardsongs (Netherlands), A Barefoot Dream (South Korea), The Border (Slovakia), Cirkus Columbia (Bosnia and Herzogovina/France/UK/Germany/Slovenia/Belgium), Kat Dennings, Josh Lucas and Andie MacDowell in Daydream Nation (Canada), The Edge (Russia), Hello! How Are You? (Romania/Spain/Italy), Hermano (Venezuela), The Hunter (Iran/Germany), I Am Slave (UK), I Was a Child of Holocaust Survivors (Canada), The Life of Fish (Chile/France), The Light Thief (Kyrgyzstan/Germany/France/Netherlands), The Little Room (Switzerland/Luxembourg), Lou (Australia), Over Your Cities Grass Will Grow (UK/France/Netherlands), Oxygen (Belgium/Netherlands), The Pipe (Ireland), The Poll Diaries (Germany/Austria/Estonia), Catherine Deneuve and Gérard Depardieu in Potiche (France), Road to Nowhere (USA), The Runway (Ireland/Luxembourg), Solemn Promise (Serbia/Slovenia/France/Hungary/Croatia), Songs of Love and Hate (Switzerland), Isabelle Huppert in Special Treatment (France/Luxembourg/Belgium), Turquaze (Belgium), Rachel Weisz, Vanessa Redgrave, Monica Bellucci and David Strathairn in The Whistleblower (Canada/Germany), The Woman With A Broken Nose (Serbia/Germany) and Eva Green in Womb (Germany/Hungary/France).
GALAS AND SPECIAL PRESENTATIONS
Australian Gala:The Way Back (USA/Australia) – This epic true story follows the escape of six prisoners from a Stalin-era prison camp. To become free, they must journey out of snow-covered Siberia, across the deserts of Mongolia, the Great Wall of China and over the Himalayas into India . Director: Peter Weir. Cast: Colin Farrell, Ed Harris, Saorise Ronan, Mark Strong, Jim Sturgess and Alexandru Potocean.
Mid-Festival Gala: Ceremony (USA) – In this irreverent comedy, Sam decides to crash the weekend wedding party of the woman of his dreams. Director: Max Winkler. Cast: Michael Angarano, Uma Thurman, Reece Thompson, Lee Pace and Jake Johnson.
The Gay!La (His): Loose Cannons ( Italy ) – This giddy, straight-faced farce revolves around a wealthy pasta dynasty in modern-day Italy, and the family feud that ensues when eldest son (and heir-apparent) Antonio announces he's coming out to his straight-laced father. Director: Ferzan Ozpetek. Cast: Riccardo Scamarcio, Nicole Grimaudo, Alessandro Preziosi and Ennio Fantastichini.
The Gay!La (Hers): Leading Ladies (USA) – This intoxicating musical explores themes of personal liberation, sexual exploration and the lure of the ballroom dance floor with its tale of two distinctly different sisters and the overbearing mother who holds each of them back from attaining their heart's desire. Directors: Daniel Beahm, Erika Randall Beahm. Cast: Melanie LaPatin, Benji Schwimmer, Laurel Vail, Shannon Lea Smith and Nicole Dionne.
Special Presentation: The Hedgehog (France) – Disenchanted with life's hypocrisies, 11-year-old Paloma plans to end it all on her next birthday. But while filming her gilded Parisian apartment building, she discovers that some of its inhabitants are not who she believed them to be. An unlikely trio of friendships develops and hopes bloom in this adaptation of Muriel Barbery's beloved novel. Director: Mona Achache. Cast: Josiane Balasko, Garance Le Guillemic, Togo Igawa and Anne Brochet.
Special Presentation: Road to Nowhere (USA) – Cult director Monte Hellman returns after 21 years with this noir-ish mystery about an arrogant young filmmaker whose obsession with an actress threatens both the film he is making and the "real lives" of those making it. Director: Monte Hellman. Cast: Shannyn Sossamon, Dominique Swain, Tygh Runyan, Cliff de Young, Waylon Payne, John Diehl and Fabio Testi. Hellman will attend the screening to receive the Festival's Maverick Award on Saturday, January 15.
Special Presentation: Small Town Murder Songs (Canada) – This modern gothic follows an aging police officer from a small Ontario Mennonite town who hides a violent past until a local murder upsets the calm of his newly reformed life. Director: Ed Gass-Donnelly. Cast: Peter Stormare, Jill Hennessy, Aaron Poole, and Martha Plimpton.
Other Festival films with notable talent and directors include: Edie Falco and Embeth Davidtz in 3 Backyards (USA); Jim Broadbent and Lesley Manville in Another Year (UK) directed by Mike Leigh; Juliette Binoche in Certified Copy (France/Italy) directed by Abbas Kiarostami; David Lynch in the documentary David Wants to Fly (Germany/Austria/Switzerland); Ben Kingsley, Sally Field and Ed Asner in the documentary The Desert of Forbidden Art (Uzbekistan/USA/Russia); Vincent Gallo in Essential Killing (Poland/Norway/Ireland/Hungary) directed by Jerzy Skolimowski; Home for Christmas (Norway/Germany/Sweden) directed by Bent Hamer; I Am directed by Tom Shadyac; Jane Goodall, Angelina Jolie and Pierce Brosnan in the documentary Jane's Journey (Germany); Lope (Brazil/Spain) directed by Andrucha Waddington; Kelly Carlson in Love, Lust & Lies (Australia) directed by Gillian Armstrong; The Matchmaker (Israel) directed by Avi Nesher; Outrage (Japan) directed by Takeshi Kitano; Lambert Wilson in Of Gods and Men (France); Poetry (South Korea) directed by Lee Changdong; Stellan Skarsgård in A Somewhat Gentle Man (Norway); and Melissa Leo in The Space Between (USA).