At 3 hours and 35 minutes, Saturday's Creative Arts Emmys lasted 3.5 times longer than "How to be a Gentleman" stayed on CBS last fall.
It will only be two hours when it airs next Saturday, September 22 at 8:00 P.M. on Reelz Channel, but here's some of the highlights and stolen moments you won't be seeing on TV.
3 P.M.
It's a record-breaking 103 degrees on the red carpet outside the Nokia Theatre and the body count is one, as in one person has already fainted and there is still an hour to go before the show. Lisa Kudrow (first presenter) and Padma Lakshmi tower over the carpet.
Also read: Jimmy Fallon, Kathy Bates Among Creative Arts Emmy Winners
3:12 P.M.
Mark Margolis, 72, (right, with his wife) arrives nominated for "Guest Actor in a Drama Series" for "Breaking Bad." A member of his team, who has been working on his campaign since April, tells TheWrap, "The odds are 3-2 that he's going to win." Later when he loses, the same person is good natured: "Dang! The oddsmakers might have been with us, but the voters weren't!."
3:52 P.M.
There's no problem getting straggling looky-loos off the Nokia Plaza and in to the air-conditioning of the Nokia Theatre. "Bridesmaids" and competitors for Saturday Night Live hosting Melissa McCarthy and Maya Rudolph are genuinely happy to see each other and catch up. They both lose to Kathy Bates, who Kudrow says "couldn't be here because she started reading '50 Shades of Grey' this morning.
3:52 P.M.
As McCarthy, her husband Ben Falcone, and Rudolph trade hugs all around, Neil Patrick Harris uses the commotion to slip around them and avoid lots of glad-handing.
3:58 P.M.
Rob Corddry (on his way in to win for "Children's Hospital") teasingly tells the TV Academy's photographer, desperate to snap some talent two-shots, that he refuses to pose with his costar Nick Offerman.
4:01 P.M.
"American Idol" stage manager Debbie Williams, a cult celebrity to fans and guests of the live shows and whose 2009 on-set injury made national news, leads the seen-it-all TV audience in the theatre through fake reaction shots and laughter.
4:39 P.M.
As Jeremy Davies accepts "Guest Actor in a Drama Series" for "Justified," the once-upon-a-time Daniel Faraday cites Evangeline Lilly and Emilie de Ravin (former "Lost"-ies) during his thank-yous.
4:42 P.M.
This one probably will make it to air. While presenting, Nigel Lythgoe thanks "(Fox executive) Mike Darnell, the only person with a full length photo in his passport."
5:24 P.M.
A Brett Ratner sighting, at an awards show. Ratner is eating Raisinettes in the lobby and glued to a guy in a white blazer, jeans, and sneakers, who missed the Academy's stern memo that there were "no exceptions" to the black tie rule.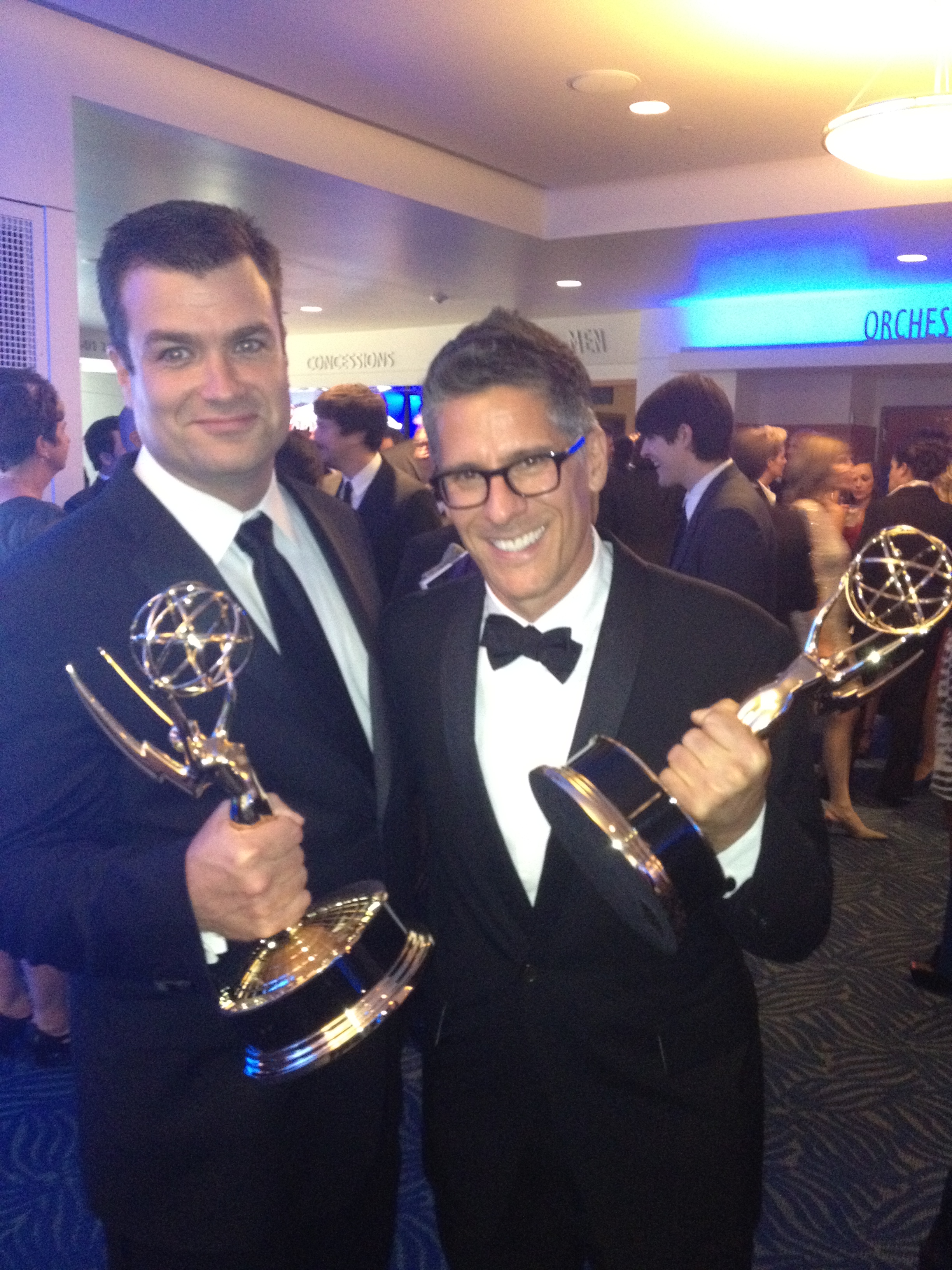 6:13 P.M.
For the first time in a few years, the Academy opened the bars during the show. This created a lively lobby scene that mushroomed as winners and losers fled the theatre after their categories. Executive Producers Curtis Lelash and Rob Sorcher for Cartoon Network's "Regular Show" (right) take in the scene.
6:48 P.M.
There is muted and scant applause as Jimmy Fallon (not there) tops Michael J. Fox (in the room) for "Guest Actor in a Comedy Series." Debbie Williams' earlier reaction-shot directing may come into play here for an "audience wash" in the edit. Fox went 0-for-2 in both guest actor categories, comedy and drama.
7:04 P.M.
The hilarious self-created nomination packages where variety series writers mock themselves with fake video have been moved out of the main show and into this one.
7:07 P.M.
Kathy Griffin stops "Kennedy Center Honors" producers George Stevens Jr. and Michael Stevens on their way down the aisle after their names were announced for "Variety Special" and not hers. She mouths "F— You, F— You" and gives double middle fingers over their backs as she hugs them. When she leaves the theater three minutes later, it's not because she's actually angry. The woman who coined the term "Shmemmy Emmys" for this show was heading backstage to present the final award of the night.
8:26 P.M.
Inside the Governors' Ball, Warner Bros TV president/Academy CEO Bruce Rosenblum pays a compliment to Academy governor Jon Teschner on why his peer group party was the best of the 28 groups: "It had air conditioning."
8:32 P.M.
Nearby in the executive-level "500" section tables, former Academy CEO John Shaffner is now just happy to be a guest. "I'm not stressing," he tells TheWrap. "I don't have to worry about fighting between networks over how many stars they get on the show."
9:52 P.M.
Also happy for less responsibility: Rob Riggle. "I just get to be a spectator," Riggle says, drawing a relaxing contrast to his last trip to the LA Live complex, when he hosted the ESPY awards in July.