Students from USC, CalArts and Columbia University qualified for next year's Oscars by winning gold medals at Saturday night's 39th annual Student Academy Awards, which took place at the Samuel Goldwyn Theater in Beverly Hills.
Those schools produced the top winners from the United States, while the University of Westminster in the U.K. yielded the gold medal recipient in the Foreign Film category.
Gold medal winners in those four categories automatically qualify in the shorts categories for the upcoming Oscars. The gold medal in the documentary category, which went to a film from NYU, does not automatically qualify its recipient for the Oscars.
The ceremony capped a week in which the 13 winners were wined, dined and taken to meetings around Hollywood by Academy officials.
(Left: animation winners David Wolter, Eric Prah and Mark Nelson.)
The Student Oscars ceremony was hosted by Academy president Tom Sherak, and featured actors Mena Suvari, Cuba Gooding Jr., Greg Kinnear and Laura Dern handing out the awards.
"I thought I was going to see a lot of films with people's parents in them," said Gooding of his initial reaction when Sherak asked him to participate. "But this is blowing me away, man. I realize this is an opportunity to grease up some of my future employers."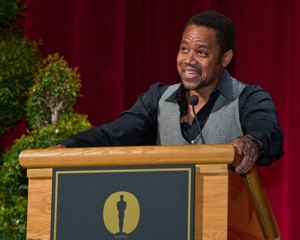 The first winner to whom Gooding presented an award, the Art Institute of Jacksonville's Heather Burky, began her thank-yous by turning to Gooding and saying, "I will hire you any day of the week, for sure."
"One down!" shouted Gooding.
Typically for the Student Academy Awards, many of the winners couldn't help but remark on the strangeness and pressure that came with standing on the stage and saying, "I'd like to thank the Academy." CalArt's David Wolter, who won the gold medal in the animation category for his fable-with-a-twist "Eyrie," walked to the podium and said, "I can't feel my hands. Is that normal?"
The gold medalist in the alternative category, USC student Amanda Tasse's "The Reality Clock," was also an animated film, an impressionistic 3D look at an aging watchmaker dealing with memory loss and a fractured sense of time.
NYU's Keiko Wright won the top prize among documentaries for "Hiro: A Story of Japanese Internment," an exploration of the three years her grandfather spent in a U.S. detention camp during the forced evacuation of Japanese-Americans in World War II.
The narrative gold medal went to Mark Raso of Columbia for "Under," the initially lighthearted but eventually harrowing story of a young couple who journey to a remote mountain cabin to detox. "I am freaking out," said Raso when he accepted his Saul Bass-designed plaque, which like all gold medals carried with it a cash award of $5,000. (Silver and bronze winners received $3,000 and $2,000, respectively.)
In the foreign category, David Winstone from the University of Westminster beat out two German entries with his humorous "For Elsie," about a piano teacher's encounter with a gangster who has unrealistic ideas about how long it'll take his daughter to master a Beethoven piece.
Accepting the award from Laura Dern, Winstone said, "This is an amazing moment for me – not just because it's an Academy Award, but because I've been in love with Laura Dern since I was five years old."
(That love, clarified Winstone, left, came when he was obsessed with "Jurassic Park" at age five.)
Near the end of the evening, Sherak retook the stage to congratulate all the filmmakers. "Guys, ladies, you make us proud," he said. "You are our future."
The 13 winning filmmakers knew that they would receive Student Oscars, but the level of each award was not disclosed until the ceremony in the Academy's headquarters – though Tasse was the exception, since voters in the alternative category had only opted to give out one award.
Past student Academy Award winners include Robert Zemeckis, John Lasseter, Spike Lee, Pete Docter, Trey Parker, Bob Saget, Ken Kwapis and Cary Fukunaga. In recent years, Oscar nominations have frequently gone to student winners, including two of the three foreign winners last year.
Luke Matheny's "God of Love" won the Oscar for Live-Action Short in 2010, eight months after winning a student award.
Over the years, Student Oscar winners have received 46 Oscar nominations and won or shared eight Academy Awards.
The winners:
ALTERNATIVE
Gold Medal: "The Reality Clock," Amanda Tasse, University of Southern California

ANIMATION
Gold Medal: "Eyrie," David Wolter, California Institute of the Arts

Silver Medal: "The Jockstrap Raiders," Mark Nelson, University of California, Los Angeles
Bronze Medal: "My Little Friend," Eric Prah, Ringling College of Art and Design
DOCUMENTARY
Gold Medal: "Hiro: A Story of Japanese Internment," Keiko Wright, New York University

Silver Medal: "Dying Green," Ellen Tripler, American University

Bronze Medal: "Lost Country," Heather Burky, Art Institute of Jacksonville
NARRATIVE
Gold Medal: "Under," Mark Raso, Columbia University

Silver Medal: "Narcocorrido," Ryan Prows, American Film Institute

Bronze Medal: "Nani," Justin Tipping, American Film Institute
FOREIGN
Gold Medal: "For Elsie," David Winstone, University of Westminster, United Kingdom

Silver Medal: "Of Dogs and Horses," Thomas Stuber, Film Academy Baden-Württemberg, Germany

Bronze Medal: "The Swing of the Coffin Maker," Elmar Imanov, The International Film School Cologne, Germany