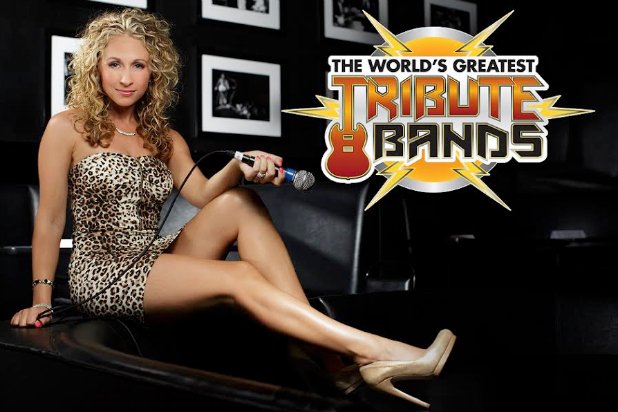 Rock on, AXS TV and your famous musician impersonators.
Mark Cuban and Ryan Seacrest's cable network has ordered a 15-episode third season for the one-hour live concert series, "The World's Greatest Tribute Bands."
Hosted every Monday by Katie Daryl (formerly of "TMZ"), the show features musical acts performing tributes to some of rock's most iconic bands, with live concerts the network bills as looking and sounding just like the real thing.
Also read: 'Deadly Affairs,' Hosted by Susan Lucci, Returning for Season 3 on ID (Exclusive)
"The World's Greatest Tribute Bands" third season premiere will be on Monday, Jan. 6 at 11 p.m. ET, with the new run airing through mid-April. This season, the show is moving to the world famous "Whisky A Go-Go" club on the Sunset Strip in Hollywood, from its previous home at The Roxy Theatre.
"To make things even cooler, Whisky A Go-Go is celebrating its 50th anniversary this January, and many of the bands we plan to pay tribute to this season have actually rocked out on the 'Whisky A Go-Go' stage!" Daryl said in a statement.
This season's acts bring greater musical diversity than previous seasons, the network said. After dedicating the first two years primarily to classic rock, new acts include tributes to Prince, Garth Brooks and the Beastie Boys.
The show will still feature tributes to many classic rock favorites, such as KISS and Aerosmith.
Also read: Former MTV VJ Kennedy to Host New Fox Business Network Primetime Program
Here is the Season 3 schedule:
Jan. 6 – Purple Reign – A Tribute to Prince
Jan. 13 – Bella Donna – A Tribute to Stevie Nicks
Jan. 20 – Rhymin' N Stealin' – A Tribute to the Beastie Boys
Jan. 27 – The Long Run – A Tribute to The Eagles
Feb. 3 – The Garth Guy – A Tribute to Garth Brooks
Feb. 10 – No Duh – A Tribute to No Doubt
Feb. 17 – True 2 Crue –  A Tribute to Motley Crue
Feb. 24 – The Pettybreakers – A Tribute to Tom Petty & The Heartbreakers
March 3 – Draw The Line – A Tribute to Aerosmith
March 10 – Wings Band – A Tribute to Paul McCartney
March 24 – Bruce in the USA – A Tribute to Bruce Springsteen and the E Street Band
March 31 – Abbacadabra – A Tribute to ABBA
April 7 – The Nirvana Experience – A Tribute to Nirvana
April 14 – Bonfire – A Tribute to AC/DC
April 21 – Mr. Speed – A Tribute to  KISS
Watch a promo video for the new run of tribute concerts: