In the previous installment of my roundup of all the Foreign-Language Oscar contenders I've seen, we went around the world from A to C. (That is, Algeria to Croatia.)
Today it's the two most-honored countries in Oscar history, France and Italy, along with a documentary, a chance for Israel to go for four in a row, and an Oscar contender about a director who's made an Oscar contender, from a director who really did make an Oscar contender once upon a time.
As I did yesterday, I've mixed my impressions of each film with what I've heard from (and about) the voters in the general committees who'll choose six of the nine shortlisted films, and the executive committee members who'll select three additional movies.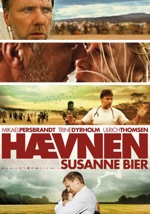 Denmark: "In a Better World"
Director: Susanne Bier
Bier was nominated four years ago for "After the Wedding," and she could easily be back at the Kodak for this dark tale of the havoc caused by endless cycles of revenge and retribution. Beautifully composed and shot, her story quietly focuses on two families, and particularly a pair of young boys drawn into a world of violence, where it takes an act of supreme will to reach for redemption before everything spirals downward into utter desolation. Apart from the fact that it's one of the strongest movies in the field, I wonder if it might benefit from its placement on the final night of Oscar Foreign-Language screenings, when voters who've been scoring movies for months might be ready to hand out a top grade before their work is done.
Ethiopia: "The Athlete"
Directors: Davey Frankel and Rasselas Lakew
Of the two inspirational sports movies based on true stories (Korea's "A Barefoot Dream" being the other), the tale of marathon runner Abebe Bikila, the first African to win an Olympic gold medal, is easily the stronger and less clichéd. The tale of a gifted athlete who finds himself in a wheelchair after a car accident has more than its share of clunky moments and awkward storytelling, though its finds its predictably rousing ending in an unexpected place.
Finland: "Steam of Life"
Directors: Joonas Berghall and Mika Hotakainen
A bunch of naked Finnish men sit around in saunas – which range from posh urban centers to makeshift ones created in trailers and phone booths – and talk about their lives. The approach is straightforward, but the stories are funny, revealing and heartbreaking, and the film ends with what might be the most moving use of a song of any movie this year. "Steam of Life" is up against one big hurdle: will the historically conservative voters be ready to accept a documentary in this race? That's a big if, because the film is probably too light to make the executive committee's save list. Still, "Steam of Life" was a huge hit in its homeland, and it's well-known for its ability to reduce grown men to tears. Call it a potential sleeper.
France: "Of Gods and Men"
Director: Xavier Beauvois
Based on the true story of a group of French Trappist monks living in Algeria in the 1990s, Beauvois' solemn drama is as measured and deliberate as the rituals practiced by those monks, who live knowing that they're sitting on a powder keg of Islamic extremism. Apart from a lengthy, rhapsodic but uncharacteristic scene in which the monks sit around a table listening to "Swan Lake" (touché, "Black Swan"), this is a quiet film, two hours of talking in which nobody ever raises his voice. Impressive if perhaps inaccessible, Beauvois' philosophical treatise on faith and God and evil is stark and chilly, beautiful and uncompromising and a touch remote. (Note: It screened for the general committee at 9:30 on a Saturday morning, which strikes me as hardly the right time for something this languid and talky.)
Germany: "When We Leave"
Director: Feo Aladag
A young Muslim woman leaves her husband in Turkey and moves to Berlin; her family, shamed by her actions, follows. This dark, heartfelt but melodramatic look at cultural barriers and deadly traditions is distinguished by a standout lead performance from Sibel Kekilli, but the film is awfully heavy-handed at times. Still, it has picked up passionate fans — and it feels significant, which will no doubt help with a body of voters who tend to embrace serious subjects
Greece: "Dogtooth"
Director: Yorgos Lanthimos
Confounding and wholly original, Yorgos Lanthimos' gloriously strange concoction is a deadpan look at a Greek family where the children are taught the wrong meanings of words and indoctrinated into a bizarre mindset where an unseen brother lives just outside the compound and cats are man-eating predators. Is it a barbed indictment of parental and societal brainwashing, tongue-in-cheek tomfoolery of epic proportions, or both? Whatever it is, it has great support among critics, but it's completely wrong for the main body of voters. And while I don't doubt it'll have a couple of partisans on the executive committee, I wouldn't bet on it getting enough support there to make it to the second round.
Iceland: "Mamma Gogo"
Director: Fridrik Thor Fridriksson
Could there be a more naked play for votes? A movie about a filmmaker (a job held by most voters) dealing with an aging mother (advanced age being a characteristic of the voters as well) who tells a financier that his last movie's "only hope" is "if the film gets an Oscar nomination, it will begin to sell abroad." But "Mamma Gogo" isn't a cynical ploy from a director who did get an Oscar Foreign-Language nomination for "Children of Nature" in 1991; it's a sentimental and often lighthearted exploration of aging, memory and art. I'd give it an outside shot at making the shortlist. (Keep in mind, voters just see the film — they don't have to look at that cheesy poster.)
Iraq: "Son of Babylon"
Director: Mohamed Al Daradji
It's a road movie, and a trip through recent Iraqi history – which means that as road movies go, this is a dark one about a young boy searching for his father after the fall of Saddam Hussein, with stops that include abandoned prisons and mass graves. Mohamed Al Daradji's look at a country torn apart and a people in search of what they've lost tells an important story, but does so in a manner that is grueling and slow.
Israel: "The Human Resources Manager"
Director: Eran Riklis
After three consecutive nominations for "Beaufort," "Waltz with Bashir" and "Ajami," Israel has submitted a road movie of its own, albeit one which takes some twists and turns and mixes comedy into a deft and ultimately moving story of a bureaucrat accompanying an employee's body back to her home village in Romania. It's certainly strong enough to make a run at a fourth straight nomination; the film played very well with the audience when I saw it at the AFI Fest, and I hear it did so with the Academy's general committee also.
Italy: "La Prima Cosa Bella" ("The First Beautiful Thing")
Director: Paolo Virzi
It isn't the most critically acclaimed of the entries, and lots of outsiders seem to think that the more daring and weightier "I Am Love" should have been the Italian entry instead (though it was not a hit in its homeland, and was not well-reviewed). But if you talk to foreign-language voters, this is the film you keep hearing about. "La Prima Cosa Bella" isn't an art movie, but a mainstream and quite entertaining story of the ties that bind, revolving around a sour professor who returns to his childhood home to visit his mother on her deathbed. Flashbacks to his childhood evoke the lighthearted Italian comedies of the '70s, and even the sober dramatic beats in the story are delivered with a light touch that may help it stand out in a field of very somber entries. Some more discriminating viewers were not particularly won over by the layers of sentiment, but if the buzz is reliable the film looks to be a near lock for the shortlist courtesy of the general committee voters.
Kazakhstan: "Strayed"
Director: Akan Satayev
Another of those films (I talked about two of them yesterday) in which a remote outpost turns out to be a kind of purgatory. This one starts out like an edgy suspense drama, as a man traveling with his wife and son misses a turnoff and gets lost in a desolate stretch of flatlands. But things aren't what they seem, and somewhere along the way a missing-persons thriller turns into an episode of "The Twilight Zone." Frankly, it probably would have worked better as a half-hour TV episode than this rather forced 90-minute excursion into psychological and spiritual horror.
Korea: "A Barefoot Dream"
Director: Kim Tae-gyun
The other inspirational sports movie in the race is a perplexing choice for a country that could have submitted an acclaimed film like "Poetry," which at least might have impressed the executive committee. This amateurish play for a mainstream audience, the true story of a fading soccer star who led an East Timor youth team to a surprise showing at the International Youth Soccer Championship, is sidetracked by awkward comedy and abundant clichés.
Kyrgyzstan: "The Light Thief"
Director: Aktan Abdykalykov
It begins as a charming, humorous look at a tiny rural village in Krgyzstan, its time-honored rituals and the sweet-hearted electrician who helps the villagers get free electricity. But the setup is deceiving: the film turns out to be a dead-serious (and at times heavy-handed) look at a clash of cultures, of modernity wreaking havoc in ways that make a little electricity theft seem insignificant. What starts out alluring becomes demanding, a tonal shift that probably won't help with its voter reception (though I know it has fans).
Previously: Algeria, Argentina, Austria, Azerbaijan, Belgium, Brazil, Bulgaria, Canada, Chile, China, Costa Rica, Croatia.
Coming next: The Cannes winner that might fall flat with Oscar voters, and the foreign contender that's also my favorite movie of the year.