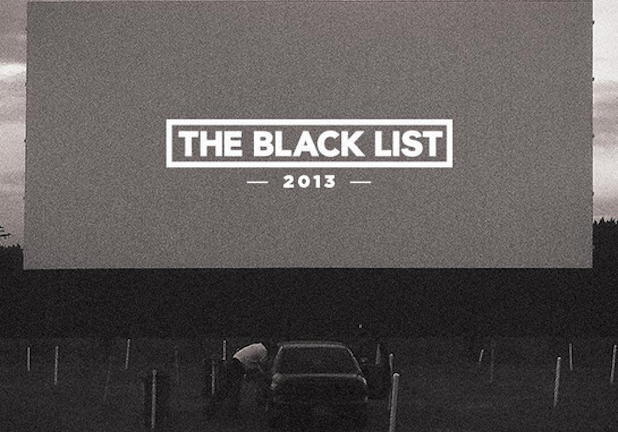 The Black List unveiled its annual list of Hollywood's favorite unproduced screenplays on Monday, selecting 72 scripts based on votes by more than 250 executives.
It began revelaing the names one-by-one using its Twitter account, which primed the list's avid followers with a series of informational tweets in the hours leading up to the reveal. The tweets began at 10 a.m. PST.
The first scripted revealed: "Line of Duty" by Cory Miller.
LINE OF DUTY by Cory Miller #BlackList2013

– The Black List (@theblcklst) December 16, 2013
"Holland, Michigan," Andrew Sodroski's script about a midwestern woman who suspects her husband is cheating on her, topped the list with 46 votes. The second most popular script is "Section 6," Aaron Berg's tale of the formation of British intelligence service MI:6. It sparked a bidding war earlier this year, which Universal won.
Only one other script, Simon Stephenson's "Frisco," received more than 30 votes.
Popular subjects include Hollywood (five movies, including two about the making of "Jaws") and politics (eight movies).
Produced films based on scripts that made the list in past years have won three of the last five Best Picture Oscars ("Slumdog Millionaire," "The King's Speech" and "Argo"), 35 Oscars in total and seven of the last 12 screenwriting trophies.
Hollywood has turned 225 scripts from the list into features, and 33 percent of the scripts on this year's list already have financiers aboard. That is less than last year, when 37.1 percent of the scripts already had financing of some sort.
The list should be thought of as a list of industry favorites rather than a best of, and the strength of the list's brand prompted founder Franklin Leonard to build the list into a broader business, one including a pay-service for script feedback, as well as fellowships for aspiring writers. The Black List has also forged partnerships with the Sundance Film Festival, the Writers Guild and Warner Bros.
Here's the full list:
| | | |
| --- | --- | --- |
| 46 | HOLLAND, MICHIGAN | Andrew Sodroski |
| 44 |  SECTION 6 | Aaron Berg |
| 39 | FRISCO | Simon Stephenson |
| 27 | A MONSTER CALLS | Patrick Ness |
| 25 | THE SPECIAL PROGRAM | Debora Cahn |
| 24 | SOVEREIGN | Geoff Tock, Greg Weidman |
| 24 | HOT SUMMER NIGHTS | Elijah Bynum |
| 22 | SHOVEL BUDDIES | Jason Mark Hellerman |
| 20 | THE INDEPENDENT | Evan Parter |
| 20 | REMINISCENCE | Lisa Joy Nolan |
| 20 | POX AMERICANA | Frank John Hughes |
| 19 | THE GOLDEN RECORD | Aaron Kandell, Jordan Kandell |
| 19 | BEAST | Zach Dean |
| 18 | SWEETHEART | Jack Stanley |
| 18 | FAULTS | Riley Stearns |
| 17 | SUPERBRAT | Eric Slovin, Leo Allen |
| 16 | DOGFIGHT | Nicole Riegel |
| 16 | THE CIVILIAN | Rachel Long, Brian Pittman |
| 15 | BURN SITE | Doug Simon |
| 15 | QUEEN OF HEARTS | Stephanie Shannon |
| 14 | GAY KID AND FAT CHICK | Bo Burnham |
| 14 | BROKEN COVE | Declan O'Dwyer |
| 13 | THE MAYOR OF SHARK CITY | Nick Creature, Michael Sweeney |
| 13 | AUTOPSY OF JANE DOE | Richard Naing, Ian Goldberg |
| 13 | 1969: A SPACE ODYSSEY OR HOW KUBRICK LEARNED TO STOP WORRYING AND LAND ON THE MOON | Stephany Folsom |
| 13 | WHERE ANGELS DIE | Alexander Felix |
| 12 | A BEAUTIFUL DAY IN THE NEIGHBORHOOD | Alexis C. Jolly |
| 12 | INK AND BONE | Zak Olkewicz |
| 11 | THE BOY AND HIS TIGER | Dan Dollar |
| 11 | THE KILLING FLOOR | Bac Delorme, Stephen Clarke |
| 10 | THE COMPANY MAN | Andrew Cypiot |
| 10 | I'M PROUD OF YOU | Noah Harpster, Micah Fitzerman-Blue |
| 10 | THE SHARK IS NOT WORKING | Richard Cordiner |
| 10 | SEED | Christina Hodson |
| 9 | THE CROWN | Max Hurwitz |
| 9 | TCHAIKOVSKY'S REQUIEM | Jonathan Stokes |
| 9 | DIABLO RUN | Shea Mirzai, Evan Mirzai |
| 9 | RANDLE IS BENIGN | Damien Ober |
| 8 | LINE OF DUTY | Cory Miller |
| 8 | INQUEST | Josh Simon |
| 8 | CAPSULE | Ian Shorr |
| 8 | FULLY WRECKED | Jake Morse, Scott Wolman |
| 8 | SPOTLIGHT | Josh Singer, Tom McCarthy |
| 8 | EXTINCTION | Spenser Cohen |
| 8 | REVELATION | Hernany Perla |
| 8 | ELSEWHERE | Mikki Daughtry, Tobias Iaconis |
| 8 | CLARITY | Ryan Belenzon, Jeffrey Gelber |
| 8 | THE POLITICIAN | Matthew Bass, Theodore Bressman |
| 8 | AMERICAN SNIPER | Jason Dean Hall |
| 8 | THE LINE | Sang Kyu Kim |
| 8 | HALF HEARD IN THE STILLNESS | David Weil |
| 8 | TIME & TEMPERATURE | Nick Santora |
| 8 | CAKE | Patrick Tobin |
| 7 | PURE O | Kate Trefry |
| 7 | THE END OF THE TOUR | Donald Margulies |
| 7 | NICHOLAS | Leo Sardarian |
| 7 | MAN OF SORROW | Neville Kiser |
| 7 | DIG | Adam Barker |
| 7 | THE FIXER | Bill Kennedy |
| 7 | SUGAR IN MY VEINS | Barbara Stepansky |
| 7 | SEA OF TREES | Chris Sparling |
| 7 | MAKE A WISH | Zach Frankel |
| 6 | BURY THE LEAD | Justin Kremer |
| 6 | FROM HERE TO ALBION | Rory Haines, Sohrab Noshirvani |
| 6 | FREE BYRD | Jon Boyer |
| 6 | BEAUTY QUEEN | Annie Neal |
| 6 | THE REMAINS | Meaghan Oppenheimer |
| 6 | LAST MINUTE MAIDS | Leo Nichols |
| 6 | PAN | Jason Fuchs |
| 6 | DUDE | Olivia Milch |
| 6 | PATIENT Z | Michael Le |
| 6 | MISSISSIPPI MUD | Elijah Bynum |