AOL plans to cut 2,500 jobs – more than a third of its staff – in a drastic expense-trimming move that's meant to satisfy investors as it prepares for survival outside the Time Warner bubble.
The Thursday announcement comes just days after Time Warner said it will finally spin off AOL, its struggling Internet property, on December 9.
Tim Armstrong, the former Google executive who joined AOL in March, said that the company is looking for "up to 2,500 volunteers" to accept buyouts, beginning on December 4. If not enough volunteers come forward, the company will be forced to make cuts on its own.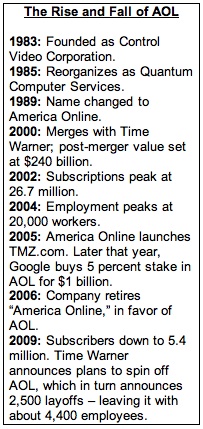 A senior editor at AOL said that the atmosphere was "business as usual for us" on Thursday and that things were "all good here."
AOL, which employs about 6,900 people, had already earmarked $200 million to execute the mass layoffs, according to a filing with the Securities and Exchange Commission published by the Wall Street Journal. At one point, AOL employed 20,000.
The company said the cuts, which need approval from a new board of directors, would reduce operating expenses by $300 million.
Time Warner announced in May its intention to spin off AOL, ending one of the most troubled corporate marriages in media history.
Meanwhile, AOL is also said to be shopping ICQ, its popular instant-messaging service, and Mapquest, in a dump of "non-core" assets.
In an e-mail published by the New York Times, Armstrong said he will not take a guaranteed $1.5 million bonus this year. "As a member of our team and the person who takes accountability for the results of the company, I am making the decision to forgo my 2009 bonus," Armstrong write. "That decision is a personal one and is not a sign for the future payout of the overall bonus plan for employees."
Armstrong's base salary is $1 million.
More to read:
AOL, Time Warner Announce Break-Up Date