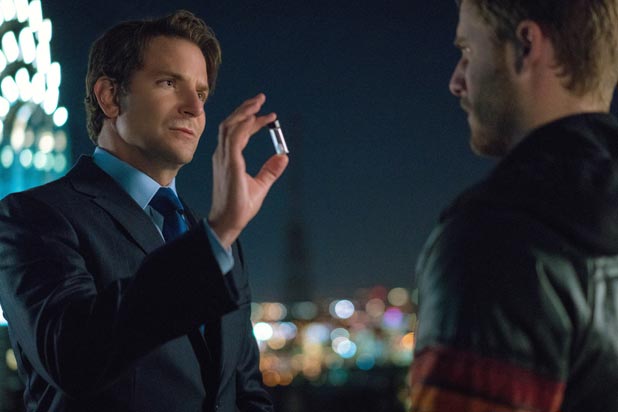 Bradley Cooper will return to the CBS series "Limitless" in an upcoming episode, the network announced Friday.
Cooper, who also executive produces the series, will reprise his guest role as Sen. Edward Morra in the episode "Side Effects May Include…"
Cooper appeared in the series premiere of "Limitless" as Sen. Morra, who provided Brian Finch (Jake McDorman) with a temporary inoculation from the severe side effects of the brain-enhancing drug NZT, and hinted he had future plans for Brian.
See video: 'Limitless' Star Jake McDorman Digs Into New Case, Connects With Old Girlfriend in New Clip (Exclusive)
In the upcoming episode, as Brian's physical and mental health begin to deteriorate again, Morra demands a high price in exchange for another inoculation.
Cooper originated the character of Morra in the 2011 feature film of "Limitless," playing a struggling writer who unlocks his brain's full potential when he begins taking NZT.
"Limitless" has been a solid ratings performer for CBS, with its most recent episode netting 9.6 million viewers and a 1.7 rating/6 share in the key adults 18-49 demographic. It has also averaged 13.1 million viewers in live +3-day ratings.
Also Read: Why New Shows 'Limitless,' 'Quantico' and 'Scream Queens' Get Longer Time to Prove Themselves
"Limitless" airs on Tuesdays at 10 p.m./9c.