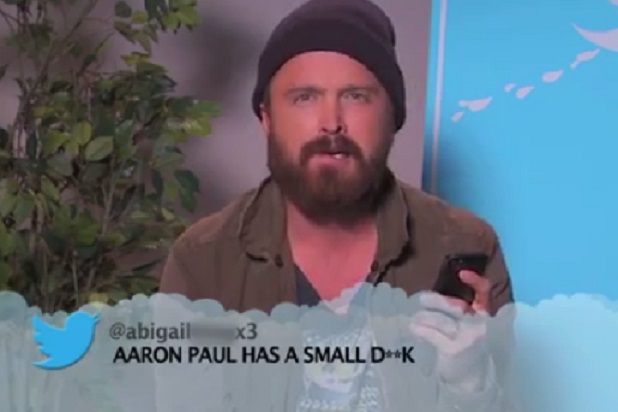 "Breaking Bad" stars Aaron Paul and Dean Norris received some bad news via Twitter on Thursday: As it turns out, Paul's endowment leaves a lot to be desired, while there's entirely too much of Norris to go around altogether.
Also read: 'Breaking Bad's' Anna Gunn, 'Silver Linings Playbook's' Jacki Weaver Cast in Fox Crime Series 'Gracepoint'
Paul and Norris took part in the most recent installment of the "Jimmy Kimmel Live" segment "Celebrities Read Mean Tweets," reciting morsels of the vitriol that's been hurled at them via Twitter.
"AARON PAUL HAS A SMALL D—," the man who played Jesse Pinkman intoned as he read a mean tweet directed at him.
Also read: 'Breaking Bad' Spin-off Could Be a Sequel, Bob Odenkirk Says
"Hank from 'Breaking Bad' is just a fat Bruce Willis," Norris said, in a reference to his character on the AMC meth drama.
Meanwhile, "Parks and Recreation" co-stars Amy Poehler and Nick Offerman took their own digs during the segment.
Also read: 'Fringe's' Kirk Acevedo, 'Breaking Bad's' Emily Rios Enlist for 'Grimm' Guest Roles (Exclusive)
"What in the f—- is wrong with Amy Poehler's face? Bitch looks like she survived a nuclear blast," Poehler intoned.
"@Nick_Offerman's hands seem crazy small compared to his head," the man behind Ron Swanson offered.
Watch celebrities recite their own hate mail in the video.