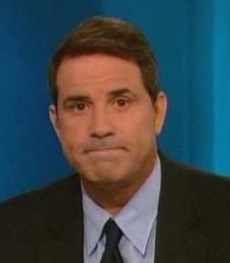 CNN has fired anchor Rick Sanchez, following a radio rant Thursday night where he called Jon Stewart a "bigot," blamed CNN brass for discrimination against him and insinuated that the media industry is controlled by Jews.
The network announced Sanchez's dismissal in a statement early Friday evening:
"Rick Sanchez is no longer with the company. We thank Rick for his years of service and we wish him well," the statement said.
Sanchez had gone on Pete Dominick's Sirius XM show to promote his new book, "Conventional Idiocy." While on air, he called Stewart a "bigot," implied that CNN is controlled by Jews and that the network passed him over for promotion because he's Latino.
The controversial interview occurred on the final day of Sanchez's show in the 8 p.m. timeslot, where he was temporarily replacing Campbell Brown, who departed in May. He was apparently upset that he was not given the slot permanently.
Instead, the network gave the slot to the new talks show "Parker Spitzer," with Kathleen Parker and Elliot Spitzer. The show launches Monday.
Sanchez's rant began when he suggested that he had been marginalized by CNN brass because they're "elite Northeastern establishment liberals" who won't let him anchor because they reserve the top jobs for "the high-profile white guys."
During his complaint about Jon Stewart, who he said was a "bigot," he laughed at the notion that Jews have experienced oppression and implied that they control CNN and other networks:
"Yeah, very powerless people. [laughs] He's such a minority. I mean, you know, please. What are you kidding? I'm telling you that everybody who runs CNN is a lot like Stewart and a lot of people who run all the other networks are a lot like Stewart. And to imply that somehow they, the people in this country who are Jewish, are an oppressed minority?"
Read more: Rick Sanchez's Public Meltdown — Lashes Out at CNN, Jon Stewart, Jews