During the 1960s and '70s, buff male actor Rock Hudson struggled to keep his personal life and sexuality out of the media as publications threatened to damage his reputation as America's wholesome, hunky hearthhrob by publishing exposes about his homosexuality. It wasn't until his death from AIDS in 1985 that his friends divulged Hudson's efforts to keep his homosexuality a secret.
Since, public gay declarations are becoming noticeably more common in the entertainment industry, and with them comes a new hope that the last great social taboo in Hollywood and beyond may be about to fall.
In a 1976 interview with Rolling Stone magazine, Elton John announced he was bisexual — an admissison he later renounced, saying he was gay. In 1993, he met partner David Furnish and the couple entered into a civil partnership in 2005.
Like most members of his musical generation, John hasn't been much of a record-seller of late, but his concerts still pack them in. In April 2009, he completed a five-year, 241-show, continually sold-out resident engagement at Caesar's Palace.
Other artists like Melissa Etheridge, k.d. lang and Rufus Wainright – who in summer 2006 did a full-on sold-out resurrection of Judy Garland's landmark 1961 Carnegie Hill concert – have capitalized on their sexual preferences by playing not only to their fan bases but to wide audiences.
Lang came out as a lesbian in a 1992 edition of "The Advocate," and a year later appeared on the cover of the August 1993 issue of Vanity Fair sitting in a barber chair while Cindy Crawford posed shaving her face. Her bold move inspired Etheridge to come out that same year at the Triangle Ball, the gay and lesbian gala in honor of Bill Clinton's inauguration sponsored by the Human Rights Campaign, the National Gay and Lesbian Task Force and the Gay and Lesbian Victory Fund.
"I just got up (at a gay political event in D.C.) and spoke after k.d. (lang) and said the truth: that I was proud to be a lesbian … I guess I wanted to be out so I could just relax and be me," she said after the fact.
And alt-rocker Michael Stipe of REM caused barely a blip when he announced that he was gay in 1994. He told Time magazine that he was a "queer artist" who had been in a relationship with an "amazing man" for three years.
British actor Ian McKellen came out in 1988 on BBC Radio 3, despite fears that the news might have a negative effect on his career. At the time, "Section 28," a controversial bill that said local authorities could not intentionally promote homosexuality, was under consideration in the British Parliament. Of course, McKellen's career went on to flourish, and he has won a number of awards, including a Golden Globe in 1997 for Best Supporting Actor in a Series and a SAG award for Best Supporting Actor in "The Lord of the Rings: The Fellowship of the Ring" in 2001.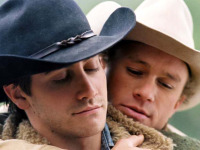 Similarly, playing gay is not the career-killer it was once thought to be – probably thanks to Tom Hanks' 1993 portrayal of a gay man who gets fired from a law firm because he has AIDS in "Philadelphia" — though some critics said he was the straightest acting gay man ever on screen.
Over a decade later in 2005, Jake Gyllenhaal and Heath Ledger not only got Oscar consideration for their roles in "Brokeback Mountain," both got significant career boosts as a result of the movie, which included not just kissing but highly explicit sex scenes.
Finally, last year Sean Penn won an Oscar for his portrayal of the trail-blazing San Francisco politician and gay rights activist Harvey Milk in "Milk."
Playing his lovers: heterosexual hearththrobs James Franco and Emile Hirsch. And Franco has also signed on to play gay again as Allen Ginsberg in the upcoming "Howl."
Despite homosexuality's increased presence in pop culture, the topic can still cause a furor in the tabloids. The gossip rags went crazy when Hollywood starlet Lindsay Lohan began seeing Samantha Ronson in 2008. Despite photographs of the two constantly popping up on the Internet, the couple remained mum on Lohan's newfound bisexuality.
The actress has never said she was a lesbian, only telling Harper's Bazaar: "I think it's pretty obvious who I'm seeing … I think it's no shock to anyone that it's been going on for quite some time … She's a wonderful person and I love her very much."