The Palin clan's seeming effort to take over reality television continues unabated.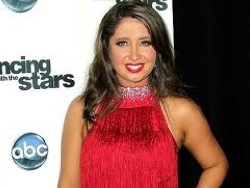 Former vice presidential candidate Sarah Palin's daughter, Bristol Palin, has received a new reality series on Bio Channel, the network said on Monday. The as-yet-untitled series, which will chronicle Palin's effort to settle into Los Angeles with her son Tripp while working at a small charity and living with her pals Kyle and Christopher Massey, is scheduled to begin airing in late 2011.
In addition to her prominent role on her mother's TLC reality series, "Sarah Palin's Alaska," Bristol served as a contestant on "Dancing With the Stars" — where she first befriended co-contestant and actor/rapper Kyle Massey — last year.
In making the announcement, David McKillop, executive vice president, programming, of A&E Network and Bio Channel, noted, "[Palin's] personal life has been playing out in the media for several years but this will be the first time she's opening up her real life, with her son and her friends the Massey Brothers."
Read Bio's full press release on the series below.
BIO CHANNEL GREENLIGHTS UNTITLED BRISTOL PALIN, CHRISTOPHER MASSEY AND KYLE MASSEY DOCU-SERIES
SERIES WILL GIVE VIEWERS ACCESS TO BRISTOL'S NEW ROLE IN LOS ANGELES AS SHE AND TRIPP MOVE IN WITH FRIENDS CHRIS & KYLE MASSEY
TEN HALF-HOUR EPISODES SLATED FOR 2011
New York, NY – May 9, 2011 – BIO has ordered ten half-hour episodes of an untitled
Bristol Palin/Massey brothers docu-series from Associated Television International, it
was announced today by David McKillop, Executive Vice President, Programming, A&E
Network and BIO Channel. The series follows Bristol Palin's move from Alaska to Los
Angeles with her son, Tripp, to work at a small charity in need while living with her good
friends Christopher and Kyle Massey. The series is slated to air in late 2011.
She's the most famous single mother in America. And she became a national media
darling during her odds-defying, ratings record-breaking run on "Dancing with the Stars."
Now as Bristol Palin gears up for her work in this charity, she is allowing cameras
exclusive access into her personal life for the first time.
While on "Dancing," Bristol became extremely close with fellow contestant, actor Kyle
Massey. Since the show, Bristol, Kyle, and Kyle's brother, actor Christopher Massey,
have become best friends; so much so, that since Bristol and Tripp have to move to Los
Angeles for her new job, she decides to move in with the Massey brothers who are also
about to realize how much their lives are about to change.
"Bristol is the kind of personality BIO is drawn to," said McKillop. "Her personal life has
been playing out in the media for several years but this will be the first time she's
opening up her real life, with her son and her friends the Massey Brothers."
The untitled project is produced by Associated Television International for BIO. David
McKenzie and Jim Romanovich serve as executive producers for Associated Television
International. David McKillop, Tom Moody and Andy Berg serve as the executive
producers for BIO.
About Associated Television International
Associated Television International is an Emmy Award-winning company that has been
successfully producing and distributing television series, specials and feature films for over three decades. ATI's programs have aired on all U.S. broadcast networks, major
cable channels and with television partners all over the world. Current series in
production include "Heroes Among Us," "Elizabeth Stanton's Great Big World," "World's
Funniest Moments," and the Emmy-nominated "Laura McKenzie's Traveler." ATI has
also been Emmy-nominated for its socially conscious programming and won for
"America's Invisible Children" and "On the Edge: The Poverty Crisis in Africa."
About BIO
At BIO, we prove that the truth about people is always more entertaining than fiction.
BIO is about real people and their real lives: up close and personal, gritty and
provocative, always unfiltered. BIO original series uncover the real drama in people
stories: everyday situations with a twist; celebrities going off-script; people-centric crime
stories and paranormal events. In addition to being the exclusive home to the Emmy-
Award winning "Biography®" series, the dynamic blend of original and acquired series
on BIO includes "I Survived…," "Celebrity Ghost Stories," "Psychic Investigators" and the
William Shatner hosted talk show "Shatner's Raw Nerve." The 24-hour network is now
available in more than 55 million households. The BIO web site is located at
www.bio.com.