Critics of "2 Broke Girls" and other bawdy network shows might find this surprising, but a new study says broadcasters treat women better overall than cable or streaming networks do.
Forty-one percent of major characters on broadcast shows were female during the 2015-16 TV season, compared with just 39 percent on streaming platforms and 28 percent on cable, according to a study by San Diego State professor Martha M. Lauzen. Other new shows with female leads last season included "Quantico," "Scream Queens" and "Crazy Ex-Girlfriend."
Moreover, broadcasters offered more racially diverse programming, with black females comprising 17 percent of all characters – a historic high. Five percent of the female characters on broadcast networks were Latina; only 3 percent of those on cable and streaming outlets were.
Also Read: Hollywood Faces 'Inclusion Crisis,' New Diversity Study Finds
But the report, "Boxed In 2015-16: Women On Screen and Behind the Scenes in Television," made it clear there is plenty of room for improvement everywhere when it comes to gender parity, both in front of and behind the camera.
"Gender stereotypes on television programs abound," Lauzen wrote. "Female characters were younger than their male counterparts, more likely than men to be identified by their marital status, and less likely than men to be seen at work and actually working."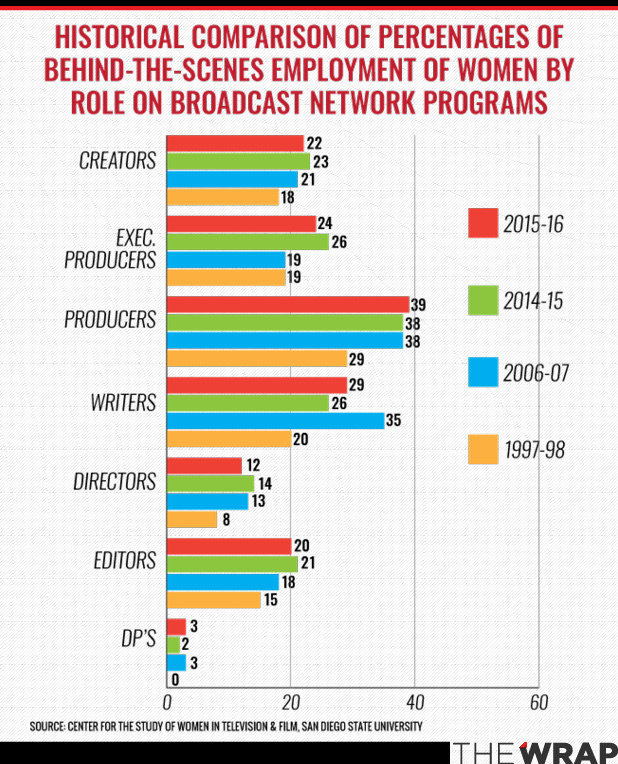 "2 Broke Girls," a comedy hit for CBS, has two female stars, Kat Dennings and Beth Behrs (pictured), but the show has been heavily criticized for relying on gender and racial stereotypes plus raunchy humor, for example. And while the women are shown working, their jobs are low-prestige and low-paying: servers at a greasy spoon.
Also Read: Oscars Diversity: Only 19 Percent of Non-Acting Nominees Were Women in Last Decade
Meanwhile, women comprised barely one-quarter — 26 percent — of the creators, directors, writers, producers, executive producers, editors and directors of photography working on TV shows on any platform … and progress for women in those roles has essentially stalled over the past decade.
"Boxed In," which has studied women's representation on TV for 19 years, examined drama, comedy and reality TV programs, randomly selecting one episode of every series for review. The study included programs on ABC, CBS, CW, NBC, Fox, A&E, AMC, Discovery, Freeform, FX, HGTV, History, TBS, TNT, USA, HBO, Showtime, Amazon, Hulu and Netflix.