Brunette is the new black.
From
Courteney Cox
Arquette
(
at left; Getty Images)
and
Adam Lambert
(
below right; TV Guide)
, to
Selena Gomez
and
Seth MacFarlane
, there was a wave of non-blonde star power cramming TV Guide Magazine's Hot List party on Tuesday night.
(So many bodies, the press wall nearly tipped over …)

Simultaneous with ABC's broadcast of sci-fi newbie "V" (down 29 percent Tuesday night from its 14.3 million viewer debut a week earlier), Morena Baccarin (aka "the talking doe-eyed alien in the sky") was the first of more than 40 of TV's big fall stars to hit the carpet at the Bazaar at SLS Hotel.
Network stablemate Cox ("Cougartown") arrived fashionably early for a star billed as the topliner to the event, following behind "Cougar" castmate
Busy Phillips
.
"The Community's" Joel McHale jumped off the carpet to see Phillips while Julie Benz ("Dexter's" girlfriend) was eager to remind McHale about her "appearance" on his industry-skewering show "The Soup" ((below left; JPI Studios).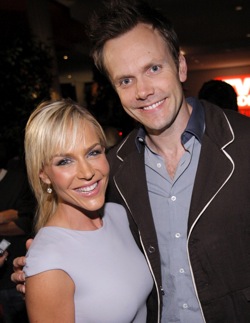 Following Sunday night's semi-restrained "Family Guy" cabaret-style special on Fox, the increasingly camera-friendly Seth MacFarlane told TheWrap that the network allowed him as long a leash on the live show as he enjoys on his animated series.
"The Fox network, at the moment, are some of the best note-givers on the planet. They are unbelievably disciplined. … I have yet to get a note that is anything but intelligent," Macfarlane said (without irony).
During Sunday's broadcast, Alex Bornstein (voice of Lois) mocked deaf actress Marlee Matlin, a continuation of a long-running gag on the show that has ridiculed Matlin's predicted inability to use a phone. The much-discussed segment surprised auds with Matlin herself showing up to confront Bornstein. So who made the phone call to Matlin to get her on the show? According to MacFarlane, Bornstein herself. Sounds like the phone works.