Out of the frying pan and into the fire?
After 20 years at Film Independent, Dawn Hudson begins her new job at the Academy of Motion Picture Arts and Sciences on Wednesday.
Her old home was a nonprofit whose year-round program of film-related educational and philanthropic work was largely funded — and frequently overshadowed — by a nationallytelevised awards show, the Film Independent Spirit Awards.
Her new gig puts her atop a non-profit whose year-round program of film-related educational and philanthropic work is largely funded — and invariably overshadowed — by a nationally-televised awards show, the Academy Awards.
The stakes are bigger, the spotlight is bigger and the money is bigger — the Academy's annual income of more than $80 million is more than 10 times larger than Film Independent's, though public filings show that top executive salaries are comparable.
Also read: Academy Names Dawn Hudson CEO, Ric Robertson COO
And the culture is clearly different. While Hudson was instrumental is helping shape the growth of Film Independent, the Academy has been around since the 1920s – and, some have argued, set in its ways for nearly that long.
During her first weeks, Hudson will have some assistance: Bruce Davis, the Academy's veteran executive director, does not retire until the end of the month. Plus, Davis' longtime executive administrator, Ric Robertson, is assuming the new position of COO, which will keep him at number two among the Academy's salaried employees but give him more authority.
Still, the Academy is at a key point in its history, facing questions on a number of fronts. Here are the top ones that Hudson needs to answer as she settles behind her new desk on the top floor of Academy headquarters on Wilshire Boulevard:
1. The big one: Will the Oscars move earlier in the calendar?
An Academy committee has been studying this critical question for months.
A move from late February into late January, goes the theory, would increase audience interest in the Oscars because more of the contenders would still be in theaters, and because the fatigue of a protracted and cluttered awards season — Golden Globes, SAG and even the Indie Spirits) would be less pronounced.
In this argument, the fact that every other awards show would simply reschedule to an earlier date is considered mostly irrelevant; the Oscars would still be the final awards show, but at least the whole season would be shorter.
According to an Academy member familiar with the discussions, Bruce Davis raised practical objections to the accelerated schedule that helped stall a push in that direction. Sherak also urged caution, telling TheWrap that he halted the process and asked for additional study before the committee could recommend an earlier Oscars in 2012.
Hudson could be a voice of caution, or she could be a high-level backer for those governors who want an earlier Oscars.
2. Wouldn't this necessitate online voting? And is that a good thing?
Yes, last month, the Academy told its members that online voting, a crucial step in a shorter schedule, is coming. But there's still the question of giving voters time to see all the movies, particularly in categories like foreign-language film, where you may have five dozen contenders, virtually all of them without American distribution.
Setting up a password-protected site where members could stream contenders could help, though a system that pushes viewers toward non-theatrical viewing is problematic given the Academy's insistence on being an award for theatrical (and only theatrical) movies.
The logistics of such a set-up are also a problem, as Hudson learned when she unsuccessfully tried to work with Netflix to create a secure site at which Spirit Awards voters could stream the nominated films.
3. Still, it's a marathon telecast: Should the Academy drop categories, or move awards off the air?
Another theory: To rally viewers (particularly younger ones), the Academy needs to shorten the show and make it livelier. Twenty-four categories, it's argued, is just too much.
The Spirit Awards solved the issue, to a very limited degree, by handing out a couple of awards before the show goes on the air.
This issue has always been something of a non-starter with the board of governors, on which the 1200-member actors branch is represented by the same number of governors as the 150-person documentary branch or the 200 cinematographers. A threat to one "non-prestige" category is a threat to a hefty chunk of the board, which means it would take a real change of attitude – and maybe extraordinary outside pressure – for this to get much traction.
4. And speaking of the board of governors – how assertive should Hudson be with that group?
One of the reasons some Academy members thought it vital that AMPAS find an insider to replace Davis is that the governors are known to be a formidable force: 43 men and women (mostly men, by a 37-to-7 margin), all of them extremely accomplished in their fields and many of them extremely outspoken.
The body currently includes Tom Hanks and Annette Bening, Kathryn Bigelow, James L. Brooks, Michael Moore, John Lasseter and former AMPAS presidents Bob Rehme, Frank Pierson and Sid Ganis.
"You need somebody who knows where the bodies are buried, or they'll never be able to stand up to that board," a member told me during the search process. Robertson has that institutional knowledge, but Hudson does not – though she certainly dealt with a strong board at Film Independent, where the members included Stephanie Allain, Nancy Utley, Forest Whitaker and Bill Condon (who, it might be germane to note, co-produced the 2008 Academy Awards, the best-received Oscar show in years).
Davis was known to advise and sometimes push the board on certain issues; Hudson will get her first chance mid-month, when the governors meet to look over and approve the various branch recommendations for new members.
5. Yes, but should making the Oscars younger and more fun even be a priority?
When she was at Film Independent, Hudson often shrugged off the Spirit Awards' status as Oscar's funky little brother by laughing about how the Academy's show was bigger, but hers was more fun.
Now that she's on the side of the older, bigger, more staid show, there's a limit to what Hudson can do. The Academy president chooses the show producer, who makes the creative decisions in consultation with the Academy.
Maybe fresh blood can lead to a new attitude, but it'd be tricky for a newcomer to pull off.
It might also be risky. One of the reasons the Oscars matter, you could argue, is that they don't try to be funky and flashy – and by too obviously chasing a youth demo they could risk losing the air of authority that has made them the most respected awards show for decades.
In one key way, the Davis regime made this question a lot less urgent than it might otherwise have been. Earlier this year, AMPAS signed a six-year contract extension with ABC that extends through 2020 a deal that otherwise would have expired in 2014. The Academy now has the rest to the decade to see how the ratings picture plays out before its next renegotiation.
6. Does the foreign-language process need another overhaul?
The complicated process by which the nominations are chosen in the Oscars' Best Foreign-Language Film category has undergone relentless and sometimes controversial adjustment under longtime committee chairman Mark Johnson. While the current combination of volunteer committees and blue-ribbon panels has almost indisputably led to more daring and higher-quality slates of nominees, it has also risked leaving some rank-and-file members feeling disenfranchised.
Last year's nominees included one of the most startling and unconventional choices ever, Greece's "Dogtooth" – and with that selection, Johnson's executive committee stirred up considerable anger among many voters who absolutely hated the thoroughly twisted film.
That anger could lead to considerable pressure to change the system and take the power out of the hands of an elite group – although the clear risk is that by handing the entire process back to groups of predominantly older volunteers, the category could once again become known more for the fine films it snubs than the adventurous ones it nominates.
Will Hudson enter the fray, or leave it to Johnson and his team? One clue to where her sympathies may lie: While all members of Film Independent can vote for the winners at the Spirit Awards, FIND uses blue-ribbon committees to come up with all of its nominations.
7. What about the voting process in other categories, like documentaries?
The way in which doc nominees are chosen is full of annoying quirks: Films are rated by only a small number of judges in the first round; the format can punish crowd-pleasing docs; and while the doc shorts category is designed for films that receive theatrical release, in reality it's dominated by films made by or for HBO, which knows just how to qualify its TV movies for this film award.
Also read: Inconvenient Truths About Oscar's Documentary Process
And don't get us started on the Best Original Song process, a mess that has drawn scorn even from the songwriters who win (witness Randy Newman's comments about the slate of only four nominees while accepting his Oscar this year).
Those categories certainly deserve to undergo some adjustment, if not complete overhauls. But for an incoming executive, it's probably easier to let the branches sort these out – which, for now, probably means sticking with the status quo.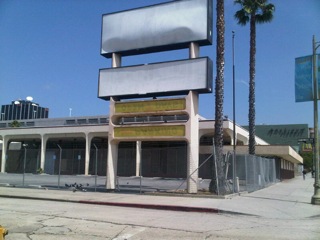 8. The Academy Museum – yes or no?
AMPAS has discussed the idea of building the ultimate film museum for more than a decade – and those discussions took a big step forward several years ago, when the Academy bought land adjacent to its Pickford Center on Vine Street in Hollywood. The plan, it announced, was that the land would eventually house a dramatic and historic complex, The Academy Museum of Motion Pictures.
Architectural firms were consulted and interviewed, and a two-year process led to the 2007 announcement that the French firm Atelier Christian de Portzamparc had been chosen to design the eight-acre campus. And then the economy tanked, a fund-raising campaign for the project was called off, and the land sits unused. The building that housed its former occupant, a PicNSave, has yet to be demolished (above).
The museum project was widely seen as a pet project of Davis' – and with his departure, many observers assumed that his successor would immediately kill the plans.
Not so fast, says Sherak: "I don't think there's a question that everyone who serves this Academy believes that we should try to see this come to fruition while we're still around," he told TheWrap earlier this year.
The board, he added, approved buying the land and hiring an architect, but has not yet been asked to approve actually building the museum. "We approved everything knowing that we still had to raise the money before we would go back to them for approval to build the museum."
9. Sure, but is raising the money now really a viable option?
"We're still in economic upheaval. Not as bad as maybe it was, but it's still there," Sherak said.
At Film Independent, Hudson was known as an aggressive fundraiser, so if the museum is on her to-do list she could push to jump-start the project. Or she could devote her energies elsewhere, and let it fade away.
10. How do you bring a new management structure to a tradition-bound organization?
For most of its history, the Academy has had an executive director as its top salaried employee, assisted by an executive administrator. But with Davis' retirement, that structure will change. Hudson's position, CEO, did not exist in the past; neither did COO, the title that Robertson will assume.
AMPAS is nothing if not traditional, with a staff that typically measures its time in decades and a board that changes slowly. The CEO/COO dynamic does not sound or feel like the executive director/executive administrator one, which means that Hudson and Robertson will have to feel out the new structure in the midst of an organization not always known for its embrace of the new.
11. Will her skill set require adjustments to the new environment?
At Film Independent, Hudson was executive director, key fundraiser, head cheerleader and the public face of the organization in a way that no executive director has ever been at the Academy. When Spirit Awards nominations were announced, she was the one who faced the press; at the Los Angeles Film Festival events, she was the one who worked the room hardest.
That's not how it works at the Academy, where the president gets the attention. As long as Sherak (right) is the easiest Academy official to get on the phone, Hudson will recede into the background far more than she ever did in her previous job.
12. Finally, can an Academy CEO do anything about this Dodgers mess?
The first five to 10 minutes of every conversation I've ever had with Hudson have been about her beloved Los Angeles Dodgers. And let's face it: between ownership problems and a ravaged bullpen, they're in far worse shape than the Academy.
It's safe to say, though, that Hudson's hands will be tied on this one.