A YouTube star is calling on advertisers to stop supporting BuzzFeed Video, saying the company has repeatedly ripped off ideas from creators like herself.
But a BuzzFeed producer says online videos are a little like old jokes — it's impossible to say who thought of a concept first, and sometimes people just have the same ideas.
Akilah Hughes, who has earned nearly 120,000 subscriber in the last three years by posting comedic YouTube videos on subjects ranging from food to books to race to Lyme disease, wrote a post for Medium that accuses BuzzFeed Video of "repeatedly stealing ideas, jokes, bits, gags, and therefore money from prominent YouTube creators." She has also launched a petition and hashtag, #StopBuzzThieves.
Also Read: Two Buzzfeed Staffers Fired After Work on America Ferrera Series
She isn't just calling out BuzzFeed — she's also asking companies that advertise on the viral content site to stop. The post is entitled "Dear advertisers: It's time to stop supporting BuzzFeed Video."
"I chose to petition the advertisers because money talks. BuzzFeed and BuzzFeed Motion Pictures have ripped off countless young people on the Internet. It wasn't going to be enough for me to cry foul. They need to feel the financial hit of their bad business practices," Hughes told TheWrap.
Asked for comment, BuzzFeed referred TheWrap to a lengthy Twitter post from BuzzFeed Video executive producer Ella Mielniczenko.
"Yes, it is unfortunate when two creators have the same concept — but it has happened to us," she wrote. "It has happened to every artistic person I know. And it will continue to happen for the rest of time."
BuzzFeed did not respond to a question from TheWrap about whether any advertisers have addressed Hughes' complaints, but Hughes says that they have.
"There are a few corporate communications managers in my email right now reconsidering their sponsorship and support," she said.
In her Medium post, Hughes points to five examples of content she says BuzzFeed copied, including "Will It Waffle," a blog-turned-book. She says BuzzFeed's video "Can You Waffle It?," which has seven million views, is a "blatant rip off."
She also pointed to her own concepts:  "In 2013 I created a short series called, 'How Do Black People Feel About?' Where I'd answer user submitted questions on behalf of my entire race as a joke. In 2015, BuzzFeed had the same idea," she wrote, citing a series called "Ask An Asian."
But as Mielniczenko noted, it's possible for two people or outlets to have a similar idea. For example, OC Weekly's celebrated "¡Ask a Mexican!" column, written by Gustavo Arellano, came before both "How Do Black People Feel About" and "Ask An Asian."
Also Read: BuzzFeed Misses Revenue Target by $80 Million, Slashes Future Projections (Report)
BuzzFeed founder and CEO Jonah Peretti said in May that the company attracts more than 7 billion views every month, spread across stories, listicles and videos. That's up from 6 billion content views in late 2015.
Here is Mielniczenko's full tweet: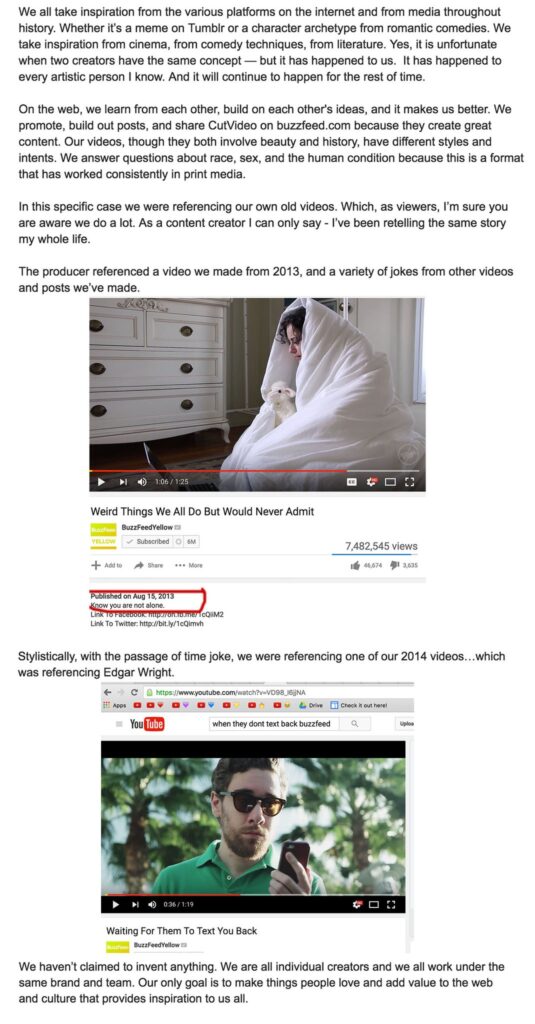 Here is one of Hughes' 2015 videos, and a recent BuzzFeed Video she found a little too similar: