Some PlayStation 4 users were surprised Tuesday morning to discover that the PlayStation Store's "trending" section made mention of a previously unannounced new "Call of Duty" game with quite the remarkable title.
It appears that this year's iteration of the yearly "Call of Duty" franchise will carry the subtitle "Infinite Warfare." For a series like this one, which has been about violent shooter action from the word "go," that title makes perfect sense. The PlayStation Store page was blank aside from the name. For the other items on the "trending" list there are details and purchase options.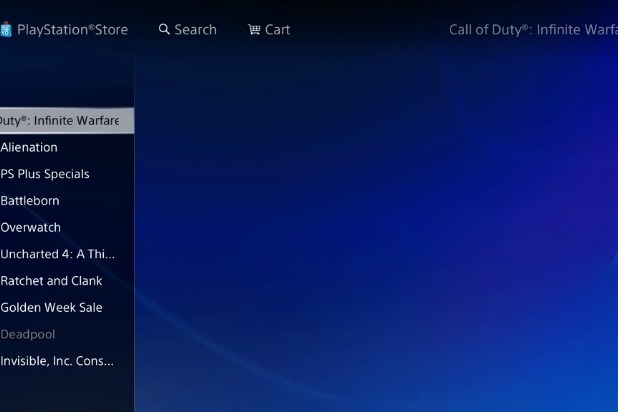 The new "Call of Duty" has yet to be announced, but one could expect that this early pull of the trigger indicates one is imminent. TheWrap has reached out to "Call of Duty" publisher Activision for comment and clarification.
Also Read: The 15 Best PlayStation 4 Games, From 'Rocket League' to 'Call of Duty' (Photos)
The "Call of Duty" series is primarily produced by three game development studios: Infinity Ward, Treyarch and Sledgehammer Games. With each studio operating on a three-year development cycle, it's Infinity Ward's turn up to bat. Infinity Ward was the originator of the series, way back in 2003, though few, if any, original studio employees remain after a large chunk left to start Respawn Entertainment and work on "Titanfall" several years back. IW's previous game, "Ghosts," was the worst received "Call of Duty" game ever.
"Infinite Warfare" will be the fifth subfranchise for "Call of Duty," after "Modern Warfare," "Black Ops" (which includes "World at War"), "Ghosts" and "Advanced Warfare." You can expect "Infinite Warfare" to launch in early November.
The most recent "Call of Duty," 2016's "Black Ops III," made TheWrap's Best Games for the PlayStation 4 list, which you can scroll through below.