In today's Callbacks — your daily roundup of casting news from Deal Central — Paula Abdul bolts for Broadway, Phish jams out in 3D and Matt Bomer and Ari Graynor circle the romantic comedy "What's Your Number?"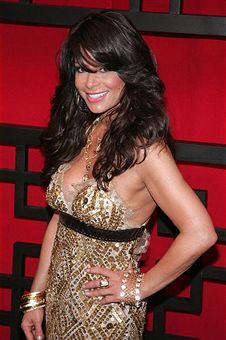 • I don't normally comment on Broadway castings but this one was just too good.
Former "American Idol" judge Paula Abdul will make her Broadway debut in the 2008 Tony Award-winning musical "In the Heights," reports Radar Online.
Abdul apparently will replace Priscilla Lopez in one of the gritty, street-rap musical's lead roles. The former Laker girl reportedly has been in talks with producers for several weeks thanks to the endorsement of "High School Musical" producer Kenny Ortega. (Abdul and Ortega are being eyed by NBC for a big dance reality show.)
Radar's insider speculates that Ortega's vote of confidence could have something to do with the fact that he's after Abdul to choreograph the film version of "Heights," which is moving forward at Universal. "In the Heights" writer and star Lin-Manuel Miranda will reprise his role as Usnavi.
Radar Online previously revealed how negotiations broke down between Abdul and ABC over the network's planned revamp of "Star Search," freeing her up to take the stage.
• Calling all Phish-heads!
The jam band fronted by Trey Anastasio announced on its website that concert film "Phish 3D" will be released nationwide on April 30 for an exclusive one-week run.
To be honest, I never really got into Phish. Their songs go on way too long for me and I've never been an outdoor music festival kind of guy, though I have been known to rock out to the sweet sounds of "Farmhouse" on occasion.
The movie highlights Phish's Festival 8, a three-day, eight-set (including one acoustic), 16-hour concert in the Southern California desert. Phish's Halloween show saw the group covering the Rolling Stones' album "Exile on Main Street." The film's official trailer can be found here.
Exclusive preview screenings will be shown on April 20 (4/20, you know, is code for marijuana) in Boston, Chicago, Denver, Houston, Los Angeles, New York (i.e. Brooklyn) and Washington, D.C., as well as Burlington, Vermont, and Raleigh/Durham, N.C. Fans who attend will receive a "Phish 3D" movie poster. Tickets for the advance screening go on sale Fri at phish3dmovie.com.
• According to the Hollywood Reporter, "White Collar" hunk Matt Bomer and "Nick and Nora's" Ari Graynor are in negotiations to join Anna Faris in Mark Mylod's romantic comedy "What's Your Number?"
The film follows Faris as she revisits her sexual history to find Mr. Right. Bomer will play Faris' dream guy, while Graynor's her sister who is about to be married. The THR story says Chris Evans remains attached to the project, despite being cast as Captain America last week.
I've been hearing about Bomer for what seems like years, and though his USA show is a big hit, he hasn't done much film work (his lead role in "The Texas Chainsaw Massacre: The Beginning" notwithstanding). He was once in the running (along with Brendan Fraser) to play Superman for director Brett Ratner before Bryan Singer signed on to what became "Superman Returns" and cast Brandon Routh as the Man of Steel, to very mixed results. Maybe now all that will change.
But the real news as far as I'm concerned is Graynor, who I thought was hilarious in the under-appreciated "Nick & Norah." She has a real charm about her onscreen, and I'll be keeping my eye on her as her budding career progresses.
She recently played a supporting role as Steve Buscemi's much younger girlfriend in another under-appreciated comedy, "Youth in Revolt." And she next appears in the Jesse Eisenberg indie comedy "Holy Rollers" that screened at Sundance, as well as the Fox Searchlight drama "Betty Anne Waters," which has been mentioned in some corners of the web as a possible awards contender this year for Hilary Swank's performance.
The actress also has a bit role in the upcoming Steve Carell-Tina Fey "Date Night" and stars in the intriguing-sounding indie "Lucky," in which Colin Hanks (who I always enjoy watching) plays a wanna-be serial killer who wins the lottery and decides to pursue his life-long crush.
On that note … Ari Graynor, "What's Your Number?"
Also reported on Deal Central today:
• Stephen Daldry found his name on the list of potential "Breaking Dawn" directors
• Tom Cruise and Reese Witherspoon pondered the rodeo-themed love story "Paper Wings"
• Angela Bassett joined the cast of Martin Campbell's "Green Lantern"
• John Singleton signed on to direct the Taylor Lautner thriller "Abduction"