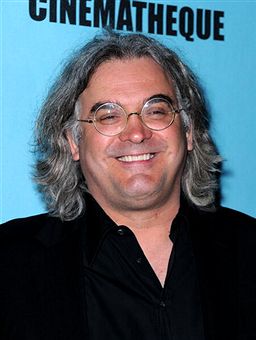 • Paul Greengrass has vacated the director's chair of 20th Century Fox's 3D remake of "Fantastic Voyage," reports Deadline.
Instead, Greengrass will be focusing his energy on a stylized adaptation of Robert Louis Stevenson's "Treasure Island" that "Sherlock Holmes" producer Lionel Wigram has set up at Warner Bros., although Greengrass hasn't been locked into that project either, as the parties haven't agreed on a screenwriter yet.
James Cameron and Jon Landau are producing "Fantastic Voyage," which features a script by one-time boy wonder Shane Salerno ("Armageddon").
"Fantastic Voyage" happens to be one remake that I'm actually eagerly awaiting, as the original film could certainly stand a modern update. But Greengrass was never a good fit for the project, so it's probably all for the best that he decided to walk away. I'm sure Cameron and Landau will be able to lure another A-list director with Salerno's script, which is said to be solid.
• Summit is negotiating with Indie It Girl of the moment Juno Temple to play the Queen of France in Paul W.S. Anderson's 3D adaptation of "The Three Musketeers," according to the Hollywood Reporter. Temple will likely play the love interest of Logan Lerman's D'Artagnan.
The 21 year-old actress previously appeared in "Atonement," "Year One" and most recently, "Greenberg." She replaced Ellen Page in the lesbian werewolf movie "Jack & Diane," and is also filming "Dirty Girl" with Anderson's wife and fellow "Musketeers" co-star Milla Jovovich. Additionally, Temple will star in Elgin James' "Little Birds," formerly titled "Goodnight Moon," which recently replaced AnnaSophia Robb with Kay Panabaker, according to Screen Daily.
• "Private Practice" star Chris Lowell is in negotiations to play Emma Stone's boyfriend in DreamWorks' "The Help," according to the Hollywood Reporter.
Tate Taylor will make his directorial debut with the film, which he also adapted from Kathryn Stockett's novel.
Story follows Skeeter (Stone), an aspiring writer in 1960s Mississippi who grows uncomfortable with the social norms around her and sets out to write a book chronicling the way black maids are treated by society. Lowell will play Stuart Whitworth, a senator's son who decides to dump Skeeter because of her progressive writing. Viola Davis, Bryce Dallas Howard and Octavia Spencer co-star.
I've known Lowell since his days at USC, when he was best known for starring on "Veronica Mars" and "Life As We Know It." He's a great guy and a talented young actor, so it's nice to see him land a key role in "The Help" after being heavily edited (due to time) out of Jason Reitman's Best Picture nominee "Up in the Air," in which he played George Clooney's assistant.
Chris Columbus, Michael Barnathan and Mark Radcliffe of 1492 Pictures will produce with Taylor and his producing partner Brunson Green of Harbinger Pictures. Production is scheduled to begin this summer in Mississippi.
• "Hairspray" director Adam Shankman and his Offspring partner Jennifer Gibgot will produce the New Line comedy "Mean Moms," based on Rosalind Wiseman's 2006 advice book "Queen Bee Moms and King Pin Dads: Dealing with the Parents, Teachers, Coaches, and Counselors Who Can Make — or Break — Your Child's Future," reports Variety.
Wiseman's 2002 advice book "Queen Bees and Wannabes: Helping Your Daughter Survive Cliques, Gossip, Boyfriends, and Other Realities of Adolescence" was the basis of the 2004 Paramount comedy "Mean Girls."
"Mean Girls" exec producer Jill Messick is also in talks to produce "Mean Moms," having brought the project to Offspring, whose Matt Smith will exec produce. Michele Weiss will oversee the project for the studio.
The story will focus on a happily married mother of two who moves from small town America to the high class suburbs where she is faced with confronting the cutthroat world of competitive parenting. The film is not expected to bring back any "Mean Girls" characters, but someone should still give Dina Lohan a call for posterity's sake. Kidding aside, I'd love to see Parker Posey land the lead in this one.
Dara and Chad Creasy will adapt Wiseman's book, which was written to help parents navigate between being overly passive and excessively protective.
Offspring also produced the New Line comedy "Going the Distance," which stars Drew Barrymore, Justin Long and Charlie Day, and opens Aug. 27.
• NBC Connecticut reports that old-school rapper Heavy D has been cast in Jon Favreau's "Cowboys & Aliens." Mr. D is also listed on the film's IMDB page as playing a character named That Justin. Does Heavy D really look like a Justin?
Paul Dano, Clancy Brown and Keith Carradine recently joined the cast, which is shaping up quite nicely, even if the source material doesn't sound particularly compelling.
Favreau recently tweeted that he has shot 3D tests for the film and is weighing all his options.
• And finally, Magnet Releasing has picked up U.S. rights to Quentin Dupieux's "Rubber," a movie about a killer tire with telepathic powers.
Here's the official synopsis: "Rubber" is the story of Robert, an inanimate tire that has been abandoned in the desert, and suddenly and inexplicably comes to life. As Robert roams the bleak landscape, he discovers that he possesses telepathic powers that give him the ability to destroy anything he wishes without having to move. At first content to wreak havoc on small desert creatures and various lost items, his attention soon turns to humans, resulting in the most gory vehicular-related mayhem inflicted on screen by an 'inanimate' object since "Christine."
Needless to say, I can't wait.