In today's Callbacks — your daily roundup of casting news from Deal Central — Angelina Jolie circles the title role in Disney's "Maleficent," the unlikely duo of Tracy Morgan and Juliette Binoche join Channing Tatum in "Son of No One" and "Lost" star Mark Pellegrino signs on to the indie drama "Joint Body."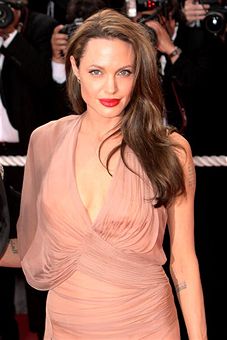 • Following up on last week's "Maleficent" news, it seems Angelina Jolie is circling the title role, according to the L.A. Times.
Sources say the Oscar-winning actress is keen on the project, but it's unclear if her enthusiasm depends on whether or not "Alice in Wonderland" filmmaker Tim Burton sits in the director's chair. Burton is considering his post-"Alice" options, which include a feature length version of his 1984 short "Frankenweenie"; "Dark Shadows" with muse Johnny Depp; and a recently announced 3D animated "Addams Family" movie, for which "The Tourist" costars Depp and Jolie would be perfect as Gomez and Morticia.
Of course, Jolie would also be perfect to play Maleficent, the wicked fairy godmother who casts the original spell on Sleeping Beauty. "Alice in Wonderland" screenwriter Linda Woolverston has been hired to write the live-action Disney film, and while Maleficent isn't nearly as well-known a literary character, the studio has had success with revisionist takes on its classic material.
The project could help broaden Jolie's fan base, since the PG-13-rated "Beowulf" didn't exactly do the trick with younger children. Should the actress officially sign on to "Maleficent," expect Disney to go the 3D route to maximize profits, er, entertain kids.
Jolie has two action-heavy spy thrillers on the horizon. She plays an American accused of being a traitor in Phillip Noyce's "Salt," and she'll star opposite Depp in Florian Henckel von Donnersmarck's espionage tale "The Tourist," a remake of the 2005 French thriller "Anthony Zimmer" that Variety reports just added former Bond Timothy Dalton and former Bond villain Steven Berkoff ("Octopussy") to its cast in unknown capacities.
• Back when Tracy Morgan was playing Woodrow the Homeless Man on "Saturday Night Live," I would've bet you a million dollars that he'd never star in a movie with Juliette Binoche. Had you taken me up on that bet, I would be bouncing you a check right now.
The unlikely duo are in final negotiations to join the ensemble of Dito Montiel's cop drama "Son of No One," according to the Hollywood Reporter.
Montiel's go-to-guy Channing Tatum stars as a young cop who is assigned to a precinct in the working class Queens neighborhood he grew up in, where an old secret surfaces and threatens to destroy his life and family.
"30 Rock" star Morgan replaces Terrence Howard in the picture as Tatum's best friend and fellow officer. I haven't read the script but judging from the project's logline, I suppose this would be Morgan's first serious role. Morgan is coming off his first major film role in Kevin Smith's "Cop Out," which unfortunately lived up to its title.
Binoche, whose last English-language film was the underrated Steve Carell dramedy "Dan in Real Life," will play a reporter.
The all-star cast features a who's who of tough-guy actors famous for playing Mafia types, including Al Pacino ("The Godfather"), James Gandolfini ("The Sopranos") and Ray Liotta ("Goodfellas"), and yet it's Katie Holmes who will be playing Tatum's partner. I'd say his character really lucked out when those assignments were decided.
Although I missed Tatum and Montiel's second collaboration "Fighting," I was fairly blown away by Tatum in Montiel's directorial debut "A Guide to Recognizing Your Saints," so I'm looking forward to seeing what they come up with. Production on the Nu Image/Millennium film begins next month after Tatum wraps filming on Steven Soderbergh's "Knockout."
• If you're familiar with ABC's "Lost," you should get a minor chuckle out of the next paragraph.
It seems that Mark Pellegrino, the actor who plays all-knowing Jacob on "Lost," will star in an indie drama titled "Joint Body," reports Variety.
Island authority figure Jacob is, of course, currently doing battle with The (presumably evil) Man in Black, who has taken the form of John Locke on the hit TV series. To make matters more complicated, Pellegrino also plays Lucifer on the CW's 5th season of "Supernatural."
Brian Jun writes and directs "Joint Body," in which Pellegrino plays a parolee whose wife leaves him and bans him from seeing their young daughter. He rescues and falls for a lonely stripper (aren't they all lonely?) and winds up reevaluating his newfound freedom as he faces demons from his past.
The actor has an edgy look about him, like a younger William Sadler, and he first caught my eye as the sensitive Dick Hickock in "Capote." Aside from "Lost," he's probably best known as Paul, Rita's abusive first husband on Showtime's "Dexter." I'm not sure Pellegrino's "Lost" appeal is enough to get me to check out "Joint Body," but I promise to give it a chance if he'll tease the series finale in this space.
James Choi and Max Velez are producing "Joint Body," which also stars Alicia Witt and Jim Parrack ("True Blood"). Shooting stars next month in Illinois.
I guess that means Jacob gets off the island.
Also reported on Deal Central today:
• WB and Legendary brought Godzilla back to the bigscreen
• Rachel Weisz was rumored to play the villain in "Bond 23"