In today's Callbacks — your daily roundup of casting news from Deal Central — Christoph Waltz goes "Up and Away," Amanda Seyfried sneaks into the "Ivy League," Peter Facinelli fights a pickpocket and "Smurfs" villain Hank Azaria gets de-animated.
• Oscar-winning "Inglourious Basterds" star Christoph Waltz will write and make his feature directorial debut on the Germany-language movie "Auf Und Davon" (Up and Away"), which will be loosely based on Meike Winnemuth and Peter Praschi's German-language novel of the same name, according to The Hollywood Reporter.
The Fox International film follows the female host of a dating show competition who develops feelings for a contestant, affecting the show's romantic story line. Waltz could play a role in the film but is staying behind the camera as of now.
The Austrian actor has been working on the script for a while, and previously directed some German TV shows. It is unclear whether the film would be screened outside of German-speaking countries.
Waltz will next be seen as the villain in Columbia's "The Green Hornet," and recently signed on to the Fox 2000 movie "Water for Elephants."
I thought Waltz was incredible in "Basterds" (granted, it was a very juicy part with some tasty Tarantino-scripted lines) and eagerly look forward to whatever projects he has coming up. I have no idea whether or not he can direct, but when you win an Oscar, you get to do whatever you want. Now THAT is a bingo!
• God bless Production Weekly.
The trade mag used its Twitter account (@prodweek) to break a pretty cool story yesterday that I almost missed. Almost.
Lorene Scafaria, another card-carrying member of the "Fempire" we mentioned yesterday who wrote the underrated "Nick and Norah's Infinite Playlist," has pitched a movie based on Rolling Stone's January feature "The Girl Who Conned the Ivy League."
Amanda Seyfried is attached to star, while McG will direct.
I highly recommend reading Sabrina Rubin Erdely's full story, but here's the Cliff's Notes version for those of you who don't have the time:
Imagine a hybrid of "Catch Me If You Can" and "Taking Lives," without all the murder or U2. Seyfried would play Esther Reed, a "criminal genius" and master identity thief who would spend years becoming her victims, rather than just posing as them to steal their money. She was accepted into universities such as Harvard and Columbia, and received over $100,000 in student loans.
There's a lot more to the story, so give it a read when you have a chance, but suffice to say, this is a very intriguing project for Seyfried, who continues to grow as an actress.
Unlike most Hollywood starlets, Seyfried has a full plate in front of her. "Jennifer's Body" didn't exactly light up the box office, but "Dear John" performed quite well. She has "Letters to Juliet" coming out May 14 and she'll be playing Hester Worsley in Bruce Beresford's adaptation of the Oscar Wilde play "A Woman of No Importance." She's rumored to play "The Girl With the Red Riding Hood" for director Catherine Hardwicke, and she recently joined the cast of "Albert Nobbs" (a horrible title that needs to change), which co-stars Orlando Bloom and Jonathan Rhys Meyers. She'll have more time to devote to her movie career now that her "Big Love" character has distanced herself from the rest of the polygamist Henrickson clan.
• Peter Facinelli has joined a pair of projects to be directed by Michael Corrente ("Outside Providence") of Verdi-Corrente Productions, reports Variety.
The "Can't Hardly Wait" star, who's probably best known as Carlisle Cullen from the "Twilight" series, will star in and produce "Loosies," a dramedy in pre-production that the actor also wrote. He'll play a successful New York pickpocket who is tasked with turning his life around when he discovers that a past one-night stand is pregnant with his child.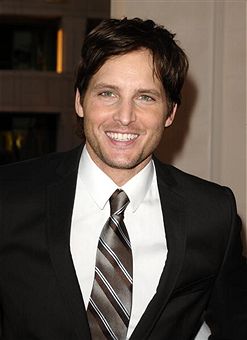 Facinelli will also produce and star in "Paz," a biopic based on the life of boxer Vinnie Pazienza. Pazienza broke his neck in a near-fatal car crash and was told by doctors that he'd never walk again, though he trained in secret and was eventually able to fight again.
Chad A. Verdi will co-produce both movies.
Facinelli, who is repped by Paradigm and James/Levy Management, can soon be seen as Dr. Coop, the nervous M.D. with the wandering hands, on the sophomore season of Showtime's wonderful "Nurse Jackie," which returns on March 22.
• In yesterday's Callbacks, I reported that Hank Azaria, Katy Perry and Jayma Mays had signed on to provide voices for the "Smurfs" movie. That turned out to be only partially true. "Smurfs" star Neil Patrick Harris (@ActuallyNPH) used Twitter to clarify that Hank Azaria will be playing a live-action Gargamel in the movie, not simply voicing the character. Meanwhile, Gargamel's cat, Azrael, will be played by a real live cat with CGI-enhanced facial expressions, similar to Odie in the "Garfield" movie.