Indie director Jeff Nichols hardly seems like the kind of guy to grab attention from Reese Witherspoon and Matthew McConaughey, but that's exactly what the young filmmaker did at the Cannes Film Festival on Saturday.
Nichols, 33, was at Cannes for the second time with only his third film, "Mud," and the aw-shucks director so captivated the media at the film's news conference that they almost totally ignored the two gorgeous Hollywood A-list stars in his film.
Nichols was seated between a pregnant and very blond Reese Witherspoon, who dazzled in a little black dress and fuchsia stilettos, and Matthew McConaughey, all square-jawed and tanner than usual in a white jacket.
Also read: Cannes 2012: Sharon Waxman & Steve Pond Debate the Contenders (Video)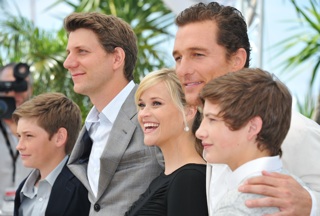 But Nichols entranced reporters with his emotional, impassioned soliloquies on his coming-of-age film about two teenage boys (the stellar Tye Sheridan from "The Tree of Life" and talented newcomer Jacob Lofland) who discover a fugitive living on a small island in the Mississippi River. For a while, the media seemed to forget the glossy stars in their midst.
(Left-to-right: Sheridan, Nicols, Witherspoon, McConaughey and Lofland; photo by Pascal le Segretain/Getty Images.)
Even the Washington Post used a photo of Witherspoon gazing in admiration at Nichols to accompany a review of the film today. Reporters and photographers screamed "Jeff! Jeff!" after the press conference ended. The director signed more autographs than McConaughey, who excels for a second time at the festival after his well-received turn in "The Paperboy."
Also read: Does the Palme d'Or Race Come Down to Naughty vs. Nice?
Nichols, an Arkansas native, spun such a moving tale of his love for the South (the movie was filmed in southeast Arkansas) and what he fears is a vanishing way of life that it's easy to see how he writes and directs films that resonate with emotion. He became an indie darling beginning with 2007's "Shotgun Stories," and continuing with last year's "Take Shelter," which won the top prize in Critics Week at Cannes.
Michael Shannon, who starred in those films, has a small role in "Mud" as one of the boys' uncle.
"The South is precious and the South is fleeting," Nichols said. "It has a particular accent and culture that is fast being homogenized. I wanted to capture a snapshot of that life before it's over."
Nichols didn't flinch when a sharp-eyed reporter from El Globo in Brazil asked him about similarities between "Mud" and "Huckleberry Finn" and "Tom Sawyer."
(Photo of Nichols, right, by Dana Kennedy)
"If you're going to steal from someone, you might as well steal from someone as good as Mark Twain," said Nichols. "Twain encapsulated what it was like to be a kid growing up on the Mississippi River. I wanted to set this film on the Mississippi. It's still the greatest river in the world."
Also read: Cannes 2012: Is 'The Paperboy' a Camp Classic, or an Appalling Mess?
Young Lofland chimed in to say he'd read "Huckleberry Finn" on set and grilled Nichols about "a lot of things that found their way into the film."
Besides Nichols, Witherspoon, McConaughey and the two teenage actors are also from the South. So words like "blessed" got tossed around a lot during the press conference in the kind of twang normally heard more at a Walmart or Piggly Wiggly than on the French Riviera.
But the southern folksiness was exactly why Witherspoon signed on, even though her role is miniscule and she said she's leery of big stars overshadowing small films. She plays the woman McConaughey's character has been in love with since they were teenagers.
"I grew up with my brother in a creek, riding dirt bikes, dirt fishing, everything you see the boys in the movie doing," she said. "When I read Jeff's script, it felt like home. Very few movies about the American South are real. It's a beautiful story about the place I'm from."
Witherspoon was also impressed when she heard Nichols "wasn't bringing in kids from L.A. These are boys who knew how to do everything they had to do in the movie."
"Yeah," said Nichols. "We didn't import some kids from L.A. and then set them up with their boat and dirt bike lessons."
At the press conference, Nichols also painted an idyllic portrait of being one of the first graduates of the North Carolina School for the Arts, which is now hard to get into but in Nichols' day was "the place for those of us who couldn't get into NYU or couldn't afford it. It was the best thing that ever happened to us."
Most of Nichols' crew is made up of his former classmates.
"The way you make a movie defines the kind of movie you make," he said. "And I like being on a set and seeing my buddies over there."