Current TV has claimed another former MSNBC host: Cenk Uygur, who previously hosted "MSNBC Live," will host "The Young Turks" ahead of Keith Olbermann's "Countdown," the network announced Tuesday.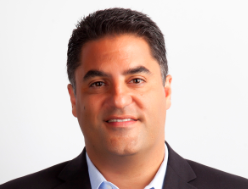 The network will work with Uygur to develop a televised version of his online show "The Young Turks," which covers politics and pop culture. The new show will air at 7 p.m. ET.
Also read: MSNBC Hires Al Sharpton as Primetime Host
Uygur left MSNBC after a contract-related dispute and declining MSNBC's efforts to move him from the 6 p.m. ET "MSNBC Live" timeslot. He said MSNBC executives had also asked him to mute his opinions, which they denied.
Al Sharpton was awarded the 6 p.m. slot last month.
Uygur's move to MSNBC follows Olbermann's announcement in February that he would join Current, just after announcing on the air in January that he was leaving MSNBC. His Current version of "Countdown" airs at 8 ET.
"The Young Turks" online video segments generate about 30 million views per month and have accrued more than 500 million video views. Viewership on YouTube has grown 912 percent since July 2008.
"Cenk Uygur has a strong grasp of what audiences seek: context and insight about the news and complex issues that affect their lives, unfettered by corporate influences. He has a unique and compelling way of boiling it down for his viewers," said Current Chairman and co-founder Al Gore. "He and his collaborators have exploded in popularity because of 'The Young Turks'' authentic and passionate voice. Cenk understands that we live in a multiscreen world, and he speaks to an audience who wants to hear the truth."
Added Uygur: "Current is the perfect home for our show. We wanted to be in a place that is both independent and truly progressive, not owned and encumbered by a media conglomerate. Does it get any better for a progressive than working where Al Gore and Joel Hyatt are your bosses, and Keith Olbermann is your colleague? It's an honor to be the lead-in program for Keith Olbermann."