Update, Monday 8:38 p.m.: According to Sheen's rep, the Juggalos weren't booing the actor, but instead chanting "Whoop, whoop" — an expression of enthusiasm among ICP fans. And the throwing of debris is considered a display of respect in Juggalo culture — a twisted display of respect, but nonetheless…
Previously…
Perhaps Charlie Sheen should have thought twice about agreeing to go face-to-face with horror-rap duo Insane Clown Posse's infamously rowdy fans — semi-affectionately known as Juggalos — this weekend.
Charlie Sheen didn't exactly get showered with affection while hosting the annual Gathering of the Juggalos, which was held at Cave-In-Rock, Ill. from Thursday to Sunday — more like showered with debris.
Also read: Charlie Sheen Roast to Air on Same Night as "Two and a Half Men" Premiere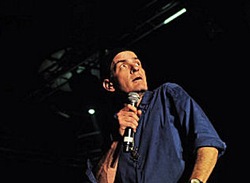 The ousted "Two and a Half Men" actor — who's preparing to star in a small-screen adaptation of the Jack Nicholson film "Anger Management" — encountered a bit of, well, unmanaged anger during his guest stint at the yearly festival.
Serving as host for Saturday's festivities, Sheen was greeted with boos — and no small number of projectiles being hurled at him from the audience.
Also read: Jon Cryer Kills Off Charlie Sheen's "Two and a Half Men" Character on "Conan" (Video)
At least he did slightly better than Tila Tequila, who claimed to have been pelted with bottles and feces during her Gathering of the Juggalos appearance last year.
And who knows? Sheen's less-than-reverent reaction from the crowd might serve as good practice for his Comedy Central roast, which airs on Sept. 19 — the same night as Ashton Kutcher's debut as Sheen's replacement on "Two and a Half Men."
Also read: Charlie Sheen on "Two and a Half Men" Reboot: "Ashton's Gonna Kill It!"
Watch Sheen's face-off with the Juggalos in the video.